Restoration of kitchen furniture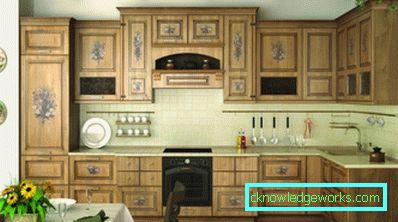 The kitchen is a place where it is pleasant not only to cook, but also to gather with the whole family. Therefore, it should certainly be comfortable and attractive. If its individual parts become useless and badly deteriorate externally, then with this you just need to do something.
Features
If the purchase of a new headset or its individual parts does not fit into your budget, then you can try to restore it. To do this, you must either take the furniture to the craftsmen, or call specialists to the house, or try to cope with this task with your own hands. This option is not only the cheapest, but also quite original, because it will be quite difficult to repeat the design you have invented.
Do it yourself
Almost anyone can renovate furniture in the kitchen with their own hands, regardless of some of their skills. There are many ways to return old furniture to new home life. You can restore the main headset, its individual parts or even simple accessories.
Kitchen set
Restoration of the old headset can be made, even without having in the presence of any special materials. Restoration of facades can be carried out with the help of molding, decoupage or vinyl film.
The most common option is sticking vinyl films to the surface of furniture. It can be smooth or textured. Also the surfaces stylized under wood, marble, etc. are widespread. This is especially true for the restoration of furniture made from similar material.
To restore furniture for the kitchen, you will first need to clean it and degrease its surface completely. On a dry and clean surface you can already stick a vinyl film. You need to glue it, starting from the bottom and moving up. Then the paper backing layer is also slowly and gradually removed. When the film is glued, it needs to be leveled with a special rubber roller.
If you removed the hardware parts for work, then you need to attach them back.
Decorate furniture can be another way. Decoupage technique is often used for the restoration of cabinets made of MDF or other wooden furniture. The surface of the wooden massif, treated in this way, looks like new. For decoupage you can use napkins, paper cuttings or special cards.
This process is very simple. Before moving on to work, clean the surface and make it perfectly flat and smooth. Sanding is best to use sandpaper. For fixing individual elements, simple PVA glue is most often used. Pasted parts for reliability should be covered with several layers of varnish or clear acrylic paint. Decoupage technique is suitable for the restoration of not only cabinets, but also shelves or tables.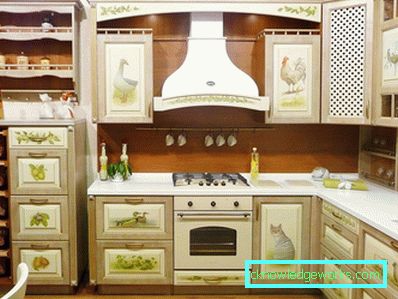 Another cheap way to restore old furniture is to simply paint it. Here you can simply tint individual places with paint of the same color, and completely repaint. The most qualitative type of paint for this purpose is auto enamel. It is resistant to sudden temperature changes, which is very good for the kitchen.
Finally, it is worth noting another way to restore old cabinets, like molding. To this end, separate overhead parts made of plastic or wood are mounted on the old base.
Fittings
In some cases, you may need to restore not the entire headset, but only the accessories. Even changing such small details already helps to update the style of the room. If you have a headset in the modern style, it can be supplemented with vintage handles for vintage, and the appearance of the room will immediately change. Such a kitchen set will look very unusual, even if you bought it at a low cost in the mass market.
Another interesting way to restore your old cabinet is to upgrade hinges on the doors. New loops can be placed in the same places and in new points. If you need to seal unwanted holes, use a hard putty based on acrylic. It should be applied in several layers.
Dinner Zone
You can also put in order the kitchen table and chairs. As for the table, most often attention is paid to the table top. It may eventually be scratched or covered with minor defects. Decoupage and painting techniques are also used to restore the table top.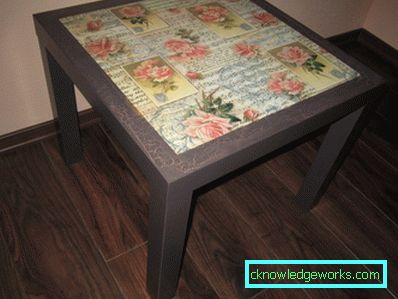 But there is another interesting way to restore the table top - finishing with ceramic tiles. This method is quite popular due to the fact that the tile is a durable coating. Having restored the table in this way, you can be sure that the renewed surface will last you for a long time.
The tile is also rather unpretentious in respect of cleaning an option. It can be easily wiped off with a regular damp cloth.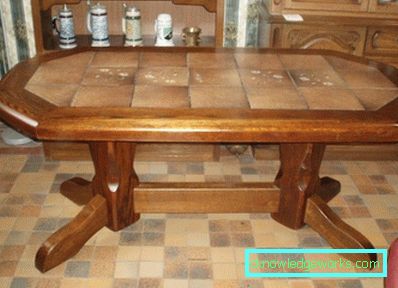 The advantages of the coating of decorative tiles can be attributed to the fact that it is easy to fit. You do not need to be a specialist. The process of laying is extremely simple - clean the tabletop, cover it with a special tile adhesive. Then lay the tile on it, making up the desired composition. After the tile is laid and the entire composition is completely dry, it is advisable to wipe the joints with a special mixture. Such a mixture can be found in almost any store building materials.
If in the dining area you have shabby and sloppy chairs, their appearance can also be updated without any problems. If the problem is in the legs, then they can simply be painted or coated with transparent varnish, giving the furniture the effect of antiquity.
The seat of the chairs to restore a little more difficult. First of all, for this you need to dismantle the old upholstery and base. From a thick cardboard, make a piece to fit the size of the seat, so that later you can cut the basis for several chairs out of fabric.
To the base of the seat on the super-adhesive foam is attached, which is covered with fabric upholstery. To fabric enough to decorate one chair, leave ten centimeters to bend. It is easiest to fasten the fabric on the basis of a chair with a good construction pistol.
To save time, you can fill a new cloth right on top of the old one. This way you change the look of your chair without spending too much time.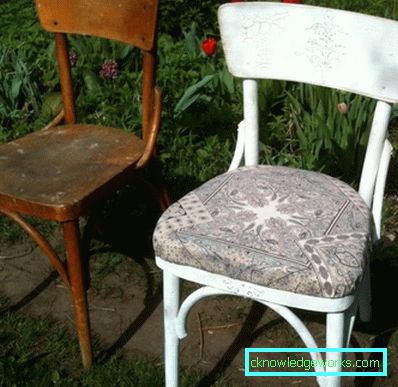 Interior
Restoring furniture, try to take into account the peculiarities of your interior. Best decorated antique furniture looks in the style of Chebbi-Chic or Provence. But small changes in individual interior parts will be appropriate even in a modern interior.