Refrigerators for giving
It seems that the choice of refrigeration equipment to give should be quite simple. Unfortunately, a fairly small number of holiday residents have the opportunity to store food and workpieces in the cellar, which is an ancient and free substitute for refrigerators. Those who can not take advantage of this invention with a long history, are forced to think about purchasing a refrigerator to give.
Selection
Traditionally, it is considered to be the summer cottage the place of the last stay of old furniture and equipment. Many bring to the cottage old refrigerators "ZIL" or "Biryusa". By choosing such a path, experienced gardeners solve several problems at once. First, this approach allows you to avoid unnecessary spending on the purchase of new household appliances. Secondly, you do not have to worry about the fact that the device can be stolen or ruined during your absence.
The old-style equipment is sufficiently resistant to voltage drops and the lack of electricity. You can not be afraid that at the next jump it will fail due to the small cost of its acquisition or even their absence. However, when using the old refrigerator, no one can predict exactly how long it will work. In such a situation, you can catch in the next visit the spoiled products and the apparatus, which can only be taken to a landfill.
Many people choose to buy a budget new device, which is not equipped with a large number of functions. The main requirements for the villa technology are reliability, small size and energy efficiency.
When choosing a refrigerator for the dacha, it is necessary to understand which particular unit is necessary for your family. When buying large household appliances, we always try to get the best possible product for the lowest price. This will help determine the correct needs:
You must imagine what time you are going to spend in the country. From this will depend on the version of technology that will need to be used. Some of the lovers of recreation in the country can afford to go to the country for the whole summer period, and even longer. In this case, it is necessary to choose a full-fledged version of the refrigerator, preferably with the presence of a freezer. This is especially true with a large number of residents and the lack of a number of stores with a good selection of products for cooking.
If you go to the site for a weekend or a couple of times a month (like most city dwellers), a small compact equipment capable of holding the products for a couple of days will suffice. At the same time, the freezer becomes an optional component.
The number of people living at the dacha at the same time will also significantly influence the choice of apparatus. Traditionally, small refrigerators with a capacity of up to 150 liters are chosen for the dacha. Such capacity will be sufficient for several people with an episodic appearance on the site.
European standards indicate that for a family of three to four members, refrigeration equipment with a total net volume of 300 liters is needed, and for a couple, 200 liters will be sufficient. Such a volume can provide all the needs of the family with a constant long-term stay.
It is also necessary to consider the purpose for which the country refrigerator is necessary.. It can perform very important functions (despite the ugly look). If the refrigerator is designed to provide fresh food only during your short stay in the house, it can be quite compact. If you intend to store vegetables and fruits collected on plots, it is advisable to purchase an appliance with a freezer. For this purpose, a separate freezer chest will also work well (if the harvest is large-scale).
Varieties
After determining the goals and tasks to be performed by the refrigerator, you can begin to choose the type of device. Since the stores offer the broadest choice of refrigeration equipment, you should first decide what type of refrigerator is most preferable for your conditions, and not succumb to advertising and persuasion of sellers.
Without going into details of the device of this or that unit, it is possible to divide the options acceptable for giving into several groups:
portable refrigerators,
compressor options
one-and two-chamber full-fledged devices.
If you spend a little time on your summer cottage, for example, one day off during the week, there is no sense in buying a full-fledged refrigeration unit. A small mobile version will save your money. In addition, it is very compact, practically does not take up space, can be used in the conditions of any (even the smallest) country house. With all its compactness, it can accommodate a sufficient amount of food needed during the day. It is used in attacks on nature, picnics, while traveling.
Such mobile devices can be divided into several types.
Containers and bags with isothermal properties.
Isothermal bags have a small size, usually do not connect to the network, and the storage time of products in them depends on cold accumulators. If you plan to use this option, it is worth stocking up with additional batteries, so you can keep food fresh much longer.
Mini refrigerators equipped with compressors.
In fact, this is a common compressor device, made in small dimensions and capable of keeping the temperature without electricity for some time. After arriving at the site, you can connect it to the network and use it as a normal refrigerator.
Absorption refrigerators. Conquer increasingly popular. It is convenient to use them at the dacha or on travel. They can be electric or gas. Some models may be able to connect to the car's electrical network, and if you have an adapter, you can connect them to a regular outlet. They can have a rather impressive net volume (up to 200 liters), which is enough for most of the summer residents.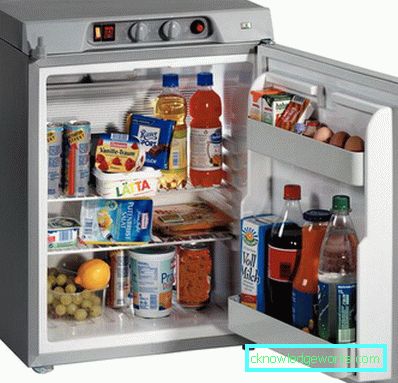 The compact compressor refrigerator is no longer so convenient for transportation and is needed in order to install it indoors. It is beneficial for its small size. Usually it does not have a freezer, or it is very small. In this case, the working space in such models can reach 200 liters, which is more than enough for a small family.
Full-size options are necessary for those who, with a large number of family members, leave the city for a long time - for example, for all summer months. They will also suit people who like to receive guests on their site. This option is suitable for those who harvests the gifts of nature (vegetables or fruits from the site, mushrooms and berries from the nearest forest).
To store a large amount of stocks the most convenient will be the two-door version, which allows you to place a large number of products. If you cannot boast of a rich harvest, you can choose a one-door model. It may contain a freezer, but it will not be so roomy. The latter option is more convenient to place in conditions of space saving country house.
Recommendations
If the type of refrigeration unit has been determined, you can pay attention to other useful features. Be sure to look at the reviews about the various brands of technology, focus on their quality parameters, available functions:
Check the dimensions of the selected refrigerator cabinet.. Typically, a country house does not have a large free area, every square meter of roads. Therefore, the technique must correspond to the free space planned for its installation.
A good option for giving has always been the purchase of equipment that has already been used. At the same time, it is imperative to check the functioning of the device, the density of closing the doors, the absence of leaks and other breakdowns.
When choosing a device for both home and country house you need to pay attention to such parameter as power consumption.. In modern conditions, this is especially important because of the large number of electrical devices around us. Modern are the models with energy class A, A +, A ++. They will provide energy savings, especially in your absence.
Take an interest in the climatic parameters of the model.
If the country is wet enough climate however, they often turn off the light, and you leave the city for a long time, choosing the type of control device, it is better to give preference to mechanical or electromechanical. They will be cheaper (compared to electronic).
Think about whether you need the automatic defrost function or "No Frost". If upon departure you do not want to disconnect the device from the network and will leave products in it, this ability will not be superfluous.
If you opt for a two-door full model, look at the volume of the freezer and select a larger one. It will allow you to place a greater number of blanks.
If the design of a new dacha fridge is not important to you, it makes no sense to overpay for the brand. It is better to choose a reliable cheap, perhaps domestic producer with good recommendations.
Popular models
The brand of fridge for giving can be absolutely any, depending on your preferences. However, some well-known manufacturers of household appliances do not release compact versions at all. Among them Samsung, LG, Electrolux. The following brands are most popular among users: Biryusa, Saratov, Atlant, Shivaki or Liebherr.
Among the rather large models for giving, the following are especially popular:
"Saratov 45". This one-door unit is equipped with a 150-liter refrigerator and a 15-liter freezer.
"Indesit SD125" - a refrigerator at 197 liters, and a freezer at 28 - enough for a permanent family.
Atlant MX2822 - 190 liters of refrigeration and 30 freezers. It has electromechanical control, convenient, cheap and quiet. Among the shortcomings: shaky door and handle.
Average models were remembered by consumers by the following representatives:
"Indesit TT85T". It is a light and easy to transport refrigerator, compact and roomy. It has a built-in freezer and shelves made of metal grill. Users have noted good cooling in both chambers. Like and noiseless operation of the device. Disappointment is caused by its not very stable work.
"Biryusa 8". Enough roomy and comfortable model that has a small freezer. It has a useful volume of 150 liters. Inside there are two shelves and two boxes, allowing you to conveniently place supplies. It is easy to use, quiet, powerful and reliable.
"Daewoo FR-132A". Compact unit of 120 liters with a freezer just 9 liters. Has guides to move the shelves, drawer. It is distinguished by the presence of drip defrosting, so that it can be left for a long time. Reliable, ergonomic and pleasant to use.
Among the miniature models, preference is given to the following representatives:
"Atlant MHTE 30-01-60". 30-liter model, reliable and cheap. Suitable for giving or bar. During the work differs in small noise.
"SHIVAKI SHRF-54CH". It has a modest volume of 50 liters, while it is very compact and roomy at the same time. It is characterized by low consumption of electricity, functionality and quality at low cost.
Among the rich assortment of modern stores, every summer resident will accurately select the model that suits them best.