Refrigerator rating for reliability and quality
A full-fledged healthy diet occupies an important place in the life of every person: it can prolong youth, improve health, and give longevity. The guarantee of good nutrition is good, fresh food. In this place the refrigerator enters the struggle for health. That it is the main tool to help organize the full nutrition of the whole family. How not to make the wrong choice and buy a really good product and not waste money, let's look at this article.
How to choose the right home: expert advice
Before buying such a large and expensive product, you need to decide on the basic qualities that a refrigerator should possess. Here are some tips to help you choose the most suitable option:
Size / volume ratio
The larger the volume of the refrigerator, the larger its size. Experts estimate that a refrigerator of about 300 liters is perfect for an average family of 4 people. This product does not take up too much space in the kitchen, but is quite spacious.
Efficiency
A really good fridge should not consume much energy. Most manufacturers prefer new inverter compressors, which are highly economical, but products with this type of compressors are somewhat more expensive than others.
Cameras
Now on the market of refrigerators you can find products with both a single camera and several. Single chamber Refrigerators have several significant drawbacks: the size of the freezer is rather small due to the design, in order to remove the product from the freezer it is necessary to open the door of the entire refrigerator and let warm air into it.
Compressors
Refrigerators are in great demand among consumers. with two compressors. Their mechanism is designed in such a way that each compressor cools a separate zone. Such a device is perfect for giving, because you can leave only one compressor on and cool one zone, which will reduce electricity costs.
Climate class
Modern household appliances should be resistant to many external factors. One of them is climatic conditions. Most often, the refrigerator is placed in the room, which guarantees relative stability to temperature extremes, but occasionally this issue can be of great importance. The following classification is widespread on the world market: N - from + 16 ° С to + 32 ° С, SN - from + 10 ° С to + 32 ° С, ST - from +18 ° С to + 38 ° С, T - from + 18 ° С to + 43 ° С.
Zoning type
Modern fridges with two or more cameras, depending on the location of the freezer, are divided into several types: with a freezer on top, bottom and side. A refrigerator-cabinet with a freezer at the side is very convenient, but will not work for most Russian kitchens because of its large size.
According to experts, the product with the freezer from below will be the most convenient, because it is used much less frequently than the refrigerated compartment, so the need to crouch behind the products will occur less frequently.
Plastic quality
Most manufacturers in the manufacture of filling the refrigerator (shelves, drawers) prefer plastic. For these purposes, a special heat-resistant material is used, but this does not always indicate its quality. It is very important to pay attention to its thickness, because the boxes will not be empty.
In order to avoid cracking plastic under the weight of products, you need to choose a refrigerator with durable thick plastic.
Space device
It is worth paying attention to the organization of space in the refrigerator. Some manufacturers pay too much attention to this and fill the refrigerators with lots of extra details, forgetting to leave enough space for food storage. In a good machine should be at least three simple shelves, 1-2 boxes for storing vegetables, shelves on the door. Some manufacturers supplement their products with a shelf for horizontal storage of wine, but you need to be careful, because sometimes this shelf takes the place of a regular shelf for products.
Zero temperature chamber
In this zone, not only a comfortable temperature is created, but also a high level of humidity. This camera is needed to extend the period of preservation. Some very delicate foods, such as greens or salad.
Deep freeze
Most manufacturers supplement freezers with a quick-freeze camera. This is very convenient compartment for those who like to store summer fruits and berries. In this compartment, the temperature reaches -25 degrees, which allows you to quickly and accurately freeze any product without losing its useful properties.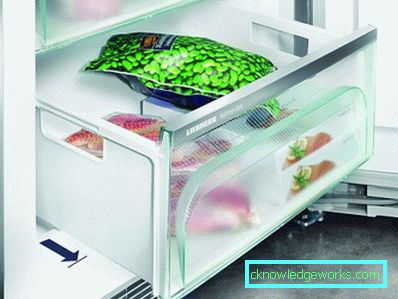 Defrosting
The era of defrosting refrigerators is a thing of the past, because most modern refrigerators are equipped with technology "No frost". Thanks to this innovation in the refrigerator does not form deposits of ice and frost.
Colour
The most enjoyable item from the entire list of recommendations is product color selection. Now you can choose absolutely any shade of the refrigerator and even order its painting and inlaid with precious stones - everything here depends on imagination and budget.
Absolutely universal can be considered white or silver color of the refrigerator, but with black there can be problems: on dark glossy surfaces, the smallest droplets of water or dust are very visible.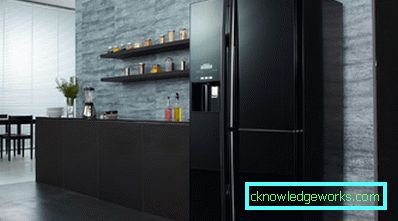 Top 10 best refrigerators for quality and reliability
Nord DRF 110 ISP
Last place in the top is the refrigerator Nord DRF 110 ISP. For a long time, Ukrainian refrigerators were in demand and trust from the majority of consumers in the countries of the former Soviet Union. And still there is an opinion that the products of this brand are more reliable than many other manufacturers. Due to this, as well as very affordable prices, many models are still in demand among consumers.
Model DRF 110 ISP - This is the cheapest fridge presented in our ranking. This is a great option for unpretentious people who do not have an urgent need to store large food supplies. The total volume of this unit is more than 350 liters, it is equipped with a fresh area and a shelf for storing wine. The surface of the door is covered with high-quality stainless metal. The cost of this model is less than 20 thousand rubles, so it is very suitable for people with average incomes. Before you take a fridge from Nord, you should make sure that it is really assembled in Ukraine, since poor-quality Chinese copies are often found.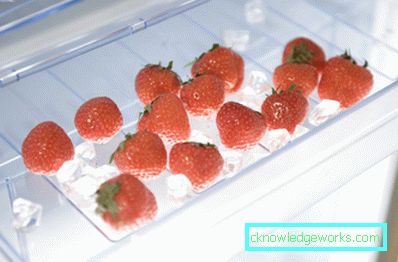 Leran CBF 210 IX
More and more people prefer home appliances made in China. This is due to the fact that modern Chinese household appliances are famous for quite high quality at low cost. The young brand Leran presents a large selection of modern and reliable refrigerators. In the assortment of this manufacturer you can find products of economy class and products of premium class, but we are interested in the refrigerator, which is most in demand among our compatriots: model Leran CBF 210 IX.
This refrigeration unit is in the middle price category, its cost is about 30 thousand rubles. It has a very modern, attractive design: its body is made of a nice stainless metal, silver color. The volume of this product is more than 300 liters, it has the function "Total no frost"and the touch control panel, it has a relatively small size and light weight.
This refrigerator ranks ninth in our rating for the following reasons: despite the possibility of adjusting the temperature in the refrigerating and freezing chambers, it has only 1 compressor. In addition, the Leran brand appeared on the Russian markets recently, so it is not yet trusted by consumers.
Pozis RK FNF-172 w No Frost
The eighth place in the ranking is occupied by the domestic brand Pozis, which manufactures high-quality refrigeration equipment for the mass market, as well as specialized equipment for restaurants and pharmacies. The most popular among consumers is the RK FNF-172 w "No Frost" model. It has a concise design and attention to detail. Thus, the manufacturer offers to choose the direction of opening the doors of the refrigerator. In addition, this brand offers the possibility of decorating products with paintings and crystals. A distinctive feature of this brand is the quality of the internal equipment of the equipment: the most reliable and durable plastic used in the manufacture of shelves and drawers for Pozis products.
This refrigerator was at the bottom of the rating due to the low energy consumption class - A, but its reliability ensured him a place in the top 10.
VestFrost VF 911 X
The trademark from Denmark VestFrost appeared on the Russian market of household appliances relatively recently, but managed to conquer the hearts of many consumers with its unconventional approach to the organization of space in their refrigerators. So, for example, is quite in demand multifunctional model VF 911 X. This elite class device is suitable for people with a big family, in houses with a big kitchen. It is equipped with a large number of various shelves and drawers, and the functional component of this product has almost no boundaries. The total storage capacity is more than 600 liters, while the power consumption is rather low. The surface of the door is made of the finest stainless steel and treated in such a way that it prevents contamination and the appearance of prints. This refrigerator took its seventh place in our rating on the right, but one should not forget about the rather high cost, which is over 100 thousand rubles.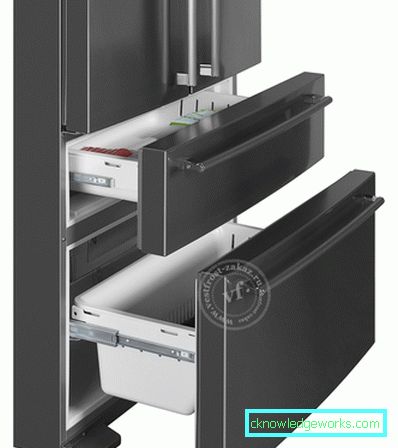 Electrolux EN3486MOX
The Swedish company Electrolux manufactures its refrigerators in two factories: in Hungary and Sweden. The fifth place of our rating is taken by the model EN3486MOX, which is produced at the Hungarian plant. This is a representative of the elite class of household appliances, so its cost is quite high (about 80 thousand rubles). In addition to the standard set: two cameras, an injection compressor, touch control and an attractive design, this model has several very rare qualities. For example, EN3486MOX corresponds to the parameters of all climate classes. The level of energy saving A ++, there is a built-in lighting of the freezer. But all this pales next to the really high-quality electronics, which is equipped with this refrigerator. He will report all violations and failures to his master on his own, whether it is a door that is not tightly closed, a voltage drop in the network, or a change in temperature.
In the event of a potentially dangerous situation, a beep will sound, and information about the system failure will be displayed on the display.
Indesit DF 5201 X RM
Any rating of high-quality refrigerators will not be complete without an Italian brand. Indesit. Developers and designers of household appliances of this brand do not just keep up with the times - they love to work in advance, so they often become the creators of new, unique technologies. Model DF 5201 X RM surprises with its low weight with impressive dimensions. Indesit designers took advantage of the fashion trend of this year and covered the refrigerator with high-quality stainless steel with impurities and prints. Besides, in trend fridges with soft, rounded lines of corners and black inserts in the decor. The total volume of this model is about 500 liters, so it is perfect for a large family.
The high level of energy saving and the Total No Frost technology will present ease and comfort when using this refrigerator.
Samsung RB29FEJNDSA
The South Korean appliance company Samsung produces a large range of refrigerators. A variety of models, high quality products and far from the worst design make the products of this company widely popular among Russians.
Model RB29FEJNDSA - one of the quietest, thanks to a modern inverter compressor. The freezer is equipped with a deep freeze zone and technology "No frost". This model will become an indispensable assistant in the issue of saving the family budget, because the level of energy consumption is only 272 kWh / year - this figure is within the framework of class A +. The surface of the door is painted in a light silver color, on which light dirt and dust are quite inconspicuous.. The decor of the knob and the display of the temperature indicator is made of the same black plastic, the presence of which makes this cooler refined and elegant. For all these important advantages model RB29FEJNDSA ranks fourth in the ranking.
Beko GN 163120W
The only refrigerator produced in technology "Side by side ", which hit our top 10, is Beko GN 163120W. It deserved third place due to its popularity among Russian consumers. Side-by-Side refrigerators, as a rule, are not in great demand because of their bulky size and high price. However, the famous Turkish company Beko has released a very reliable and practical model - GN 163120W with a rather small cost. This model is characterized by a very convenient organization of space, the presence of a comfortable control system, high efficiency and technology "No frost". Among other things, this product equipped with air ionization function, antibacterial coating and freshness chamber.
This refrigerator took the third place in the rating only because the demand for "Side by Side" models is still limited due to their large size.
Atlant XM 4524-080 ND
A bit behind the leader of the refrigerator Atlant XM 4524-080 ND. Widely popular on the territory of the former USSR, the Belarusian manufacturer of refrigeration equipment has been producing high-quality household refrigerators for several decades. The products of this brand enjoys quite congested customer confidence. Atlant designers and engineers keep up with the times, so product quality, its relevance to the modern requirements of consumers remain at the highest level. Buying model XM 4524-080 ND, you will receive reliable, silent, high-quality and durable machine at a very nice price.
LG GA-B489ZVSP
Manufacturer - the leader of the national rating, which has the highest level of sales of refrigerators in Russia - the brand with the world name LG. Household appliances of this company are the most reliable and durable. The manufacturer clearly understands to which depreciation group each of their products belongs and does everything so that the service life exceeds the periods specified as standards of this group.
The leader of our rating was one of the most popular models from LG - this is GA-B489ZVSP. This refrigerator is ideal for any average apartment due to its fairly modest size. One of its biggest advantages is low power consumption. This model has a very nice design and is decorated with the finest monogram. A large number of boxes and shelves will transform the process of storing products into art, and the presence of a zone of freshness will help to preserve all the useful substances in fresh products.
This comfort and reliability work to increase the price, but such costs will be justified by 100%.
Refrigerators have long been an integral part of every home. Today we do not even think about how much they facilitate our life and our lives. We hope that our rating will help you make the right choice and make your life more comfortable.