Refrigerators 50 cm wide
Perhaps, there is no more important home appliance in the kitchen than a refrigerator.. It is especially clearly realized in the summer heat, when it is necessary to preserve products and every now and then you want to drink something cool. No family family can do without a refrigerator, and it's great if the question of choosing a model comes down only to its functionality, as well as its appearance. But for a mini-kitchen, this issue is solved a little more difficult. But this situation was foreseen by the manufacturers of this technology, thanks to which refrigerators 50-55 cm wide appeared on the market.
Criterias of choice
Before you go shopping for a refrigerator, you must first decide what characteristics you expect from this device.. Think about what area in the kitchen you can take under this unit, because the dimensions of these devices are standard, and in the kitchen you still need to place a stove, a dining table, stools, perhaps a dishwasher, a washer ...
When all the calculations are done, you can go shopping and choose from the variety of modern home appliances exactly what suits you best.
Having decided on the width, pay attention to whether there is a freezer, how much it is and where it is located. Familiarize yourself with the functionality of the unit, evaluate its design, ask about power consumption. The optimal height for narrow models, designed for a small kitchenette, is 200 cm in size - this unit will fit perfectly into the interior and will be quite convenient to use.
It is better if the freezer is located not in the upper part of the refrigerator, but below (practice has shown that such models are most convenient in a small room).
A 50 cm wide refrigerator is a dream for:
residents of the old housing stock, where there is very little free space due to special architectural solutions that are not designed for modern interior parameters;
people who prefer to relax at their dacha. And that means - as a rule, a small house, a summer, heat, and without a fridge - in any way;
residents of small-type apartments and dormitories - all the same lack of free space and the need to fit into the refrigerator.
It is necessary to take into account the fact that if only a model with a special configuration is suitable for you, and not a standard one, then its cost will most likely be in a higher price range.
Some owners are too small in size kitchens find another way out - they choose the option built-in under the countertop refrigerator.
On the one hand, this addresses the issue of compact placement of furniture and the release of additional kitchen space, on the other hand, what can be put in such a refrigerator. Only the very minimum, and such a construction is not very convenient to use, and this can hardly be considered a comfortable housing arrangement.
It is precisely for such situations that refrigerators are produced, the width of which is slightly smaller than that of standard models - only about 10 centimeters, or even 5. It would seem that there is practically no difference, but, as a rule, this small amount helps cope with the problem of placing the unit in a cramped kitchen.
An excellent solution in this case is the acquisition of a narrow two-chamber model, the choice of which in appliance stores is huge. After all, any well-known and well-established company necessarily produces this popular product, because a small kitchen, not only in Russia, but also in many European countries is a very frequent phenomenon.
Italian production
The famous Italian brand Ardo is produced by the plants of the Antonio Merloni concern, and it is one of the largest companies that produce household appliances in Europe. Indesit and Ariston trademarks are also products of the same concern. In Europe, these high-quality products are known and are very popular among buyers since 1968, but the Russians were able to appreciate it only from 1996.
The Ardo brand not only specializes in refrigerators and freezers. In its assortment are also presented and other household appliances. It is characterized by high quality workmanship, attractive design and relatively low cost. The production capacity of the enterprise is approximately five million units of production per year, and most of it is exported to Russia.
Ardo CO 1410 SA
It is considered the most convenient among narrow segment refrigerators.. Its width is only 50 cm and it is one of the smallest models with two cameras, the lower of which is a freezer, which can be purchased on the Russian market of household appliances. The height of this refrigerator is 166 cm, and the depth is 57.5 cm. The refrigerator compartment has a volume of 144 liters.
The freezer in this model is unexpectedly large, given the overall small size of the model, its volume is as much as 97 liters. This is quite a normal capacity for an average family with three or four people. You can safely stock up on products for a week and everything will be perfectly located in such a convenient unit.
There is a place in it for winter preparations such as frozen mushrooms or berries - products can be distributed in four convenient boxes so that they do not mix with each other, and if necessary they can be quickly found.
This model comes with one compressor and is equipped with the safest refrigerant for environmental reasons. R600A. Controlled by the unit Ardo CO 1410 SA electronics, the thermostat allows you to adjust the temperature in the cooling chamber with the utmost precision (to one degree).
The refrigerator is defrosted with a drip system, and as for the freezer, manual defrosting is provided. Depending on the method of operation, defrosting is recommended every six months or a year.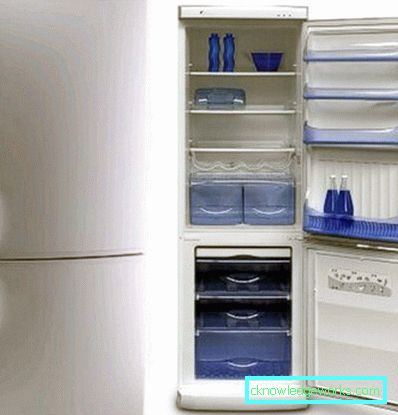 The freezer compartment in this model is designed for freezing products weighing five kilograms. This volume of fresh food freezer will freeze during the day. For such a small unit is an excellent indicator, and in everyday life rarely have to freeze large volumes.
The refrigerator compartment is equipped with two metal shelves, whose height can be adjusted, as well as a plastic shelf. There are boxes for fruit and vegetables (there are two) and another container for meat. In the functional door you can place bottles (1 shelf is reserved for them), canned food (2 shelves) and a special shelf for eggs.
Ardo CO 1804 SA
It is also a representative of compact units, and even less than the previous model.. The volume of this household appliance is only 218 liters. This unit provides a small freezer with a useful volume of 40 liters.
But there would be no demand for such a product, there would be no offers, and some buyers are quite satisfied with small volumes. For example, a bachelor, who is not going to cook food, but costs half-finished products, still cannot do without a freezer. And this volume is quite enough for him to fill small boxes of freezer with dumplings, pizza, and a mold with ice will be placed there to make a cocktail, for example.
But with a refrigerator in this narrow model, things are better, its volume is 178 liters, so that a beer lover in the summer heat can be calm - both bottled and canned together in large quantities. If for any reason the electricity is turned off, the cold in this unit will persist for ten more hours. So short-term interruptions in electricity will not turn the dumplings into an incomprehensible mess and will not heat the beer.
With the maintenance of this Italian technology, the Russians will have no problems thanks to the special centers opened by the concern "Merloni"On the territory of our country. As for warranty service, its validity is only one year, but then another two years can be called, as it were, semi-warranty.
Service during this period provides for free services such as:
replacement of the compressor in the refrigerator and
replacement of the compressor in the freezer.
If replacement of any other spare part is required, then its cost will already be paid by consumers. The price of both models is about the same - about 12,000 rubles.
South Korean models
Narrow models from South Korea - Samsung are also in great demand among buyers. Russians are familiar with the company's products for fifteen years and managed to make sure of the excellent quality of these units. This success of the entire technology of this brand is due to the use of the latest technical developments in the manufacture of products, which leads to the highest level of its quality.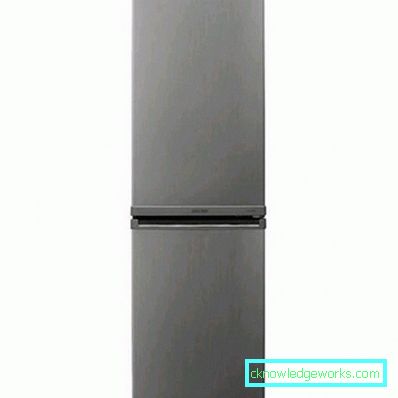 This is easily seen on the example of the model range of Samsung brand refrigerators supplied to Russia. Samsung is among the Russian consumer, perhaps the most common brand with respect to home appliances. And this is quite understandable - the price is quite mild, and the models are made with the latest technical innovations. Although the devices are narrow, they are as functional as possible, they are of exceptional quality, and with their external design they can decorate any kitchen, especially in this regard the beige color of the equipment looks beautiful.
Samsung RS-21 KGRS
This is a representative of refrigerators belonging to the highest price segment. Equipped with a built-in ice generator, a double cooling system and a number of other equally interesting and productive technical solutions. The cost of this perfection is about 55,000 rubles. There are similar devices from other manufacturers, but they cost about twice as much.
Samsung RL-17 MBSW
Already, than this, among all models of the company Samsung is not. It is also the flattest model with two cameras of all the abundance of choice. A shallow (only 54 centimeters) refrigerator can be installed in one row, for example, with a kitchen sink and a gas stove. A refrigerator with standard parameters will necessarily bulge out of the general row and spoil the whole picture of the thoughtful interior.
Of the total volume of 155 liters, the refrigerator takes up 100 liters, and the freezer of this narrow unit, respectively, is 55 liters. Model without any frills: control - electrician, four shelves, the production material of which is impact-resistant glass, a functional door with three shelves and a stand for eggs, and one instead of the usual two boxes for fruit and vegetables. If the designers would have divided it in half, it would have made products that look like toy dishes.
Everything is very simple and without any additional functions, but the price in rubles is nowhere below, a 8700 white refrigerator and 8900 silver.
Samsung RL-21 DCAS
In terms of dimensions it resembles the previous "baby", but wider. By volume - a liter did not reach 190 with a freezer of 65 liters. With one compressor, which with such dimensions is quite enough, the advanced model is in its electronic control.
The display will tell you about the exact temperature indicators of the freezer and refrigeration chamber, there is the possibility of super freezing and super cooling. Taking care of the environment, the developers supplied the unit with R600a refrigerant.
Products from Slovenia
Gorenje is a company from Slovenia, it is considered to be one of the best in manufacturing European household appliances. All the equipment of this brand is manufactured at the factories of the city of Velenje, in the same place where the head office of the company is located.
Narrow refrigerators produced by Gorenje were highly valued even when they were produced by socialist Yugoslavia, and are valued in our day, because they are always high-quality products, which are distinguished by modern technical solutions. Today, more than six thousand people are involved in the creation of household appliances from this brand.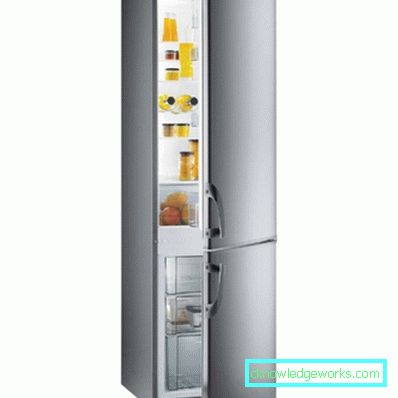 The production capacity of this company is 2.5 million units of devices produced per year, and 1 million units are refrigerators and freezers. In Russia, this product also arrives, and, although it is believed that Gorenje which firm is not so hot, and so - like a middling firm, and that it will never get to the top, products from Slovenia, due to its quality and reliability in operation, year after year, slowly but surely, it is becoming increasingly popular among buyers.
In the model range of narrow refrigerators from this brand more than two dozen units are represented. When it comes to small kitchen areas, the appliance is best suited Gorenje RK 4295 E. The unit has a width of 54 cm and a height of 179 cm. The refrigerating chamber has a volume of 203 liters and the freezer is 69. The device is equipped with one compressor, the freezer is defrosted manually, the control is carried out mechanically.
Additional features include super freezing. This feature is convenient because fresh foods freeze at a given enhanced freezing mode faster than during normal mode, which means there will be more vitamins and other beneficial substances in them. It will take the necessary time, and the mode will automatically go into a normal state, thus, an increased load on the compressor will not be created.
The refrigerator is equipped with five glass shelves and two containers for fruits and vegetables.. For the vegetable container, a lid is provided here, which is not available in other models. This innovation is convenient because the unpleasant smell (for example, from onions) will not spoil the aroma of fruits that are stored in a container without packaging.
The functional door is designed for storage of bottles, canned food, other trifles, and, of course, eggs. There is a container for oil. The evaporator of the refrigerating chamber is not visible, so there will not be excessive humidity here. By the pleasant little things can be attributed, and the presence in this compartment of the refrigerator lighting halogen bulbs. Of course, there is little heat from an ordinary incandescent lamp, but still, and no heat from the glow.
Gorenje RK 4295 is a unit that is available in two shades: white and steel, with the price of steel higher by 2,000 rubles (18,000).
Since technically, in their narrow models, manufacturers from Slovenia have long thought everything over to trifles, they have nothing to surprise the buyer yet, but somehow they need to interest people and draw their attention to the products, it was decided to "take" the design .
The company was among the first in Europe to make such a decision and, in order to implement it, turned to Ito morabito, known for its daring solutions in modern design. The fantasy of Marseille was crowned with success, and the rather ordinary household appliances of the Gorenje company turned into a "kitchen of the future". It's all about the minimalist combination of metal with black glass - and the hearts of European buyers were conquered.
German quality
If we are talking about the production of aggregates with small dimensions that are small in width and depth, here it is necessary to remember and Liebherr from Germany, which also produces the same devices. And although this direction is not directing for this auto giant, refrigerators are distinguished by good quality, convenience and true German quality.
These products do not aspire to the brilliance of designer finds and some super new technical bells and whistles - they are always stable, unhurried and high-quality.
The smallest units from the variety of models of the Liebherr company include the CUP 2221 model with the parameters 136 * 55 * 62.8 cm. The refrigeration compartment has a volume of 142 liters. There are three convenient shelves, two of them can be adjusted in height. The material of their manufacture - shock-resistant glass. Tanks for fruits and vegetables are also available and also quality. The door pleases with its functionality and thoughtfulness for maximum roominess, so necessary for narrow models.
The freezer is designed for a volume of 54 liters, there are two drawers where you can add food.
The defrosting of the German unit is the same as that of previous manufacturers: in the refrigerator compartment - automatic, and in the freezer - manually. This baby has modern equipment and additional functions, among which I especially want to mention "Smart Freeze". This is an opportunity to get a deeper freezing of products - uniform and high quality.
Such freezing does not lead to the loss of its humidity by the products and does not spoil their shape, and what is very important - the products do not freeze to the surfaces of the chamber itself.. This is very convenient, especially if you need to freeze the bulk product - turkey or meat in one piece. Such a miniature miracle of technology costs about 13,000 rubles.
Another similar model is the Liebherr CUP 2721.. They are similar in characteristics, but the dimensions in this case more. The height of the model is 160 cm, the total displacement is 253, and the cost is 17,000 rubles.
Other brands
Refrigerators 50-55 cm wide produce more prestigious brands - such models as Bocsh. Perhaps they will not have many functions, but reliability and quality they do not hold - it is a fact.
Known for their popularity among customers and units width of 50-55 cm from the company Atlant. They relished the Russian market not only for their loyal value, but also for their magnificent design, reliability in operation and high functionality.
Owners of small kitchens have nothing to worry about - world-famous manufacturers have taken care of them and offer a huge variety of models, one of which will surely fit into the interior of your mini-kitchen.