Rail system for the kitchen
Roof rails are a system of crossbars on which various hooks for towels, tacks and other kitchen utensils, various holders and stands are placed. It can be purchased both separately and in a set with different parts.
The most common material for railing systems is metal, mostly steel or aluminum. However, there are also designs made of plastic and wood.
Benefits
Advantages of railing systems:
moisture resistance - the rails are not afraid of water splashes, as well as cleaning products;
these are durable items - once you buy quality kitchen accessories, you will no longer think about them for many years;
structural reliability - rails are able to withstand quite a lot of weight.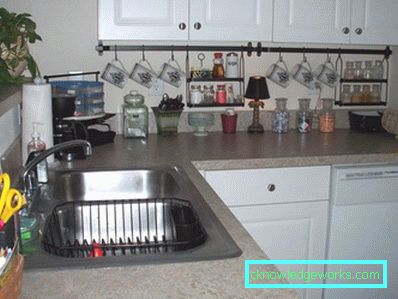 Kinds
Horizontal. This is the most common option. This is a tube that is attached to the brackets. Hooks for all kinds of objects are hung on this crossbar. Sometimes there are some additional accessories included. Such a railing design is mounted in the immediate vicinity of the working area below the level of kitchen cabinets or, if the interior of the kitchen allows it, between them.
Some manufacturers offer options for backlit railing. This adds aesthetic to the kitchen. Rails for large items such as cups or plates should be placed where they do not interfere. Pots of small sizes, for example, are best hung in the corner of the kitchen.
Vertical. This option of placing kitchen accessories is less common, but it also has a place to be. The bar, which serves as the basis for the whole structure, is fixed between the wall cabinet and the table top. And sometimes there are vertical railing in the entire height of the room. Particularly impressive are such systems in bar counters.
Suspended. This type of roof rails is most often mounted on large kitchens with island design furniture. Attached such a design to the ceiling or to the top plate of the kitchen.
Hidden. Such designs are often chosen in the event that none of the above described types are suitable. Hiding rails are mounted on the inner surface of hanging and floor cabinets. Most often they are hiding ladles, skimmers and other utensils.
Purpose
Mesh baskets of various shapes - they often contain jars of spices, soap, a sponge for dishes and cleaning products, as well as bread, vegetables or fruits.
Dryer-holders - for plates, cups, forks, legs and spoons
Coasters - for wine and other bottles, as well as covers from pans.
Hooks - for shovels, cutting boards and other utensils.
Holders - for rolls of paper towels or foil. Often, for greater functionality, they are made with a serrated edge.
Shelves - for decorative accessories and souvenirs that add individuality to the dwelling and make it more comfortable.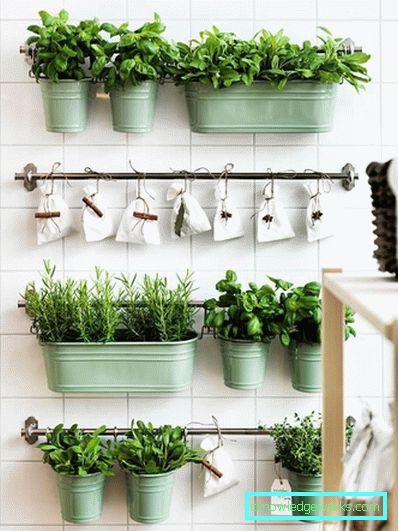 Recommendations for registration
Kitchen with a small area should not be cluttered with lots of large objects. Leave in sight only the small number of items you use every day - scapula, ladle, knife. For everything else, find a place in the closets.
If the working wall is short, place several shelves on different levels on it.
If there are no large cabinets on the working wall, it is possible to install full length rail structures. So everything you need will always be at hand and in sight.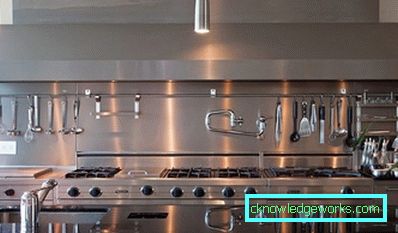 The lineup
Among the huge number of companies involved in the supply of rail structures to the market, the Italian company is in particular demand. Metalinea, which constantly pleases its fans with new collections.
For the manufacture of rail systems Chiara "Modern" use solid steel sheets. The accessories collection has a strict design and an ever-fashionable metallic luster. This allows you to use them in any interior. The entire collection is so versatile that it will easily fit into any style headset. The collection contains a huge number of elements of the most diverse functionality, which makes it self-sufficient and eliminates the need to buy something from other manufacturers. Four different carrier bar lengths make it possible to mount this system absolutely in any kitchen.
Chiara collection. Modern classics are also versatile and will decorate any kitchen. Three different lengths of the crossbar allow you to create sets with mounted shelves at different levels.
All parts of both collections have powder protective coating, which makes them more reliable and high-quality. Accessories have four unusual colors.
The chocolate-colored roof rails look especially elegant in combination with a light wall and a light set. Noble shine is very effective against a glossy surface.
White snow roof rails are very elegant, sophisticated and at the same time versatile. Accessories of this collection will be equally relevant for cold High Tech, quiet classicism and light Provence. Crystal-clear powder coating will not be erased even after repeated cleanups.
The name of the collection Venezia classic speaks for itself. It is inspired by the motifs of the narrow Venetian canals and the flavor of small Italian towns on the Mediterranean coast. The glass from which the spice shelves are made has a serigraph layer that makes it hardened, and the pattern on the glass is resistant to abrasion. The collection is made in antique color, which is called "Antique brass". Thanks to this color scheme, the interior of the kitchen looks homely and cozy.
Hue railing Ivory is very beautiful and very practical, despite the fact that it is bright. It will not be so noticeable drops of fat, which are inevitable in each kitchen, besides, he washes well. The hue with the mysterious name "Ivory" will look organically in the classical kitchen and in a modern or Provence headset.
The perfect color for the kitchen is Golden Sand. It is best combined with elements of yellow metal, which are characteristic of the classical style. Radiating a soft mysterious radiance, the elements of this shade contribute to the visual expansion of the boundaries of space. In addition, they are able to smooth out some of the roughness and sharpness of the interior.
Railing collection Titan owned by another Italian company - Friulana Accsessori. A distinctive feature of this collection is that it is made of aluminum. This type of performance is characteristic of the style of High Tech. The collection also has 4 colors and several different sizes.