Quartz sinks for the kitchen
Quartz stone, which is used in the manufacture of furniture for the kitchen - it is an artificial material. They make sinks and countertops for the kitchen. Quartz sinks have a large number of advantages. They are valued primarily for durability and aesthetic appearance.
However, like any other material, quartz also has disadvantages. Therefore, before you decide to buy furniture from quartz, you should explore all the pros and cons of this material. It would also be useful to study the feedback of those who already have experience in the use of products made of quartz. In addition, it is worth finding out about analogs - such as marble or granite.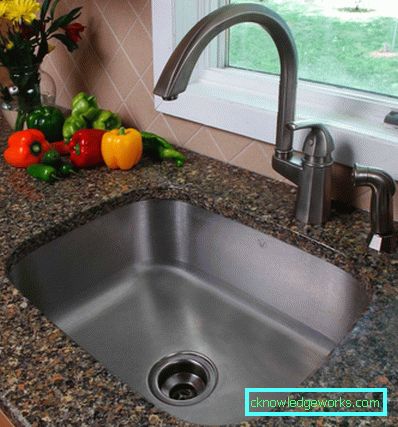 7 photos
Manufacturing technology
The process of producing quartz agglomerate is quite complex and multistage. The basis of the artificial stone is sand with the addition of natural natural quartz crumbs and various dyes. Polyester resins are used as a binder.
Pre-crushed rock quartz is mixed with other components in construction mixers. The share of directly quartz crumb is up to 90% of the total composition.
Next, the mixture is placed in a mold, where it is brought to a uniform state under a vacuum vibropress, in order to avoid later micropores and cracks.
After giving the required shape, the product is burned in a furnace at a temperature of about 100 degrees. In the process of firing, the resin hardens and gets the most hardness, for which products made of quartz are valued.
Like any other material, quartz agglomerate has its pros and cons. Consider the main advantages and disadvantages of this material.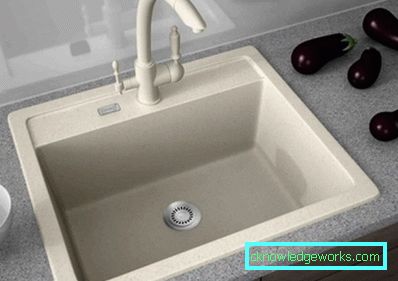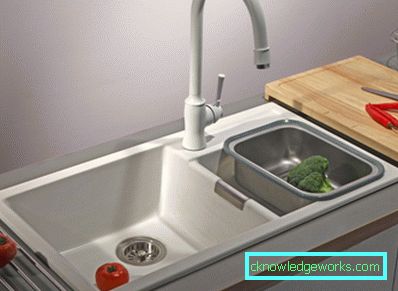 8 photos
Positive sides
Quartz is particularly durable and is inferior in this indicator only to diamonds and corundum. It is resistant to chips, scratches and other mechanical damage.
Washing of this material is not afraid of moisture and steam.
Unlike some natural types of stone, quartz does not absorb odors and is immune to the appearance of stains from coffee, wine, oil and other food products. Also he is not afraid of alkali-containing representatives of household chemicals.
Heat resistance. Agglomerate products are able to withstand temperatures up to + 280С. Therefore, in the sink you can safely lower the hot pan and pour boiling water.
Noiselessness Many reviews note that, unlike the metal surface, water, as well as dishes, doesn't make sounds that irritate many people when touched with a quartz sink.
Gelcoat coating provides shine and visual appeal. Thanks to him, the car wash will also remain insensitive to UV light. Products made of quartz have an expensive look, perfectly fit into any style solution of the kitchen interior. Quartz surface can be given absolutely any color and texture that fits to a furniture set. It can be a monochromatic surface, or it can be a skillful imitation of marble or granite, or another kind of stone.
Durability. A conscientious manufacturer gives a guarantee for washing and other products from quartz agglomerate on average 10 years. Due to special production technologies, the quartz surface does not crack, therefore, no bacterial plaque forms on it. This allows the use of quartz sinks not only in private houses and apartments, but also in public institutions - cafes, restaurants, industrial and school canteens, medical facilities, etc.
12 photos
disadvantages
First of all, the price. It is several times higher in cost than the more democratic version of stainless steel.
Large weight of the finished product. Therefore, some difficulties with its transportation.
Quartz surface not only creates a feeling of cold, but it is such to the touch. Therefore, you should carefully consider the color and design of the wash ordered.
Composite agglomerate, despite its strength, can still be damaged. In this case, it is not possible to correct the splitting on the surface by yourself, since polishing of products from quartz is performed on machine tools.
Difficulties in the work. When processing quartz, diamond cutters are used, which heat up and need to be periodically cooled in cold water.
Due to the need to use complex technical equipment in the manufacture of finished products from a composite, it takes a lot of time to give them a certain shape. This should be considered when ordering a non-standard washing.
Variety of shapes and sizes
Artificial quartz sinks can be given any shape and color. The round-shaped products with a reduced depth of 45 cm are very popular in the countertop. They are very convenient to use the sink with a wing for clean dishes. For the convenience of the consumer, some manufacturers do not make a hole for the mixer, so that the wing can be turned in any direction.
As for the sinks mounted in the tabletop, then they certainly look very beautiful and organic. But due to the difficulty of processing the specified material there are a number of restrictions on their manufacture. For example, finished plates of quartz are practically not made more than 300 cm. Therefore, experts advise to give preference to separate mortise sinks than built-in. So it is easier to repair and cheaper to change.
Optionally, you can order a sink with a rectangular or square bowl. In addition, modern manufacturers offer a choice of sinks with two compartments. The main compartment is designed directly for dirty dishes - pots, plates and other kitchen utensils. In an additional compartment, you can fold cutlery or fragile dishes: for example, tea cups, glass goblets.
The color range of quartz sinks, unlike metal, pleases with its diversity. Depending on the color of the kitchen unit, you can choose neutral white or deep dark. Quartz can repeat absolutely any texture - be it granite or limestone. There are absolutely fancy colors with small patches of glitter that transform the look of the kitchen.
Due to the rich choice of colors, quartz sinks can be used in the interior of any style - be it cold high-tech or democratic Provence. As for the texture of the sink made of artificial stone. It is mainly made matte. But there are also glossy surfaces, although their choice is not so diverse.
Despite their artificial origin, such products will perfectly fit into Scandinavian and Japanese styles, known for their passion for everything natural. In addition, modern technology allows you to choose the mixers to match the sink, so that the sink and faucet looked like a single whole.
Care
To make your sink delight you for many years, it would not hurt to purchase additional accessories that will protect the surface of the sink from possible mechanical damage. This is especially true of inexpensive products that may be inferior in quality to more expensive counterparts.
In order to accidentally slipped from the hands of the dishes did not damage the surface of the sink, purchase a metal basket, which will serve as a kind of buffer for the sink. This basket can also be used for washing vegetables and fruits. Rules for quartz surface care:
After each wash, wipe the entire surface of the sink with a sponge with a liquid or gel-based cleaning agent.
To avoid the appearance of scorch marks, do not put hot dishes in the sink. Either cool it under cold water, or use a special stand.
To avoid traces and stains from water that do not spoil the look of the car wash, rinse it after each use of cleaning products and wipe dry.
Do not pour acidic chemicals into the sink, such as acetone and other solvents.
7 photos