Professional mixer
Purpose and types
Recommendations for choosing
Top manufacturers
Reviews
The mixer is one of the most popular and frequently used kitchen appliances. But sometimes the power of a conventional unit designed for personal use is not enough and a professional mixer comes to the rescue here. And what it is, what kinds it is and what should be considered when buying it, we will look at the article.
Purpose and types
The professional mixer, as a rule, is used by cooks in restaurants and cafes. It is designed for whipping and mixing at once a large volume of products. So, some modern models have a bowl capacity of about 30 liters. But there are also mixers with a jug with a volume of three liters. Such devices are characterized by increased power, the presence of a greater number of speeds and, of course, a large size.
This professional kitchen assistant is used for the same purposes as the usual: whipping products, mixing them, kneading dough.
These professional devices can be of the following types:
Hand held devices. Used today not so often because of the inconvenience in working with a large number of products. During use, you have to keep the mixer in your hands all the time, which takes a lot of effort and does not allow you to significantly reduce the time for cooking.
Stationary mixers. Convenient and easy to use. Ideal for restaurants and coffee shops, as well as for home. All that is required is to load the ingredients in the bowl on the stand, select the desired mode and start the work. At the end of the cycle the mixer is automatically turned off.
Planetary device - this is the same desktop mixer as the stationary one and the principle of their work is identical. The main difference is in their work nozzles. In the case of a planetary model, the rims move not only around its axis, but also in a circle in a bowl. This allows you to beat and mix products not only much faster, but more carefully. In stationary mixers, the whisk revolves only around its own axis, remaining stationary relative to the bowl.
Approach to the acquisition of this professional kitchen unit should be very carefully, taking into account some features. For example, these devices differ not only in appearance but also in function. There are special mixers for sale, there are devices for making smoothies and cocktails, and there are also universal models.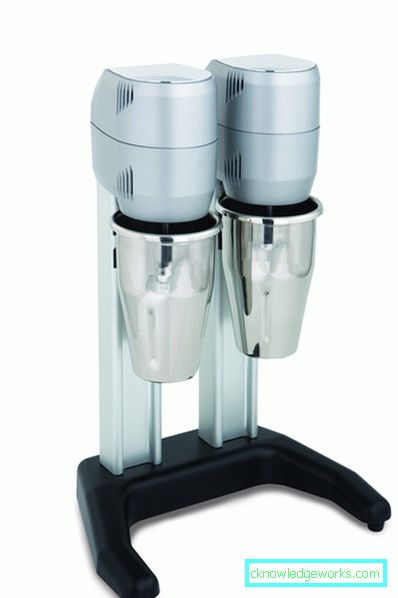 Recommendations for choosing
Immediately I want to note that it is better to give preference to planetary and stationary mixers. They are more convenient and hygienic to use, and even have more power.
Before you buy this kitchen appliances, you should find out what products will be used for cooking. If the device is purchased for home needs, then a device with a bowl capacity of up to 10 liters will be quite enough. Professional cooking works in large volumes, so you should pay attention to the model with bowls with a capacity of 10 to 100 liters.
Power plays a big role, the greater the capacity of the bowl, the higher should be the power of the device itself. It is better to purchase models with a capacity of 450 watts.
If the device is purchased for the pastry chef, then it is better to give preference to mixers that have several different nozzles in the kit. This will allow you to use this technique to perform various kinds of technological operations. It is desirable that pastry mixers have a bowl capacity of 10 liters. This will allow to use them for the manufacture at once of a large volume, both creams and dough.
Preferably, the material from which the mixer bowl itself is made is stainless steel or strong glass. It is undesirable to purchase a device with a plastic bowl, since it may soon become unusable.
It should be understood that professional technology is almost always expensive. Therefore, for home use can be purchased and semi-professional mixer, with less power and number of nozzles.
You should choose products from well-known manufacturers who really know how this unit should work correctly and what customers expect when purchasing it.
Top manufacturers
Manufacturers of kitchen appliances today a lot. But the average consumer does not always know about reliable brands engaged in the release of high-quality kitchen appliances for professionals. Therefore, we present to your attention the top three professional mixers.
KitchenAid Artisan. Best suited for home use. The volume of the bowl is slightly less than 7 liters, high power and electronic speed control make this device simple and convenient to use. Includes three extra tips.
Planetary mixer TorgMash Belarus MP-10 widely used in catering establishments. Powerful, multifunctional, high-quality and reliable. Allows you to perform any work in minutes.
And if you are still a supporter of submersible models, then the Professional Hand Mixer Robot Coupe CMP 250 Combi this is what you need. This device can be used for beating and mixing any liquid products in containers with a volume of up to 15 liters. High power and speed of work allow processing a large volume of products in a short time. It has a simple design that easily allows you to independently disassemble it and put in order if necessary.
Naturally, all the described models and their analogues have a higher cost compared to conventional mixers. But are they as good as they say manufacturers are about? Let's find out from the owners of such technology.
Reviews
According to professional chefs, they are without hands using this kitchen unit.
He not only performs a lot of work, but also reduces the cooking time. And the high cost pays off very quickly. If we talk about the use of professional mixers at home, then in general they are also positive. Their owners note the speed and efficiency of work, low noise and durability. So it turns out that the acquisition of a professional mixer is not a waste of money, but a profitable acquisition.