Planetary mixer
The planetary mixer is a versatile modern kitchen appliance. This device has this name due to the principle of rotation of the nozzle and bowl, which move simultaneously. This is an excellent device for both an ordinary housewife and a professional chef. Such a device can make the process of cooking in the kitchen easier and more convenient.
Classification
Previously, the planetary mixer models were intended only for cafes and restaurants, for which the high performance of this device was important. But later, the manufacturers released a kitchen appliance for mixing with a similar rotation technology, which is also suitable for ordinary household use. These are professional, semi-professional and household appliances, which are very different in their purpose and technical characteristics.
Professional. These models are used, as a rule, in large chain catering establishments, which is especially suitable for bakeries and bakeries, as well as other establishments selling baked goods. To use such a device requires special knowledge and skills, it is quite difficult to operate and manage. As a rule, such a combine-mixer has a large bowl volume, about a hundred liters. The professional planetary mixer, as a rule, floor. This is a rather massive and heavy construction. They are perfect for making dough.
Semi-professional. You can call them an intermediate model between the professional and household variety. These devices are also commonly used for establishments, but with a smaller stream of customers and with less required performance. Semi-professional models are perfect for bars, coffee shops, or small hotels with a kitchen. In order to use such a device, it is also necessary to know the basics of their operation, but they are simpler to operate, unlike the professional model. With this device you can easily knead any kind of dough, while it will turn out very lush.
As a rule, these are floor models, but there are also semi-professional desktop devices. Their bowl has an average volume of ten liters. They are perfect for cooking a small batch of pastries and other dishes.
Household. This type of model is designed for home. They are perfect for any kitchen. Their purpose is the usual home use for baking. This is a very good bowl mixer. To use it you do not need special skills, it will be enough to familiarize yourself with the usual instructions attached.
As a rule, the bowl of the home planetary mixer has a volume of 5 liters. This is a desktop device, as opposed to a stationary device. They are very easy and convenient to use. Very practical household models with a meat grinder. With it you can make homemade burgers very quickly and easily.
Advantages and disadvantages
Double-rotated mixers are very different, each type has both advantages and disadvantages. Professional models are needed only for bulk production, they can not be used for domestic purposes, they are very large in size. That is why, in view of the large footprint, they are not suitable for small cafes. By contrast, semi-professional devices are more compact, but their size does not reduce their performance and the amount of electricity they consume. To install such a device, you must install a separate outlet, this is a small drawback of this design. But such a device is easy to knead the dough, even according to the most complex recipe in a short period of time.
The most suitable for any housewife is a household planetary mixer. It has a huge number of functions and greatly simplifies the hostess in the kitchen. These devices have the most secure device, as they are intended for domestic use. Typically, manufacturers focus on the design of this device. As a rule, such models look very stylish and concise, so they will fit perfectly into the interior of any modern kitchen.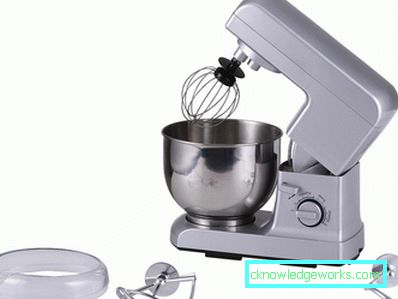 Virtually all models of domestic planetary mixers have a large selection of various nozzles, each of which is designed to perform a specific function. With it, you can chop fruits, vegetables, spices and even coffee. They can be used instead of the meat grinder and dough mixer. Although this type is quite compact, if we compare it with other types, it will not work for a small kitchen, as a rule, such a device takes up quite a lot of space. Another disadvantage of such a model is its high cost, planetary mixers are very expensive compared to conventional models.
Main characteristics
Planetary mixer, depending on the technical characteristics, can perform a huge number of functions. These include: knead dough of any consistency, both liquid and thick, making mousses and a large volume smoothie, whipping cream and protein into foam, making natural sauces, chopping meat and many other functions. With their help, you can cook almost any dish. All of these features are in every variety of such mixers.
Professional devices with a bowl capacity from 20 liters to 120 liters are absolutely not suitable for the home, their design is very massive, and the device is complicated.
Among housewives, domestic models are in great demand; such a mixer is quieter and more compact, which makes it popular. That is why it is necessary to consider its equipment.
Manufacturing material
The most reliable are stainless steel planetary mixers. Although such models have a higher cost, compared with other mixers from other materials, it is more reliable and high-quality. Stainless steel is very durable, such a device will serve you for many years. Best of all, if the rest of the accessories of this device will be made of stainless steel.
Try not to purchase plastic planetary mixers. They are of lower quality and may react with certain foods. Only the purchase of planetary mixers with a plastic housing is permissible, since this part of the design, as a rule, does not come into contact with food.
Models with a metal or glass bowl are very popular. The latter has more weight, but more reliable. Both of these materials are suitable for the manufacture of planetary mixers.
Equipment
As a rule, the device in question has basic and additional attachments. To increase its functionality, you will need to purchase the necessary nozzles, so it is better to initially purchase devices with a good bundle. From what is included with the device, will depend directly on its purpose. Such a complete device can be used as a blender, mixer, meat grinder, grinder and juicer.
When choosing this device, you should make sure that it has several additional sockets for attachments that are not included in the kit. As a rule, manufacturers provide two or four additional holes for attachments. For domestic needs, there are two such nests.
The classical household planetary mixer includes three components: a container in the form of an oval, which is called a bowl, a nozzle for mixing and a holder of this nozzle with a special mechanism that allows this part of the device to work. The power of the planetary device will depend on the number of components, functions, as well as on the diversity of the speeds used. This figure may be about 2000 watts.
The standard complete set of the planetary mixer includes three nozzles. These include the whisk, hook and shoulder blade. The first nozzle is used by cooks and housewives to beat the products. A whisk can help prepare an air mousse, souffle, or whipped cream.
The tip in the form of a hook allows you to make the dough with a thick consistency. It is perfect for making puff pastry with a cool structure. The paddle nozzle is designed to both knead and whisk less airy products. It can be used to make a glaze or toppings for baking, you can also use a spatula to make delicious mashed potatoes.
You can also purchase additional attachments. In order for your mixer to act as a vegetable cutter or juicer, you can purchase a specialized additional shaft with a rotating design.
Timer. It is very important that the device includes a timer in its design. As a rule, its maximum limit can be one hour. Some models have the function of self-timer off at the end of the set mode. In order to cook a lush dough, you will need a timer with a maximum rate of half an hour.
Bowl volume. This figure depends on the required performance of the device. For home use, a bowl with a capacity of 3-5 liters is perfect, but for professional use in establishments it is better to purchase a planetary mixer with a bowl capacity of 10 liters and above.
Dimensions. This indicator of the device depends on its type. The largest dimensions have a professional planetary mixer, its size can be more than a meter in height. For home use, it is better to purchase semi-professional or home appliances. The choice between these two varieties should be made depending on the size of your kitchen, as well as on the availability of storage cabinets. Even the most idle home planetary mixer has large dimensions, so you need to foresee where you will place it.
Control Panel. This component of the planetary mixer is quite important. Control panels are of two types: mechanical or touch. The first version is more classical, it is also very practical, since the usual button on this panel will work even if you press it with raw hands. Although the mechanical control panel is more durable, it is believed that it is not very practical.
Very stylish look models of planetary mixers with touch controls. They are very modern and ergonomic. Such a mixer model fits perfectly into high-tech kitchens. In addition, they are very easy and convenient to care for, but this panel may not work in case of moisture on it.
Model overview
Planetary type mixers are more popular in the USA, therefore such Russian-made models can be found much less in the market of kitchen appliances. In addition, the American planetary mixer is more budgetary than the instruments made in Russia. Even if we consider the same model of the planetary device of the same company, the difference in the price of the device in Russia and abroad will be significant.
Very interesting are the models that have a heated mixing system.
The bowl in such devices during rotation evenly warms up. This feature allows in the manufacture of baking to bring the ingredients to the desired consistency and help get rid of the lumps in the dough. Using this model of a planetary mixer, you can easily make a smooth air cream because it can warm up too thick butter. Such professional high quality models are made in Italy.
A very famous and popular model is the planetary mixer brand. Stadler form. This is a very convenient home appliance that is perfect for home use. The only drawback of this kitchen device is its weight, this model weighs about ten kilograms. That is why it is necessary to allocate a permanent place for him, as regularly to get and remove this heavy structure is very problematic.
Device Stadler form has four nozzles included. These include the whisk, two different blades (one standard flat and the other model scraper), as well as the usual hook. The bowl has a volume of 4 liters, in addition, it is supplemented with a special cap to protect the contents, and in the lid there is an opening for loading products. The main part of the Stadler Form is made of metal, and the twisting mechanism is made of high strength stainless steel.
This model has a liquid crystal display and two buttons.
On the display you can see at what time interval the timer is set, as well as the rotation speed you set. Below the display there is another additional button with which you can pause the operation of the device, which is very necessary with additional loading of products into the bowl. By pressing this button again, you will restart the operation of the device.
Feature of planetary mixer top brand Stadler form is that it has the ability to turn on with a soft start. That is, the device rubs the speed gradually, eliminating splashing and scattering of not yet mixed ingredients. Also, this device has the function of automatic shutdown, in the case of the expiration of the time set on the timer.
The planetary mixer of the brand is very popular. Kitchen aid, which is made by American manufacturers. His device is very reliable and durable, this brand produces mainly semi-professional and professional models. The appearance of Kitchen Aid devices should be especially emphasized, they are presented in the most diverse design and colors, they can be easily selected for each kitchen interior. This device has a metal case and a stainless steel bowl, also comes with three classic nozzles. This model is the choice of many professional chefs and skillful hostesses.
Brand models are popular among owners of large establishments. Kocated, made in Korea. Judging by the description of the manufacturer, they have a very reliable design, but their weight is very large and reaches 150 kg.
Among the Russian manufacturers, the planetary mixer is considered one of the best. Comfort. As a rule, these models are very low cost, their price is significantly lower than devices from foreign manufacturers. The Comfort brand produces household planetary blenders that are very easy to operate. In such devices it is very easy to replace the nozzles, these designs are the most convenient.
Among the planetary mixers made in China, the most popular brands are Gemlux, VFM, Gastrorag. Chinese manufacturers produce a huge number of models of different varieties. In addition, some of them have a very low price.
Owner reviews
Many owners of large catering establishments purchase planetary mixers of professional and semi-professional type. These buyers indicate that this device greatly simplifies the work of cooks, in addition, the designs have high performance and allow to save human labor by mixing products themselves. Owners and employees of confectioneries and bakeries note the indispensability of this device. Buyers indicate that it can be used to make dough of any complexity.
The hostesses who have purchased a home-made planetary mixer for their kitchen, note that he has simplified their life.
In their feedbacks, customers indicate that such a mixer helps to make very rich and airy creams that are very difficult to prepare by hand. It allows you to achieve the necessary texture and texture of dough, cream or glaze and other products.
Mainly for the home, planetary mixers are bought by buyers with large families where there are sweet-tooth children. Consumers say that with the help of these devices they make excellent pastries that cannot be distinguished from those bought at the bakery or bakery.
Many pastry chefs note that without this design it is impossible to properly cook many cream cakes and pastries.
Many buyers appreciate the heating function while rotating the bowl. Housewives indicate that this function allows you to straighten clots of oil and makes creams and dough more uniform. Cooks indicate that this device allows you to do the preparation of other ingredients during the automatic whipping, which greatly saves time spent on cooking dishes using a planetary mixer. Analysis of the reviews on this modern device showed an exceptionally positive attitude of customers to these devices, whether they are ordinary housewives, professional chefs or owners of catering establishments.
8 photos