Philips blender accessories
One of the most favorite kitchen assistants of many housewives is blender. It allows much faster and more enjoyable cooking, thereby simplifying the kitchen work. And additional nozzles allow you to increase the functionality of this device. We'll talk about what kind of accessories for Philips blender are and why we need them.
Features and benefits
Each type of blender, be it submersible or stationary, includes in its kit certain nozzles. This basic equipment allows you to accelerate processes such as beating, grinding and mixing. But in the sale you can often find additional attachments for these units. As a rule, they are designed specifically for manual models or multi-sets and give the hostess a number of advantages:
Allow to expand the functionality of the device, without making to this a complex effort.
Significantly reduce the time of cooking, due to the use of various accessories.
Reduce the load on the person. After all, the device performs all the necessary work independently. All that is required is to install the desired nozzle and turn the blender into operation.
Increase device performance without cost. It is cheaper to purchase additional accessories than to acquire a new, more functional device.
It is possible to get not only nozzles, but also knives. Additional containers and even measuring cups.
When purchasing such additional components should be given preference not just branded attachments, but also those that fit specifically to your device model. In this case, they will accurately work properly, and their useful life will delight you.
Kinds
All accessories for the Philips blender and not only can be divided into several groups:
Nozzles This includes all possible graters, shredders and other accessories that are designed for mashed potatoes, salads, liquid dishes and other things.
Knives They can be of different size and shape.
Bowls This accessory may vary in shape, capacity and material of manufacture.
Measuring cups can be more or less than those already included in the kit.
In addition, each of these accessories can have several varieties. And for the model Promix blender it is better to immediately purchase several nozzles-legs.
Nozzles and whisk
They can be in the form of paddles and are used as for thorough beating and mixing products. There are special nozzles for mashed potatoes, for cocktails, for dough. Depending on the destination, they can be wavy, oval or straight. They are a basic accessory.
There are also combined nozzles that combine the functions of the whisk and the chopper. This mixer allows you to replace the mixer, as the processed product is simultaneously crushed and whipped, while the products are mixed very carefully.
The corolla also belongs to the nozzle category. Its additional acquisition may be required not only in case of breakage of the old one. The fact is that commercially available rims of various lengths and widths, using which you can beat the products quickly or slowly, strongly or poorly. There are some devices that are suitable for a particular dish, for example, eggs or mayonnaise, or batter.
Knives
Additional kit is useful when blunting old knives, frequent use of the blender or to expand its functionality. This also includes the chopper, the main purpose of which is chopping greens and nuts, as well as a special nozzle for dicing, which is a square knife.
The last accessory appeared on sale relatively recently and it can be chosen not for all models. As a rule, a cubic cutter grinder for blenders is sold only in specialized stores and is used to grind cooked products, as raw materials can be hammered between parts of the grill and bend it. Therefore, even in the instructions it is often stated that it is forbidden to use this knife for grinding solid and raw products.
In the same category can be attributed to the mill. Although in reality this accessory is a separate device, it significantly expands the functionality of the blender and allows you to grind solid products in small quantities. Copes with nuts, spices and even coffee beans.
Bowl
This accessory is the most sold. With the help of an additional jug, you can grind a large number of products at once in the right volume. In addition, if the glass cup to the blender you have failed, you can easily replace it with a stronger metal or cheaper plastic.
The presence of additional tanks for a blender also provides an opportunity to reduce the time for cleaning, because you do not have to wash it every time before laying the next product. And you can mark this accessory and use each cup for a separate product, which is the most correct from the point of view of hygiene.
Lid and glass
An extra glass to the blender will never hurt. It is very convenient to grind a small amount of solid products. And also it is ideal for beating meringue and mayonnaise. As for the protective cover, ideally for each bowl it should be its own.
Do not forget that the most functional are the covers with a hole for bookmarking products. They allow you to add the necessary ingredients directly during operation of the device.
But it is not enough to know about what kinds of accessories can be, you need to choose them correctly.
How to choose?
Before you go to the store, you should decide on the list of accessories that you need to purchase. After all, it is not always necessary to buy all of the above described ones.
If you use an immersion blender without any additional nozzles, then another standard knife nozzle will not hurt. The list of mandatory accessories for purchase can also include a bowl, a lid and a glass. With frequent production of dough and creams, you will also need an additional whisk and nozzle for the dough. Fans of home canning, as well as those who often prepare stews and salads will always come to the rescue with a knife for cutting cubes and shredding.
In general, we can say that you must first decide what your updated blender will have to perform, and then go shopping. It is necessary to get the accessories made of metal, an exception there can be a glass and a bowl. These components can be made of plastic and glass.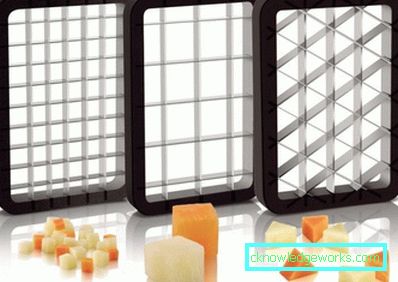 Do not try to save on this purchase. Good components that really will work for a long time and well can not cost less than 300 rubles per item. It is best to purchase them in well-known stores or directly from the manufacturer. This way you can also protect yourself from the purchase of low-quality goods. You can order additional components from Philips through the official website, which can be next to a specific model, and it is indicated for which blender this accessory is suitable.
Despite the fact that some blenders may work with nozzles from other manufacturers, it is better not to take risks and not to buy accessories of another brand.
It is always worth remembering that additional accessories can really facilitate kitchen work and increase the functionality of a blender, but for this you need to take into account all the nuances, and our recommendations will help you with this.