Narrow kitchen-living room
In modern residential buildings, especially in block houses, long narrow kitchens are not uncommon. And before the owners the question arises how to arrange living space in such a way that it was beautiful and comfortable. Arrangement of such a kitchen is not the simplest task, it requires an attentive approach to details, but under certain conditions it can be turned into a cozy kitchen-living room.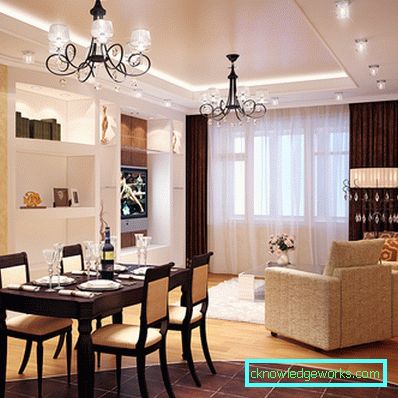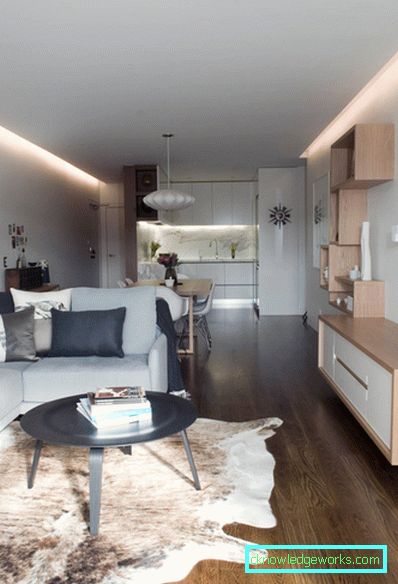 Combination
One way is to remove the wall or move it. In this case, you get a kitchen that will be combined with the living room. Design approach to such premises - it is obligatory division into zones. The design of this room should be kept in the same style. Zones can be designed in different colors, but these colors should be combined with each other.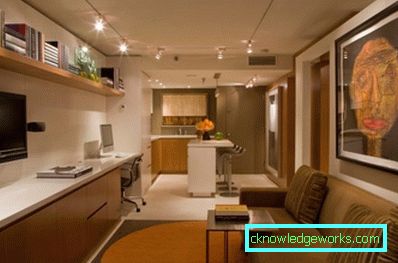 Such kitchens have their advantages and disadvantages.
Of course, you will get a spacious room, and you will not need to place a dining table in the kitchen area. In addition, while cooking, you will be able to chat with your family members or guests.
However, it is necessary to take care of a powerful hood and ventilation - in the common room it is difficult to avoid the spread of kitchen odors. You will also have to take care of quiet household appliances - otherwise those in the living room will feel discomfort due to the noise of a coffee grinder or other appliance.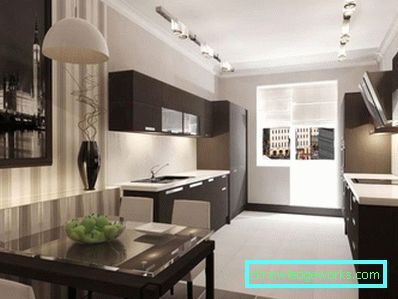 With proper zoning, the combined kitchen-living room will be very stylish, but it is best suited for those who devote little time to cooking.
No less interesting may be another solution - arrangement of a niche or opening in a wall with sliding doors. Thus, we clearly divide the space into functional zones.
Kitchens are often equipped with wall cabinets and shelves. And, hung in a very narrow room along one wall, they will weight the interior. Alternating lockers and open shelves will help avoid overloading the interior.
So that the kitchen does not look overloaded on one side, it can be visually balanced by decorating the opposite wall with photowall-paper or painting. You can choose any images, but landscapes or still lifes will be more appropriate. They will revive the room, create the impression of volume.
If the width of the kitchen allows, the designers advise to arrange the furniture on both its sides - the interior will look more harmonious with a uniform distribution of furniture, and you will have a fairly large working area.
Design
A small narrow kitchen can be made more visually, competently applying design solutions.
First of all, discard the dark tones. The most suitable will be white, gray, blue, beige or light yellow. Wall murals with a perspective on a free wall will also help to visually expand the space.
As for the furniture, it should also be light colors. For narrow kitchen furniture with glossy surfaces is perfect. They will reflect the light and also contribute to a visual increase in the volume of space.
You should also take care of good lighting of a small kitchen. There is not enough light from the window in the butt of the room, so install additional lighting for the cabinets, at the table top and in other places. LED lamps are best suited. They do not clutter the room, being embedded in the surface, provide good lighting.
Interesting solutions
Many people like to have something original and unusual. If you belong to this category and you have a small narrow kitchen-living room, then you have a great opportunity to show originality.
An interesting solution would be to install mirrors on the walls or doors of the cabinets and on the walls - a peculiar optical effect is guaranteed.
Placing a bar in a dining area or a long narrow table along a wall would be unusual.
An unusual idea seems to put a sofa in a narrow long kitchen.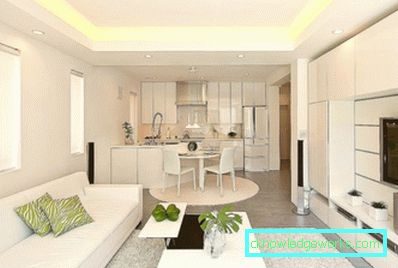 In fact, there is no contradiction. The sofa is best placed in the butt of the room, it will fit perfectly into the interior.
If the size of the kitchen allows, a large soft sofa will create additional comfort. The kitchen with a sofa is comfortable. Family members or guests can sit on it and chat with the hostess while she cooks.
With a sofa can be a small kitchen. In this case, you should pay attention to the non-bulky sofas or corner sofas with folding seats. Under the seats can be equipped with a storage box for kitchen utensils. Thus, you will get a comfortable functional piece of furniture. You can also install a sofa on the border of the zones, thereby dividing them into the living room and kitchen.
A good idea would be to make an extravagant renovation in a modern style.
Fashion directions
Make repairs in the style of minimalism or high-tech. You will have the original functional room without unnecessary details. First of all, you will get the necessary minimum of furniture without decorative elements, which is important for small rooms.
Light tones of furniture, geometrical details and straight lines will help make the space wider. This will also contribute to good lighting. It should be noted an important feature of the minimalist style that is significant for small kitchens - household appliances can only be built-in.
The high-tech kitchen will look stylish and modern. This laconic style is the best fit for the kitchen of small sizes. It will allow you to functionally place the furniture, and the simplicity of the forms will ensure its convenient use.
Glass and metal are widely used in this style. Their brilliance will add visual volume to the room.
The main colors of the style - white, blue, gray, silver - are optimal for a small kitchen. And bright contrasting inserts will create a special charm.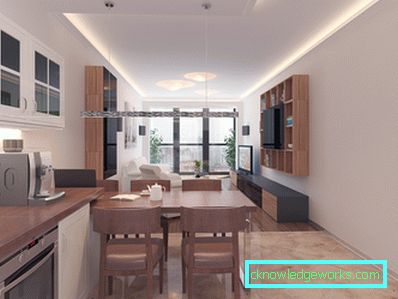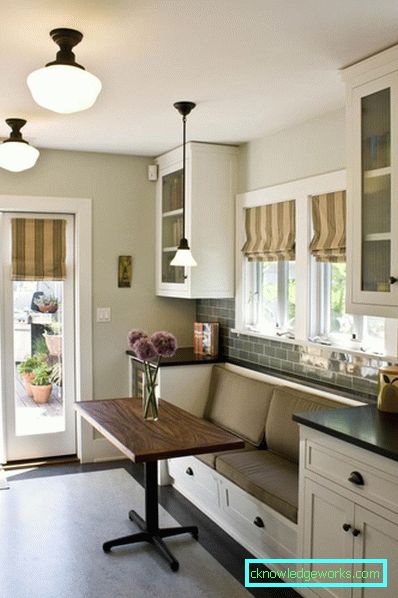 9 photos