Narrow kitchen table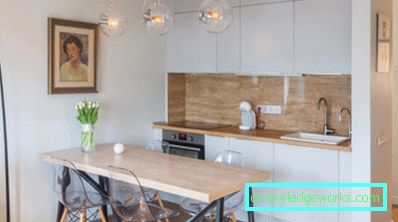 A narrow table in the kitchen is suitable for a small family or those of its members who are practically not at home or prefer to dine in a cafe. By the way, narrow models of tabletops differ from each other, and even among them you can find those that simply turn into a full-fledged dining area and do not take up much space in everyday life.
Design
Folding type will be appropriate in a very tiny kitchen; depending on the size of the table top, the possible number of people who can fit behind it is determined. A narrow folding model is also convenient because, if it is necessary to expand the free space, it can be fixed on the wall or that piece of furniture to which it is attached.
A narrow bar counter instead of the usual kitchen table is an original and practical solution for a small kitchen; You can mount it on the window sill or instead of it to save the rest of the space, on one of the kitchen walls and provided that the structure does not interfere with moving around the room.
A compact narrow kitchen table can be placed in the center of the room, like an island, and used for cooking and eating alike. Such a solution will be advantageous for a small wide kitchen and it is better to choose a model with internal drawers.
For a long kitchen, it is appropriate to use a narrow rectangular tabletop, which should be installed along the wall opposite to the headset and secured with strong fittings.
A retractable table is an excellent solution for a compact or spacious kitchen, where extra space doesn't hurt. The mobile table traditionally "leaves" the main furniture - islands, the cabinets of the headset.
The continuation of the tabletop with a free edge may well be noticed by a classic table, provided that the family is not large or there is a complete dining set in the house.
The console table is a folding tabletop model that resembles a narrow floor shelf. When decomposed, the table increases several times due to the raising of its wings, or lowered.
Forms
Not every table shape can be narrow: traditionally, these are rectangular models with straight or slightly rounded edges, semi-oval models, which are a rounded table-top mounted to the wall.
The rectangular shape of the tabletop varies in width, and the most optimal will be a width of 45 cm, because it allows you to arrange a small plate, cutlery and necessary items such as napkins and spices. The size of 40 cm in width of the table allows for a very small and narrow kitchen, when family members hardly dine at home or their number does not exceed 2 people.
Rectangular countertops are very different in material and form, which allows you to choose one or another model to complete a certain image of the kitchen.
The semicircular format of the tabletop will be appropriate in a romantic or rustic design direction with a predominance of light natural shades in furniture and decoration. In this case, the semi-oval design will be attached to the wall and take up an order of magnitude more than a rectangular analogue.
How to choose
An important criterion when choosing a kitchen piece of furniture will be the size of the room; it is he who decides which piece of furniture will be in width and length. The second thing to take care of is capacity: a standard table 120 cm long accommodates 4 people - two on each side.
It is important to know that a person sitting at a table should have at least 60 cm of space (width), and the best solution for a tiny apartment could be to choose a square model of 50x50 cm or 60x60 cm for up to 4 people (depending on the placement of furniture).
The shape of the table plays an important role: oval models allow you to place more people because there are no corners, but, like round ones, they take up more space in the kitchen.
It makes sense to choose transforming models if guests come to you often; A low narrow cabinet can be easily used in the bedroom or in the living room to store the décor, and, if necessary, can be disassembled into a full dining table.
In general, any folding model of the kitchen table will be useful and more profitable than the purchase of a stationary tabletop. However, the interior design also leaves an imprint on the choice of the table - the classic requires heavy furniture (made of wood or MDF), but the massive elements inorganically fit into the scale of a tiny kitchenette.
Design solutions
The original decision will be the choice of a compact long piece of furniture in the form of a bar counter, but the model will be stationary and have several shelves for storing spices, bread, napkins and other necessary parts. A narrow wooden table 50 cm in width will be appropriate in a small bright kitchen, it will create a skillful contrast and distract attention from the modest "squares".