Moulinex coffee maker
Features and advantages
Popular models
Preparation of the coffee maker for use
How to make coffee?
Reviews
To enjoy delicious coffee, you do not have to go to a coffee shop, you just need to buy a good coffee machine. One of the best coffee makers are models under the brand name. Moulinex, which proved to be reliable and durable devices.
Features and advantages
Moulinex drip coffee maker is made so that not a single drop falls on the kitchen surface. Thanks to a special valve, the drops remain inside the bowl, which helps save time for cleaning. Some models have the function of autonomously keeping the temperature of the drink so that even after 10 hours a person can drink hot coffee.
The main advantage of coffee machines is their noiselessness.
In addition, they have an electronic control panel and an indication of the water level, which makes the process of making coffee simple and fast. The coating device consists of durable plastic, which is quite resistant to mechanical damage.
The coffee maker itself is a device of a water tank and a filter for ground coffee. The bowl for water has a volume calculated on 4 portions. It is made in the form of a small kettle, which is easy to remove from the device and just as easy to insert.
The design of coffee makers is made in two colors: black and white, so that each looks harmoniously in any kitchen interior. Advantages of the Moulinex coffee maker:
Quick work devices;
Simplicity in use;
Ease wash;
Filter durability, which does not have to be changed;
Variety of cooking various drinks. In addition to coffee in it, you can make tea, cappuccino, espresso and other beverages.
Popular models
Moulinex drip coffee machines allow you to quickly make fragrant drinks and keep their temperature for several hours.
The most famous models:
Little solea - device made of stainless steel. It is equipped with an anti-droplet system so that not a single drop gets onto the kitchen furniture. It contains a 1 liter water bowl and a filter for ground coffee. So that inside the coffee maker there is no mold, a nylon filter is installed in it. Cost - 3500 rubles.
Subito - a large coffee machine, designed for the preparation of 15 small portions of the drink. The glass teapot has a solid lid that prevents drops of coffee from falling outside the device. Cost - 3600 rubles.
Diva - the simple and compact car calculated on 8 small portions. The device has a panel on which the number of portions is automatically set depending on the volume of water in the bowl. The device can be turned on and off with a switch. The cost is 1500 rubles.
Aroma - a simple coffee maker, which has a scale on the bowl, which indicates the ratio of coffee with portions of the drink. The device has a ground coffee tank and a water tank. Thanks to a special flask of a coffee pot, coffee can stay hot for several hours. Cost - 1800 rubles.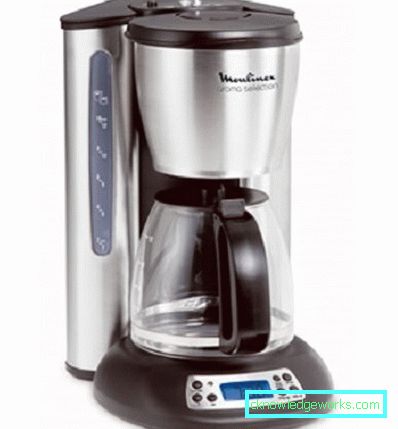 Accessimo - 600 Watt drip coffee machine. It is equipped with an anti-drip system and is designed for 4 cups of coffee. It has an auto-heating plate installed to keep the drink hot for a long time. The cost is 1600 rubles.
Principleio - a device designed to prepare 8 small portions of coffee. The filter for ground coffee can be changed, and the kettle is easy to clean. The car has an auto heating function and a water level indicator. The cost is 3000 rubles.
Divina - drip coffee maker, equipped with an anti-drip system. The power of the device is 850 W, and the water tank has a volume of 1.2 liters. It has an auto-heating plate and a waste container that is easy to clean. Cost - 2000 rubles.
Caprio - drip coffee machine, equipped with semi-automatic coffee preparation. In it, you can make a drink from whole grains. The capacity of the device is 1150 W, and the water tank is designed for 1.25 liters. The cost is 2600 rubles.
Preparation of the coffee maker for use
In order to prepare a drink in a new coffee machine, it needs to be prepared. This is necessary in order to get a delicious and aromatic coffee without an unpleasant smell. First you need to clean the device from dust by boiling. In the tank you need to pour water and turn on the coffee maker. When the water boils, drain it and repeat the procedure. This way the dust will disappear and the microbes will die. After that, you can use the device for its intended purpose.
How to make coffee?
In the coffee maker, you can brew not only coffee, but also tea, as well as various herbal teas. Therefore, before starting work it is necessary to prepare the ingredients. For one serving of coffee, you will need 2 teaspoons of powdered coffee. Water will need about 100 ml, but for a strong drink you need to pour less water.
After everything is ready, the car just needs to be turned on and wait a few minutes.
Reviews
Moulinex coffee makers are known among consumers as reliable and durable devices. With their help, you can make a delicious and fragrant drink, without wasting time and effort. If there is no extra time to make coffee in the morning, you can do it in the evening - the product will keep the temperature. Very happy buyers ease of use of devices and their cost.
A simple coffee machine can be purchased for little money, without fear that it will last a short time.
In this video is a demonstration of the Moulinex BCA1L4 coffee maker.