Top Mixers Rating
A mixer is a kitchen appliance designed for mixing and whipping products. This is an indispensable assistant to any hostess and every professional chef and pastry chef. With it, you can make very lush pastries, air creams, sauces and other dishes.
18 photos
In order to choose a high-quality mixer, it is necessary to familiarize yourself with the rating of the best manufacturers and models of mixers.
10 photos
Top Marks
Gorenje
This brand produces a large variety of mixers, most of them are stationary models on a stand. That stand causes a lot of positive feedback from consumers. They write that this device saves the time they spend on food preparation, because the stand reliably fixes the device on the table surface.
Consumers indicate that many models, for example, M701W, on the bottom of the stand have special suction cups. These devices hold the device very well during operation, as it vibrates strongly in the process of whipping, and therefore can move out of the table, especially when it comes to high-speed modes. Suckers also exclude such situations.
Women indicate that while this mixer is whipping, they can prepare other ingredients necessary for the test. Also, housewives indicate that while the device is beating, they gradually add products to the bowl, and it is not necessary to turn off the device.
Model Gorenje M701W has five speeds that can be switched using the convenient button - lever. Also, this design is equipped with a Turbo mode, which in a short time increases the speed of whipping, leading to a more efficient result. Users indicate that the turbo mode can work for a short time, while the turbo button will have to be held all the time with your finger.
Women write that it is not very convenient, but, but it will not be possible to forget that the mixer works in turbo mode.
This model in its configuration has nozzles in the form of rims and hooks, as well as a plastic-coated body and a glass bowl. And, judging by many reviews, the bowl of this model has a very large weight, so women indicate that it is very inconvenient to shift the dough out of it, holding it with one hand. The only advantage of this bowl is that it is transparent, and therefore through the walls you can see how well all the ingredients are mixed.
No less popular models Gorenje ME501B and ME500N. These are more simple and budget models that have a manual type of construction, and the weight of this product is about 1 kg, so it is convenient to hold it in your hand. Consumers also indicate that due to the presence of a rubberized handle, this mixer is very comfortable to hold in your hand. It also has a fairly high power - 425 watts. The ME501B model has an additional turbo mode, as well as an advantage in the form of two whipping elements at once, these tips help to double the performance of this device.
Included is a whisk for whipping and a hook for the dough and cream.
Sinbo
This brand offers completely different types of mixers. Among them are hand-held devices, the price of which is about 1000 - 1500 rubles, these are models SMX 2741, SMX 2733. They are characterized by ease and convenience of their design, they have several rotating elements at once. Another advantage of this device is an interesting design.
They are presented in red, white, black and silver colors, many buyers indicate that such devices look very stylish.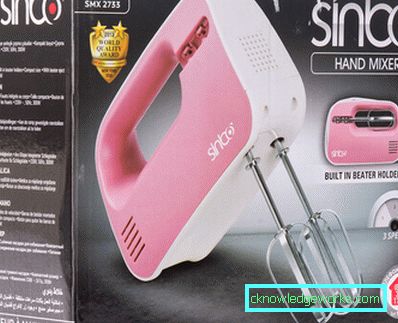 Many hostesses praise planetary mixers. Sinbo SMX 2739B and SMX 2734B. They indicate that these are very low-end models, the cost of which varies between 5,000 and 6,000 rubles, but at the same time they are very effective. Mixers of this brand are made in Turkey, judging by consumer reviews, they are of high quality.
Many also praise the model SMX 2734W, buyers are attracted by the affordable price of this device. In addition, the hostess indicates that the power of this blender is 800 watts, so it can be used to make dough of any complexity in a short amount of time, and also to beat up any necessary products.
Consumers like the fact that a very large bowl, which has the shape of a cylinder, comes with this device.
Those who have used this device, leave only positive feedback, because due to the convenient shape and size of the bowl, mixed products do not splash and do not fly apart in different directions during the operation of the mixer.
The only disadvantage that, according to consumers, is this design is its rather large size. Housewives write that it is necessary to find free space in the kitchen or a separate locker.
Gastrorag
This manufacturer offers a wide selection of mixers that are focused on professional use. This brand often produces planetary type mixers. But they are suitable both for home use, - household models, and for professional use, for example, in cafes, bakeries and restaurants, - professional and semi-professional models.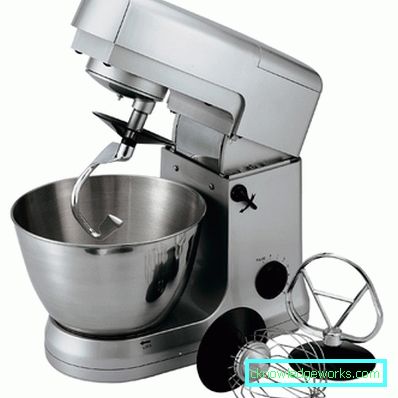 Among chefs model is very popular B10-HQ, This planetary device has a floor design type, and also has high power and performance. That is why it is suitable for beating and mixing a large volume of products. Many users indicate that this model is a professional kneading machine. Another model specifically designed for kneading dough is QF 3470.
Buyers indicate that such a device can easily make dough of any complexity and any consistency.
Binatone
This popular brand produces both manual and stationary mixers. As a rule, these are models suitable for home use. The most popular models are HM 351 and HM 155. The latest model has a manual design type and low price, which is why many housewives purchased this product.
Users write that it is very light and compact, so it takes up minimal space in the kitchen.
Among the features of this model, consumers distinguish the presence of five rotational speeds and turbo mode. Mistresses also indicate that such a mixer is very easy to care for. Plastic housing can be wiped with a damp cloth, and rotating elements can be easily washed with water. The kit includes several nozzles, which include beaters and hooks.
Housewives write that with the help of them you can easily whip proteins into foam, as well as make cream and any dough, which is why this model is perfect for home use.
First
This manufacturer is different in that it offers customers all kinds of mixers. These are both manual and household stationary and planetary models. Hand Mixer Model First FA-5257 gained wide acceptance among consumers due to its low price. This is a stationary model, the price of which ranges from 2,000 to 3,000 rubles. In addition, it comes with a blender attachment and a chopper, which can perfectly replace a meat grinder.
The only disadvantage of this model, which buyers point to, is the low power of the mixer, which is only 200 watts.
Model FA 5259 has the best performance compared with the previous model. This is another stationary mixer, but its power is several times higher - 1200 W. This model is equipped with 10 different speeds and a separate pulse mode. Many consumers indicate that it can be used to knead both bread dough and rather steep dumplings dough; consumers write that not every mixer can cope with such a task.
Many admire the large volume of the bowl, which is 6.5 liters. Such a bowl can hold many ingredients. Judging by the reviews, housewives beat more than 15 egg proteins at a time.
Maria
Maria has a mixer from the Russian manufacturer for many consumers. It has a low price and high quality. Many buyers indicate that this model they still got from their parents. The main advantage that users note is a very long service life. Someone uses this product 10, and someone even 20 years.
Very popular model Maria MR-2, which has a manual design type. Its kit includes a different number of nozzles, as well as a convenient spatula. That is why such a product can replace several devices at once, it even has the function of a coffee grinder. The only disadvantage that customers note is that the appliance can sprinkle dough.
But this disadvantage can be corrected by putting fewer ingredients in the whisking bowl.
Zepter
This famous brand produces multifunctional kitchen mixers. The most important advantage of this device is its stylish appearance, in addition, it has a platform on which you can compactly place all the elements of this device after their use. Many users indicate that this design facilitates the storage of the mixer.
A lot of positive feedback was found on the model. Zepter MixSy VG-022-K. Users indicate that this device has a high price. Its versatility is due to the fact that four nozzles are included with this mixer. One of them is the versatile blades, which perfectly replaces the blender and can make mashed potatoes of any fruit and vegetables.
With this nozzle you can also finely chop meat or chop ice.
The mixer with a mixer also includes a nozzle-beater, with which customers make homemade mayonnaise and mashed potatoes, as well as a whisk for making protein cream, whipped cream, sauces, dough and cocktails. Another nozzle is a mill, it can be used as a cheese grater, and also in place of a coffee grinder. With its help, you can also chop any cereals or nuts.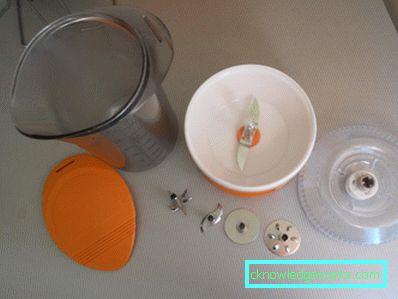 Ladomir
This is a well-known brand that mainly produces hand mixers. Very popular models Ladomir 81.84.87 88, basically, they differ only in appearance and have a slight difference in power. Each of these models has a democratic value, which ranges from 1,000 to 1,500 rubles.
Also, these mixers have a turbo button, necessary for intensive work, with which you can prepare dough of any thickness.
Many housewives say that this device has very little power, so they take a long time to prepare and whip dough and other products, and among the advantages of Ladomir brand models, buyers call an interesting design and a wide choice of colors.
Robot Coupe Micromix
This brand offers a wide selection of professional submersible mixers. These include models MPC 240 A, MPC 242 other. The first mentioned model of the mixer of this brand is very popular, although it has a rather high price, which ranges from 35,000 to 40,000 rubles. Therefore, such a device is usually not purchased for home use.
It is bought by professional chefs or catering owners.
Model Robot Coupe Micromix MPC 240 A It has enormous power and can also perform the functions of a blender, mixer and homogenizer. On the handle of this device there are convenient buttons in order to smoothly change the speed of rotation of the nozzles.
Supra
This brand makes the most various mixers of manual and stationary type. They have a low cost, which ranges from 1,000 to 3,000 rubles. Manual model MXS 450 is very popular among buyers. It has a fairly high power of 450 W and five high-speed modes with an additional pulse mode.
Those who purchased this device, write that he copes with his main task - beating up, and is perfect for home use.
Fimar
This brand offers a wide selection of professional mixers. These are mainly planetary devices. Very popular model IP-10F, This is a very massive structure weighing about 40 kg, the price of which varies from 80,000 to 100,000 rubles. This is a very high-quality device, which is produced in Italy. All elements of the product are made of stainless steel, and the body is covered with a very stable paint, which is not terrible mechanical effects.
Cooks indicate that this device is very safe, because there is a safety microswitch on its cover.
Sparky
This brand produces mixers with a non-standard purpose. These are devices that are necessary for mixing building mixtures for home repairs or for use on any construction site. The mixers of this brand are quite large. In order to make it easier to hold them in your hands while whisking, the manufacturer provided for 2 handles at once.
This device is very powerful and durable, its gearbox is made of magnesium alloy.
Kelli
This manufacturer of kitchen appliances produces stationary mixers and planetary models. The best-selling mixer models from this brand are KL-5051, KL-5052 and KL-5058. These are single-type models; they include three nozzles in their kit: a whisk, a hook for kneading thick dough, and a nozzle for mixing products. The device also has a bowl made of stainless steel, a spatula and a protective cover that prevents the contents of the bowl from splashing. Buyers write, these models are quite powerful, so they mix the ingredients well.
Of the shortcomings, some buyers indicate a high level of noise from these products.
Sprout
This is another domestic brand that relies on the reliability and durability of products. Such mixers, according to the owners, have served them for decades. As a rule, these are lightweight manual models that have high power. The only disadvantage of mixers from the manufacturer Rostock, which is indicated by buyers, is that its whisk head has a plastic finish.