Meat blender
How to choose?
Description of models and their characteristics
Nozzle Features
Advantages and disadvantages
Usage Reviews
All kitchen appliances significantly eases the work of modern people. For example, a blender. It can be used to grind raw and cooked fruits and vegetables, in the preparation of mashed potatoes and cereals, as well as fresh juice and cocktails. But few people know that you can often use a blender for meat, or rather, for cooking stuffing from it.
8 photos
How to choose?
All currently implemented models of this technology are divided into three large groups: submersible, combined and stationary. All of them can be used instead of a meat grinder. The main thing is to know how to handle them properly. And it is best to give preference to blenders with a capacity of 600 watts, they are much faster will allow to get minced meat of excellent quality.
When using a stationary mechanical device, it is necessary to pre-cut the meat in small pieces, place it in the bowl itself and select the chopping mode. Some models have a special built-in program for the preparation of minced meat, or a special nozzle 2 in 1, which is suitable for the preparation of minced meat and chopping vegetables at the same time. And it is worth remembering that such a blender rather finely chops meat, and does not grind like a meat grinder. Therefore, to obtain a uniform meat will have to spend a little more time.
Combined models, in fact, are food processors in miniature and have in their set a special bowl and knife, which are needed for the manufacture of minced meat. However, the grinding size can often be adjusted using a variety of nozzles.
Submersible models of blenders, for many people are more preferred and easier to use. All that is needed is to put the prepared meat in a blender, put the knife there and turn on the device. In just two minutes, fine minced meat for excellent burgers will be ready. But using this device, it is better to grind the meat in small portions, to avoid getting large lumps of minced meat.
Despite the fact that all types of this kitchen unit can perfectly replace an ordinary meat grinder, there are some models that do the job better than others.
8 photos
Description of models and their characteristics
We want to give you the top five of the best blenders that are suitable for cooking meat:
BORK B800. Great blender with a power of 2000 watts. Simple and easy to use, all that is required of you is to load the prepared meat into the bowl and turn on the device. Just a few seconds and minced meat is ready for further use. A bowl with a volume of two liters allows you to chop a fairly large weight of meat at a time, which greatly simplifies the process of cooking meat. The plastic bowl can be easily washed after use, it can also be washed in a dishwasher. This blender also has functions such as crushing ice, making drinks and grinding vegetables and fruits.
STADLER FORM BLENDER SIX SFB.555. Its use for cutting meat will allow you to cook the most gentle uniform stuffing, not even the old and wiry source product. Power 900 W, sharp knives, rubberized handle of this submersible blender makes it simple and convenient to use. The big advantage is that it can be used in any container where it is convenient for you. It has two submersible nozzles, which allows it to be easily attributed to devices with two-in-one function. After all, one can be used to grind the meat itself, and the second for any other products.
ELEMENT EW06PG El'blendia Gray beautiful submersible device. An excellent device is that you will grind, which has a measuring cup, a whisk, knives for mashed potatoes, chopping and receiving juice in a set. And the presence of a stand - steamers, mills and a cylindrical nozzle make this appliance truly versatile, able to replace even a modern food processor. The sharpest Japanese knives allow you to turn the production of excellent minced meat into a minute thing. Despite the low power of 120 W, this device will make it possible to grind even meat, but only fresh and young.
BRAUN MQ 535 SAUCE is a compact immersion blender with extra small volume bowls. It has two speeds, turbo mode and can even prick ice. Included with it also comes a special whisk. A power of 600 watts will allow you to turn 500 grams of meat into stuffing in 15 seconds.
KitchenAid 5KSB1585EER, harmonious, stylish and compact stationary blender. It has seven speeds and six built-in work programs. Thanks to the robust plastic from which the bowl itself is made, it is ideal not only for beating products, grinding meat, but also chopping ice. Included is a measuring cup. Low noise and 550 W power will make mince making a real pleasure.
But if you buy a meat blender, then you should take care of its functionality in advance. Therefore, it is best to purchase units that have additional features and nozzles.
Nozzle Features
Many blenders that go on sale today are equipped with additional removable nozzles. The following can be distinguished as the main ones for meat processing:
ANDzmelchitel. Universal nozzle that is suitable for any product, including meat and ice. It is best to use it when cooking meat.
For cutting cubes. Most often, these nozzles are used for vegetables and fruits, but sometimes suitable for soft fillets.
Shredder. With this unit it will be possible to quickly chop or chop any solid products. The degree of their crushing will depend on the operating time of the device itself.
Ideally, a chopper is best suited for making minced meat, or, as a last resort, a shredder, depending on its type.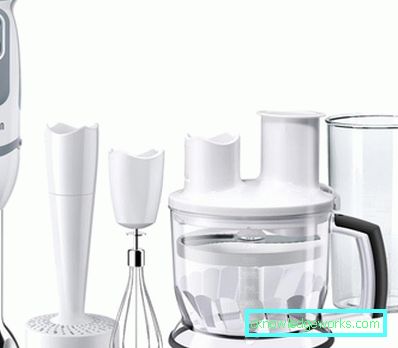 Advantages and disadvantages
The use of this kitchen unit for receiving minced meat has its significant advantages:
Time for its manufacture is reduced.
It is possible to get the minced different grinding.
It is possible to replace all household appliances with one blender.
Easy to use.
The ability to use any type of this device for the preparation of cutlet mass.
Virtually any meat, even the oldest and wiry, can be processed into minced meat of excellent quality.
You can cook very finely ground minced meat, which is ideal for cooking dishes for a child.
Despite these rather significant advantages, we should not forget about some of the shortcomings. First, some models are not able to grind meat, they finely chop it.
Secondly, some models of blenders after use are very inconvenient to wash.
Thirdly, it is not always possible to grind the desired amount of meat at a time. This leads to the need to re-use the unit, which can cause it to overheat.
Fourth, in some blenders, especially in stationary models, pieces of meat can get clogged under the knife or in the corner of the bowl, which leads to its uneven grinding.
But, despite all these disadvantages, more and more people are beginning to use this kitchen unit as a substitute for a meat grinder.
Usage Reviews
Despite all the disadvantages that such use of a blender has in general, the feedback on its use is rather positive. Mistresses enthusiastically note that the cooking time for minced meat, as well as the whole cooking as a whole, has decreased. It is possible to make a cutlet mass, even from very wiry meat and meat of middle-aged animals.
While the blender crushes the desired product, there is time to do other things, moreover, after use, this unit is brought into a clean look very easy. It is enough to either wash the bowl with knives, or if a hand blender was used, rinse the bottom nozzle.
In any case, with the right approach to cooking homemade mincemeat, an ordinary blender can be a completely equivalent substitute for a familiar meat grinder.