Magic corner for the kitchen
Small kitchens - this is one of the main problems of most modern hostesses. In a small room it is difficult to place all the necessary equipment, leaving also a place for cooking. Therefore, we have to choose modern compact furniture, which combines several functions at once. An example of such furniture can be called the so-called magic kitchen corners.
Design advantages
To begin with, let's see what a corner is and what's magical about it. It consists of two baskets, hidden inside the cabinet, which, when opened, go outside. One of the baskets is attached to the base of the facade. And the second is placed inside. Both of them are supplemented with special mounted elements.
When the door "corner" is closed, they are located at the far rack. And only when it opens, the grid stops in front of the doorway, going outside. It turns out that when you open such a locker, you first leave one drawer from the grid, followed by the second.
The design was created specifically for tiny kitchens in which it is impossible to place a full-fledged headset. Magic corner will significantly save space, while placing all the necessary things in their places. The second advantage of such furniture is that it is extremely simple not only in use, but also in installation. You can install such a structure yourself, without resorting to the help of paid specialists.
In addition, the design allows full use of all free space in the cabinet itself. After all, very often, folding things, we use only the front part of the shelves. Behind or remains free space, or those things which nobody uses are established. In the case of a magic corner, everything is the other way around and all parts are involved - both the basis of the design and its hinged parts.
Sometimes the basis of the design is complemented by special compartments for storing dishes, accessories, cutlery and various household trifles. And in the main compartment, you can store pots and pans of different sizes or deep bowls. The design of this type is very durable, which means you can not be afraid to store in it even expensive and fragile dishes.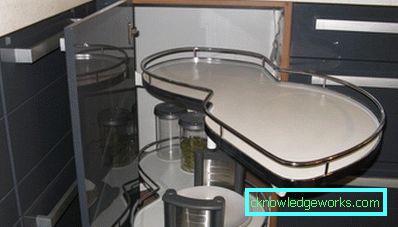 Due to the fact that the main parts are made of steel rods and wires, the construction will serve you as long as possible. And to protect metal parts from corrosion under the influence of moisture and temperature, electroplated coating is used.
In addition, it is able to withstand quite large loads. Baskets stand from seven to fifteen kilograms. So, inside you can place not only plates, but also heavy cast-iron pots and pans.
For the most comfortable use, the magic corner is divided into two main parts - right and left. The location of the moving part depends on where your corner is located. One of the parties with this installation does not move. Constructions of this type are available with the possibility of full or partial extension.
Sliding mechanisms are also different. But it is best to choose the ball. Their main advantage is that they do not create additional noise. In addition, the drawers slide out gently and smoothly.
Main types
Among the presented range there are different types of designs magic corner. Let's look at the most popular options and their advantages and disadvantages.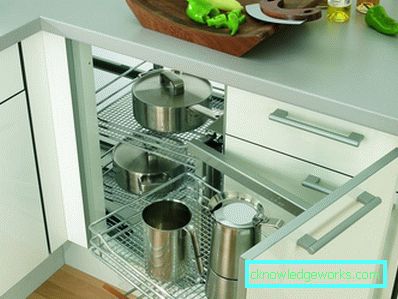 Full extension
The most convenient option - this furniture with full extension. A characteristic feature of such pedestals is that the drawers are fully extended. So, when you open the door, the case remains empty. This is very convenient because you can easily take any object from the shelf without even bending down. But to install such corners it is necessary that the room be spacious enough, otherwise you will have to constantly move all the kitchen furniture aside.
Partial extension
This type of furniture is also quite comfortable. If you choose partial drawers, they will only go in half. Baskets, fixed on the facade will leave completely, but the internal - only partially. This option is also quite practical - you get access to your main things, but the opening door does not take up too much space.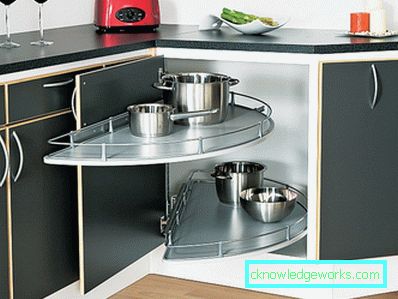 Carousel
It looks interesting corner with baskets located inside like a carousel. Here the baskets do not go out. They revolve around the main axis. Therefore, you can put things in any compartment, without fear that you will not have access to some things.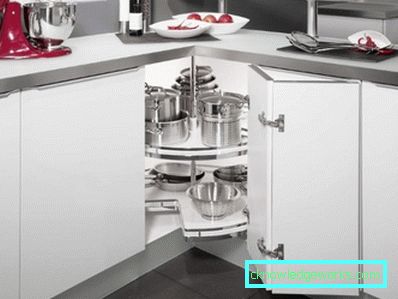 Combined
Such type of kitchen corners consists of a combination of rotary and withdrawable compartments. Multifunction bollards usually also take a lot of space.
Vertical
If, on the contrary, you need something as compact as possible, choose a convenient vertical corner. It consists of built-in drawers, which are located inside a convenient cabinet-case. Its width can reach forty centimeters. Completion of all individual sections of each manufacturer is different. Therefore, always pay attention to this moment. Indeed, depending on what country of manufacture you have in your corner - Italy, Germany or Russia, both the assembly and the sliding mechanism differ.
So, for example, Patio brand produces compact and stylish corners, complemented by spacious pull-out baskets, shelves and storage compartments for cutlery and other small parts.
How to choose
But, buying a "magic corner", you should focus not only on the brand, but also on other important parameters. Mandatory consider the size of your room. The corner should fit well into your headset and do not take up additional space when opened. Whether responses of those who already bought a similar furniture will help to understand the corner chosen by you qualitative. Well, if you plan to save on the services of the masters, then look to complete with a corner was a simple and clear installation scheme.
The magic corner for the kitchen is an amazing furniture with an interesting mechanism that allows you to save a lot of free space.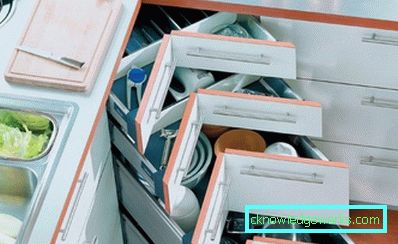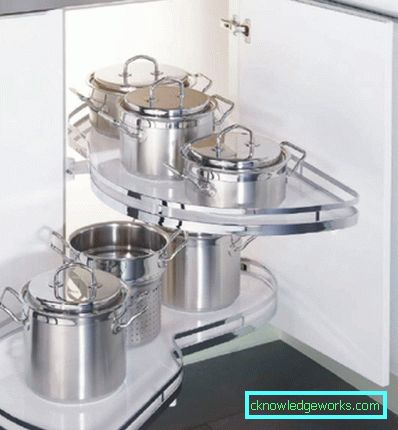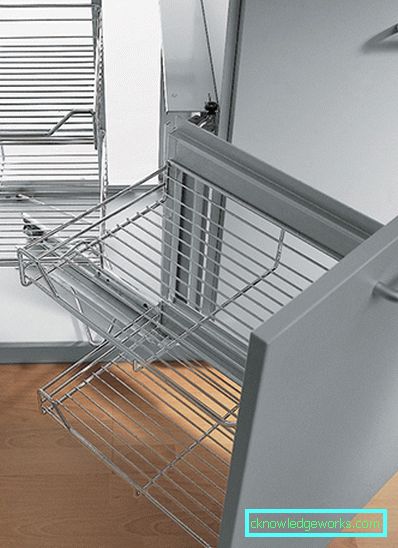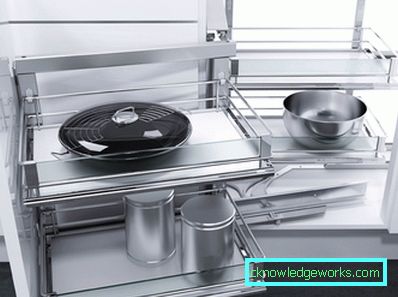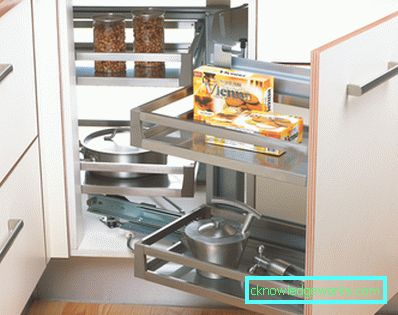 12 photos