LG Refrigerator with No Frost System
An integral part of any kitchen, even the one where they practically do not cook, is a refrigerator. It should be comfortable and practical, as well as have an aesthetic appearance. All these qualities meets the LG refrigerator with the Total No Frost system.
About brand
LG was founded back in 1958. And since then conquered the whole world. One of the areas that has been mastered by this company is the production of household appliances, including refrigerators. LG has developed its own management system, which is designed every day to change our lives for the better. This company produces high-quality products, applying innovative technologies in it.
Benefits
One of the types of innovative technology was the No Frost system refrigerator. This name literally translates "without frost." And it is true. In such devices there is absolutely no freezing. They replaced those devices that required manual defrost, freeing you from this occupation.
This was achieved due to the fact that the evaporator is taken out of the refrigerator, thus there is no accumulation of unnecessary moisture in the device, it does not form condensate on the back wall. This allows you to maintain in the refrigerator one temperature. In addition, the lack of moisture prevents the occurrence and reproduction of pathogenic bacteria and mold, the refrigerator is contained in a cleaner state.
But this system still does not completely remove moisture and frost in a small amount still forms. And though infrequent, but annual defrosting is still needed for such a refrigerator.
This device has been replaced by a more refined Total No Frost. It has a multi-air flow Multi-Air Flow system. The device is located on the side walls of the device. Air streams evenly distribute cold air throughout the chamber, thereby creating a uniform temperature. Products are equally cooled, both on the shelves and on the doors of the device. Such a cooling system helped completely rid this type of equipment from frost, and therefore the need to defrost. In addition, the smell of dampness will never appear in such refrigerators, their hygienic cleanliness will be top notch. Also, a device with a Total No Frost system will save energy consumption.
Due to the intensive movement of air, cooling products does not depend on their quantity in the refrigerator. He perfectly cope with the storage of even a large volume of products. If in a conventional refrigerator the temperature varies depending on the location of the products up to 7 degrees, then in devices equipped with the Total No Frost system, this difference is only 0.8 degrees.
In Total No Frost refrigerators there is a zone with zero temperature where you can store fresh meat and fish, without fear that it will deteriorate for some time until it is cooked. In addition, this technique has an instant freeze function. The cooling capacity of their products is 4 times faster than in conventional devices.
All modern models of LG refrigerators with Total No Frost system are equipped with the Smart Diagnosis function. It allows employees of service centers, when contacting consumers there, with the help of a special application on a smartphone, to diagnose and identify the cause of the malfunction without a visit to your home. This feature saves your time and allows you to remotely and as soon as possible, if necessary, repair your device.
disadvantages
But with so many advantages of Total No Frost, there are also disadvantages:
Food storage dries quickly. This disadvantage is easily solved. To do this, it is only necessary to pack products in containers of high quality or to wrap them in plastic wrap.
The device takes up a lot of space, the refrigerator chamber is reduced by an average of 20 liters.
The system is more expensive compared to conventional refrigerators, which are equipped with drip-type units.
The lineup
LG refrigerators with Total No Frost system are available in several models. They are all two-chamber, with a bottom freezer. They have a system of energy saving A +, which allows to reduce energy consumption to 376 kWh per year.
8 photos
GA-B379UMDA.
The volume of this device is equal to 264l, there is a mode of "vacation", a special horizontal shelf for bottles, mechanical control, and hinged handles.
A rich palette of colors will help you choose this refrigerator for any kitchen interior. The price is about 25,000 rubles.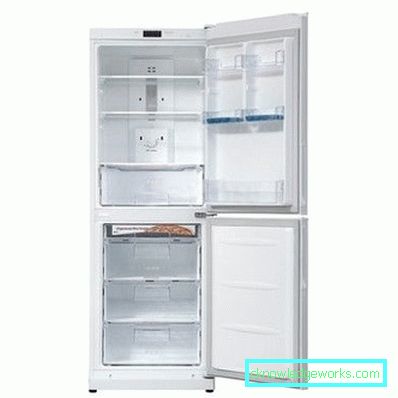 GA-B409SEQL.
Increased volume up to 354 liters. Low noise level, only 41 dB. Freezing capacity up to 10.6 kg. per day. Electronic control panel about LED backlight. Indication of an open door.
Handles recessed inside the door. There is protection from children. Colors: beige, white, silver. The cost of about 37,000 rubles.
GC-M257UGBM
Two-door refrigerator with external display. Its volume is 402 liters. It carries all the advantages of the previous model. In addition, the freezer does not have a common door, and each drawer opens separately. Thereby does not pass heat to the closed boxes. Freezing capacity 12 kg / day. It is possible to adjust the temperature inside the freezer from -7 to -17 degrees. Autonomous heat preservation up to one day. The cost of about 100,000 rubles.
Installation
The refrigerator with the No Frost system cannot be installed near radiators and other heating devices. Also, if a "warm floor" is installed in your apartment, the device should be installed where it is not. This is due to the possible overheating of the refrigerator, it is harder to cool, and the device quickly fails.
Around this type of equipment should be an empty space in the amount of not less than 5 cm. This is necessary for the free circulation of air, also to avoid overheating of the device.
The refrigerator must be leveled to a horizontal level so that it does not vibrate during operation. This is done with the help of special devices on the legs.
Care
Whatever the system of the refrigerator, it must be washed periodically. The procedure for complete disinfection should be carried out at least 1 time per year. Begin the process of washing should be defrost chambers. If your refrigerator has two independent chambers, then it is better to stop their work alternately.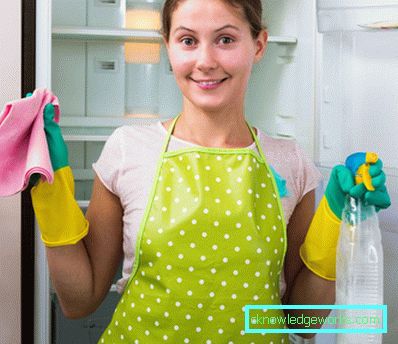 It is not recommended to defrost the device in too hot weather.
Initially, turn off the refrigerator, empty all shelves from food and leave the doors open. Wait until the camera reaches room temperature and proceed to bathing it. Clean the ventilation holes first. This is done with ear sticks and warm water. Next, wash the shelves and drawers. Due attention should be paid to sealing rubber bands: food crumbs often accumulate there, which leads to a favorable breeding ground for bacteria.
The camera itself washes. For washing you should use a soap solution, you can add vinegar, "bleach" or means containing it for more thorough disinfection and eliminate the mold, if it started up. In no case can not apply cleaners with abrasive particles. They can easily scratch the plastic, thereby spoiling the look of the refrigerator.
After all the parts have been cleaned, the device must be wiped dry with a soft cloth. We leave the refrigerator doors still open so that all the moisture will evaporate to the end. At this time, dust can be removed from the back of the refrigerator. This is done with a damp cloth or with a vacuum cleaner.
This procedure should be carried out continuously, since a layer of dust on the back wall increases the power consumption, and dust is attracted to it with great force.
After the refrigerator is completely dry, you need to load the cameras with products and turn on the device in the network.
Reviews
Brand LG has long established itself in the domestic market of household appliances. LG fridges with Total No Frost system are in high demand. Users note the unsurpassed quality and long life of this technology. And additional functions in the form of "Smart Diagnostics", a tray for preserving freshness and many others leave a pleasant impression after purchase.
The disadvantage of this device modification, as, in principle, of any other No Frost equipment, is the drying of products and the price, but it can easily cope with the first one, while the second one is paid for with ease of use.