Kuppersberg Refrigerators
Kuppersberg Refrigerator is quality, convenience, reliability, comfort, versatility. The German company produces machinery with attention to detail.
In the line of devices there are traditional models and made in retro style. The color palette of goods is very diverse. This will help to successfully fit the refrigerator in any kitchen interior design.
Features
German brand refrigeration devices are internal and external advantages.. The internal organization of the space of Kuppersberg refrigerators is made as convenient and practical as possible.
It is equipped with an antibacterial system that prevents bacteria from appearing and spreading. Another useful quality is low power consumption. According to customer reviews, Kuppersberg refrigerators not only work well, but also spend a minimum amount of resources on this.
The built-in or individual device will help with interior design. The kitchen will look stylish, fashionable, functional. To maintain the freshness and usefulness of products helps the air circulation system in the refrigerator.
Thus, optimum temperature and humidity are maintained. Innovative technologies are applied in the antibacterial system and silver ions are used.
Silent operation of all models is provided by R600a refrigerant.. This result is achieved due to low pressure, plus the required temperature is instantly set in the chambers. The system without defrosting in special compartments forms frost and evaporates it. In this way no frost is formed that requires defrosting.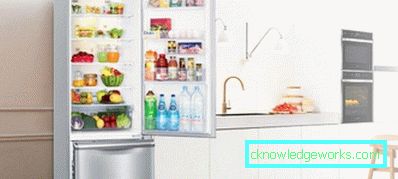 Built-in models
Kuppersberg KRB 18563 refrigerator is equipped with re-hung doors. The total volume of this two-chamber model is 292 liters. Inside for convenience built LED lighting. Management is applied electronic. There is a function that allows you to instantly freeze the product.
The volume of the refrigerator is 210 liters. It is possible not only to store food in it to preserve their freshness. The device can provide dynamic or rapid cooling, depending on the needs. Five glass shelves allow you to conveniently place all stocks. Four of them can be adjusted in height.
Extra space is in the doors. They are equipped with three shelves. There is a bottle holder, a box for vegetables, a shelf for eggs. The freezer has 80 liters of volume and a static cooling system. This section will have to be defrosted by yourself.
In the event of a power outage, the cold in the freezer will remain offline for 19 hours. This is a very long time. During the day, the device is able to freeze 3.5 kg of products. Additionally, it is equipped with an ice mold and three food containers.
The economical class of energy consumption А ++ guarantees energy consumption not more than 240 kW per year. The doors are fixed using sliding guides.
The dimensions are very impressive: width - 54 centimeters, height - 185 cm, depth - 54.5 cm. This model is available in classic white.
Retro style for centuries
Model NRS 1857 ANT BRONZE is not embedded, it is located separately in the kitchen. This refrigerator attracts attention with an unusual appearance, design solution and color palette. This technique will appreciate the true aesthetes and lovers of beauty. An unusual type of product affects its price. It is big enough.
Manufacturer color of this model is defined as "anthracite". It fits perfectly into the interior and blends easily with other shades. Creativity adds bronze fittings. One of the chips is the LED backlight, which qualitatively illuminates the entire interior space. There is a power saving function, which is convenient to use during a vacation or a long trip.
Antibacterial technology effectively copes with dangerous microorganisms. You can be sure that all 382 liters of usable volume will be reliably protected. The system is equipped with air ionization. The refrigerator is fully equipped with automatic defrost. Energy class - A +.
Model NRS 1857 ANT Bronze is wide enough and will require a lot of space in the kitchen. The width is 70 centimeters, height - 185 cm, depth - 67 cm. There is an electronic control and digital display. If suddenly the temperature rises inside, the device will inform about it with the help of sound and light signals. The refrigerator will also let you know about a fault or an open door.
Product reviews are positive and highlight the unusual design and large interior space.. This is especially good for those who like to freeze vegetables, fruits and berries in order to preserve more vitamins and take care of their health. Buyers also note that the temperature regime is well preserved, even if the lights are turned off.