Krups Coffee Maker
Features
Advantages and disadvantages
Care
Principle of operation
How to use?
Reviews: consumer opinions
Right choice
"Dolce Gusto Krups"
Dolce Gusto Krups Piccolo
"Dolce Gusto Krups Oblo"
Krups capsule coffee makers are specially made for people who value their time. This is an indispensable technique for those who do not like to be distracted by trifles, not averse to indulge in excellent coffee. With them at home you can make excellent drink, which would be appreciated by real coffee lovers.
Features
Krups capsular coffee makers are characterized by their original futuristic design. This is a home appliance that works like a professional. By production qualitative modern materials and advanced technologies are used.
With capsule machines there is no need to fry and grind the grains, follow the cooking process, wash the dishes. Everything is so automated that it only remains to enjoy the taste and relax.
To make high-quality coffee, it is enough to place a special capsule in the device and turn on the device. He will do the rest himself. Minimum time spent - and the taste of this espresso can delight at any time, at home and at work.
Advantages and disadvantages
Krups coffee makers are notable for their high functionality, high-quality design and original appearance.
Modern design will perfectly fit into any home kitchen or office space of those who appreciate comfort. The coffee maker is compact enough and does not take up much space.
The process of making coffee is automated. The user just needs to read a small instruction and just click on the buttons you need. No need to follow the process, insert the flask, the grid yourself. In seconds, a cup of flavored drink will be ready.
Minimum maintenance. There is no need to constantly flush the machine elements. Enough surface wiping.
Special capsules are already designed for a portion, so you do not have to measure the dose. The water from the tank in portions passes through a container of coffee and enters the tank, where the finished drink is made.
It is possible to adjust the serving size and strength of coffee.
Silent cooking process. The coffee maker does not need to grind grain, which is why a lot of noise is usually created. The coffee beans in the capsules are already browned, ground and ready to eat.
Due to the fact that the packaging is processed and hermetically sealed, the taste and aroma of coffee is preserved.
Capsule machines are automatically cleaned, i.e. no filter change is required.
Consume a minimum of electricity. After preparing the drink, the machine automatically turns off.
There is the possibility of hot and cold water.
Relatively low cost.
The disadvantages include the relatively high price of the capsules themselves. Capsule coffee makers work exclusively on capsules, so using them with other types of coffee will not work. There is no opportunity to experiment with the tastes of drinks. You can only use ready-made options.
Care
In the care of capsular type of unpretentious. The machine is equipped with a compartment for used capsules, as it is filled, it just needs to be emptied. It does not pollute the machine itself, since everything is tight. The tray and grate are cleaned with water periodically after use.
Principle of operation
Water from the tank under high pressure enters the tank of the thermoblock, where it is heated. Next, it is served on a capsule with coffee. The needle pierces the protective foil of the capsule on both sides for entry and exit of fluid. Hot water passes through a layer of pressed coffee and filter and enters the tank for the finished drink. Thus, coffee is "brewed" with hot water under high pressure.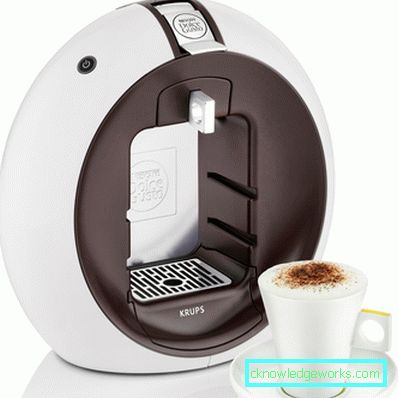 How to use?
Water is poured into the tank. The capsule is inserted into the capsule compartment. The device turns on by pressing a button or a lever, depending on the type of device. For a better drink, it is advisable to pour purified water. Falling drops flock to a special tray at the bottom of the machine, which must be periodically washed.
Reviews: consumer opinions
For connoisseurs of real coffee, capsule coffee makers are a real find, at any time you can make aromatic coffee without looking at cafes and restaurants. The quality of homemade drink will always be on top.
The only significant drawback that users of such equipment describe is the considerable cost of coffee capsules of this company. But as noted by true coffee gourmets, the result justifies such costs. In addition, recently, Russian manufacturers have launched their own production, and since 2016, 3 types of capsules have already entered the market.
Recently, empty and reusable capsules have begun to appear. They can be filled with ground coffee. In the case of reusable capsules, the disadvantage is that they are difficult to wash. And here it is worth considering whether it is not more practical to use a Turk, since the main advantage of using a capsule coffee maker is speed and simplicity.
The most common positive characteristics in the reviews:
Consumers are pleased with the possibility of making high-quality Nescafe coffee in a short time without active participation and monitoring of the process. The result is the same as when making coffee in the Turk, and sometimes much better. With the XP capsule coffee maker, you get an excellent drink with a rich aroma. It is enough to follow the simple recommendations outlined in the instructions.
Due to the small size of the device, the Superiore KP is compactly located in the kitchen or office. At the same time, excellent design will harmoniously fit into any interior.
Noiselessness after using other types of machines is a significant advantage.
There is no need to constantly clean the elements of the device, you just need to periodically throw away the spent capsules and wash the pan.
And the most important plus that all users say is the unsurpassed taste of real quality coffee.
Right choice
Here are some criteria that you should pay attention to when choosing a capsule coffee maker:
Power - depends on the speed of preparation of the drink. The optimal power is 1200 watts.
Pump pressure affects the saturation and strength of the drink. Desired pressure is at least 15 bar.
Water tank capacity - it depends on how many servings of the drink can be prepared. For example, if the device is selected for the office, it is desirable to select a larger volume of the tank.
Assortment of capsules with which the machine can work. Different models may use a specific type of capsule. Each manufacturer has its own product line. Therefore, choosing your device, pay attention to the range and select to your taste.
"Dolce Gusto Krups"
Dolce Gusto Krups - this is one of the most affordable options caspul coffee makers, their cost varies from 4,000 to 15,000 rubles. Power is 1200 W, and working pressure is up to 15 bars.
Advantages:
A wide choice of capsules with different flavors. In addition to coffee, this line includes coffee drinks with milk, cappuccino with ice, cocktails, tea-latte.
You can regulate the strength of drinks and their volume.
The cost of capsules is less than analogues for other machines.
Disadvantages:
Smaller amount of coffee in capsules;
The cost of all drinks, except coffee, is quite high;
Milk for coffee drinks is not natural, but in the form of powder;
Quality is lower than that of Nespresso coffee machines.
Some models are not equipped with a compartment for collecting used capsules and have to be thrown separately each time.
Dolce Gusto Krups Piccolo
The "Piccolo" model from the "Dolce Gusto" line is one of the most compact. Tank volume - 0.6 l. It is ideal for home use for a small family. A large assortment of drinks will satisfy every member.
These models do not provide automatic regulation of the amount of water. The volume of portions should be set as desired.
"Dolce Gusto Krups Oblo"
The Oblo model differs from the previous one in a fundamentally different design with a window-porthole where the cup is inserted, with an increased volume of up to 0.8 l and auto-shutdown after 5 minutes. just me.
Krups coffee machines will be highly appreciated by consumers, for whom design plays an important role. Capsule type coffee makers are so diverse and unusual that they can harmoniously fit into any interior. This is a modern design using high-quality materials and advanced technologies.
The selection by price also varies widely. You can choose as a budget option for home or a small office, as well as high-quality professional model for a cafe or restaurant.
I would like to note that high cost does not guarantee high quality at all, since this indicator is influenced by brand promotion. The budget option will fully meet all expectations. When choosing, you should be guided by your needs and taste preferences. Inexpensive brand may well arrange the required parameters.
From all of the above, we can conclude that Krups coffee makers are not replaceable for people who value quality, the true taste of aromatic coffee and their time.
Review the Krups coffee maker in the next video.