Kitchen without top cabinets
Today, increasingly popular kitchen sets without hanging top cabinets. These can be kitchens with open hanging shelves, or completely without them, corner layout or linear. How justified and functional is this kitchen design, what is its advantage and are there any significant drawbacks? We will try to answer these and other questions in detail in our article.
Kitchen layout
There are several options for planning the kitchen. When choosing a headset, first of all, you need to be guided by its size and shape.
Island layout. This design option is suitable for kitchens with a large area. In the center of the kitchen have a curbstone island, which assumes the function of the main working surface, and sometimes the dining place. The walls of the kitchen with this method of planning can remain completely free, as a sink, kitchen appliances can be built into the island, as well as it can be equipped with storage boxes. But still, in most cases, such a kitchen will be equipped with additional cabinets located near the walls.
Linear. This option is suitable for narrow kitchens. In this case, the cabinets are arranged linearly along one of the kitchen walls. On the same line have a sink, stove, various household appliances.
Parallel. It is used to design large or elongated kitchens. On one side there are floor cabinets along the wall, and in parallel, near the other wall, there are cabinets-cases and built-in kitchen appliances. For example, a refrigerator and built-in oven. It is also possible to plan when the floor cabinets are facing each other.
Corner layout. One of the most practical types of kitchen planning. Fits absolutely for everyone. This solution is perfect for owners of small kitchens and for residents of "Khrushchev", in which traditionally small kitchens. In this case, it is very important to rationally use every centimeter of the working space of the room. Floor cabinets in this case are angled to each other, in the form of the letter "G".
U-shaped layout. This layout is not suitable for all kitchens. However, this way of arranging furniture allows the best use of the workspace. In this case, the main working areas of the kitchen - sink, stove and refrigerator, are within walking distance from each other, which greatly simplifies the process of working in the kitchen. This is called the working triangle rule.
Furniture
Instead of the upper wall cabinets, you can use in the kitchen space a cupboard, a rack, a pencil case, or open wall shelves.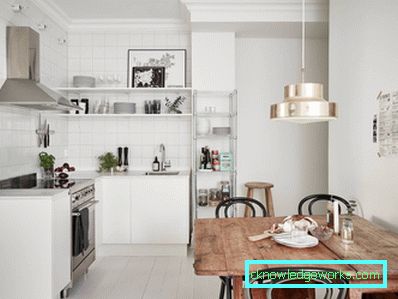 In the pantry or pencil case you can place some of the dishes, as well as store some products.
If the area allows, you can deepen and expand the floor cabinets, equipping them with additional mechanisms: bottle, sliding shelves, fans, various hanging systems, roof rails, etc.
Case column. There is an erroneous opinion that this piece of furniture can be located only in kitchens with a large area. However, it is not. Columns are produced in various sizes, narrow and wide, high and medium in height. This is one of the most practical and roomy items in the interior of the kitchen. Inside, they are equipped with metal baskets that are easily rearranged in height. It is because of its capacity, they are simply indispensable in small kitchens.
Another practical and functional solution can be a railing system. You can place various kitchen utensils on it, from ladles and skimmers to cutting boards and pots with pans.
Open top shelves perfectly fit into any modern interior, whether it is "minimalism", classic style or "Provence" and "country". On the shelves will look great vases, jugs, decorative plates, cans with bulk products and spices, pots with spicy greens. The main condition is that there must always be order on them so as not to create a feeling of cluttered space. In addition to decorative functions, the upper shelves carry obvious practical properties: the necessary kitchen utensils are always in sight and at the right time will always be at hand.
Important detail - kitchen apron
You should also be very careful when choosing a kitchen apron. The absence of wall cabinets makes the upper zone most noticeable. The color scale of an apron can be any - from white, to options with various drawing and an ornament. The main rule here is the combination of an apron with the design of the facade and table top.
Obviously, the apron must be selected from durable materials, not afraid of water, fat and resistant to heat and various chemicals. Consider some of them:
MDF - This is a plate made of wood by pressing and treated with special substances that do not contain phenols or toxic epoxy resins. The advantage of this material is increased strength, moisture resistance, not susceptibility to microbes and mold. However, this material has a major drawback - it is afraid of high temperatures, which makes it impossible to use it near the cooking surface.
Laminated panels - This material has excellent performance, is quite simple in styling, has a huge color gamut. Currently, laminated panels are available with high moisture resistance, which facilitates the process of their washing.
Ceramic tile - the most commonly used material for finishing a kitchen apron. Undoubted advantages: resistance to various types of pollution, heat resistance, moisture resistance, high decorative properties. The only drawback is the presence of seams on the surface of the canvas, which makes it a bit more difficult to care for.
Mosaic apron - it can be ceramic, glass, metal or made of smalt. The mosaic has durability, durability and fine decorative effect. The disadvantages of a mosaic are the same as those of a ceramic tile - the presence of multiple seams, plus a higher cost.
A natural stone - represented by marble, granite, basalt and lithoceramics. Granite has a wide range of colors, durable, not afraid of moisture. Marble in its water-repellent functions inferior to granite. Basalt is inferior to marble in decoration, but much more durable. Litoceramics is a very light and durable two-layer composite slab.
Metal aprons - Great for interiors in a contemporary style. Differ in the increased durability, heat resistance and high hygienic properties. The only negative is the difficulty of caring for a shiny metal surface, on which dirt is very noticeable. But, the output can be the use of matte, not glossy metal.
Glass aprons - unusual and interesting solution. In the design of the kitchen is used tempered glass, which is characterized by increased impact resistance, resistance to temperature changes and ease of maintenance. Glass provides unlimited space for design: you can use frosted glass, transparent, with patterns and any drawings. It looks very impressive glass with volume, illuminated from the inside pattern. The disadvantages of a glass apron include the need for frequent washing and some fragility of the glass.
Practical advice on settling
In order for the kitchen without top cabinets to look stylish and harmonious, you must have a clear plan for organizing space. This is the main condition for successful design.
It is necessary to think in detail about filling shelves and racks. The most frequently used items must be placed on the lower shelves and on the railing, so that they are always at hand. Also on the lower shelves will be reasonably stored heavy utensils.
It is very important color and stylistic combination of different items, so that they do not stand out from the general idea of ​​the kitchen.
Do not store on the shelves and shelves a lot of things, thereby overloading the space. You should also get rid of broken and damaged things in a timely manner so as not to turn the kitchen into a sort of warehouse.
It is worth paying special attention to the choice of hoods. Indeed, in a kitchen without upper cabinets, it will be one of the central elements of the interior.
When choosing lighting, you must first of all be guided by the overall style of the kitchen. In addition to the main central illumination, it is necessary to arrange the lighting on the shelves and in the work area. High lamps in the form of table lamps of various designs look elegant and original. For industrial style, lamps on movable brackets are perfect, which can be sent where needed.
Advantages and disadvantages
As such, the lack of a kitchen without upper cabinets is not. There is a misconception that in such a kitchen there is little storage space. But, as you could see, thanks to the thoughtful design of the lower cabinets, the use of various furniture with storage spaces, this is not at all the case. The only inconvenience may be the need to often wipe the dust from the shelves and racks, and remove various contaminants. But with today's abundance of various detergents, this should not be a significant problem.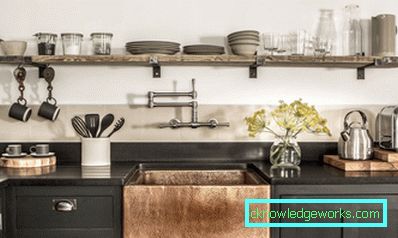 With its refinement and practicality, such a kitchen does not lose in any way to the familiar kitchen with top hanging cabinets. This is a somewhat non-traditional, but rather interesting approach, adding to the space a feeling of lightness, lightness, and light.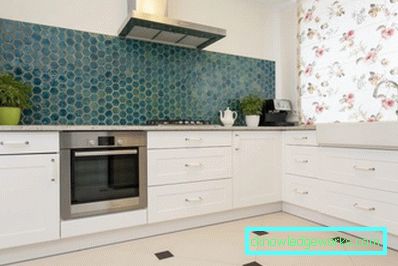 This kitchen design option is suitable for young people and those who are not accustomed to littering their space with unnecessary things and overloading the working area of ​​the kitchen with heavy hanging cabinets that hide space. Get rid of all unnecessary things, and you will be surprised that in fact you do not need as much space as you used to think. But in return, you will receive an unlimited place to translate your design ideas and fantasies. On a free wall, you can place a stylish composition of shelves for storing dishes and displaying beautiful things, make a glass volume poster, or a sparkling metal apron, in general, anything!
7 photos