Kitchen with open shelves
The kitchen space is very important to arrange so that everything you need is always freely available. In modern kitchen interiors, stylish open shelves are popular. They have a lot of advantages, which will be discussed in this article.
8 photos
Benefits
Many experts believe that the open shelves are much more appropriate in the interior of a modern kitchen than the classic closed cabinets. This functional detail looks interesting and fresh and allows you to add a highlight to the interior through the use of various small parts - candles, jars, plates and various boxes. Very often, this design solution is used in American and European kitchens.
7 photos
The advantages of kitchens with open shelves can be attributed to the fact that they allow you to visually expand the space. At the same time, it is possible to place all the items you need in your home on the shelves. You can put there all your favorite kitchen decorations, dishes, napkins and other details that will give the interior originality and individuality.
Kitchen shelves can be used as shop windows, exposing all the necessary design details there. There you can set your favorite set, a collection of cups or plates, flowers in pots, kitchen books and other lovely things.
The modern housewives are attracted by the fact that if the kitchen shelves are open, you will not have to constantly spend time opening and closing the cabinets, as well as thinking about where the necessary things are.
Another advantage of open kitchen shelves is that they are mobile and, if necessary, you can change their location or remove the shelves altogether. Kitchen shelves can be made of different materials, depending on the style of the kitchen itself. The most popular options are shelves made of natural wood, laminate, glass, iron or even plastic.
disadvantages
Along with a number of advantages, kitchen shelves have several disadvantages. Kitchens with upper open shelves require constant cleaning. They are constantly in sight, so you need to constantly clean the dust there and clean all the decorative parts from it. In the kitchen there is a danger that the things located on the open shelves, and the shelves themselves will be covered with fat or soot.
Another important point - sometimes kitchen shelves can be difficult to build into an already installed set. Therefore, before buying shelves, consider how you will combine all the details of the kitchen unit with each other. The best option is to order it on an individual project. This will allow to embody all the main wishes in the design of your kitchen.
Design
Open shelves will be appropriate in any interior. Let's look at some of the most popular stylistic solutions.
In the style of "Provence"
In the kitchen, made in an exquisite rustic-style shelves look quite appropriate. In the Provence style, the open shelves were originally present, with plates and flowers in small pots on them.
Today, Provence-style kitchens are very popular in many countries. To complement this interior most often used stylish shelves, made of natural wood. Most often, the material that is used to create the shelves is aged artificially. As for the colors, in the Provence style, the most appropriate will be neat shelves of light wood in beige, gray and even white colors.
In Provence style, open shelves can be complemented with stylish short curtains with floral patterns. The choice of such curtains will help to complete the style of the kitchen and create an even more cozy and romantic atmosphere in the kitchen. Such curtains, if desired, can either be kept open or closed, hiding the contents of shelves from prying eyes. The most stylish solution is to close only a few shelves with exquisite curtains, leaving others open.
In general, the main advantage of such a stylistic decision is that some of the things, for example, the most frequently used or unattractive dishes can be hidden.
"Modern"
In the modern world, minimalist high-tech style is very popular. Shelves in the kitchen, made in this style, will also be quite appropriate. Here you should look at the shelves, made of iron or glass. In this style the shelves are best decorated with a minimum of details. It is desirable that most of them be functional - extra clutter in the style of "modern" is not at all welcome.
If we talk about the colors, in the high-tech style, the shelves of neutral colors will be most appropriate. It is best to choose black, white or gray shelves. Such tones look the most organic and perfectly combined with a minimalist kitchen design. Such bright shelves for kitchens with walls and curtains of pastel shades are particularly relevant.
Scandinavian style
Fans of minimalism also like the Scandinavian style. Residents of Scandinavia to decorate their homes use a minimum of parts, while each of them is important and in its own way special.
In the Scandinavian style most often used natural materials - wood, metal, stone. Therefore, it is best if the shelves in the kitchen in this style are wooden or metal. Very effectively in the framework of this style will look a combination of closed and open shelves.
This is both very stylish and functional, since everything that seems unnecessary to you can be hidden in closed cabinets, and stylish and decorative details will remain visible at this time, completing the Scandinavian interior, and making it more special.
When creating such a combined headset, you can also place the most frequently used things on the open shelves, and others - in closed cabinets, so as not to constantly pull the doors.
If we talk about the features of the decor of open shelves, they should be placed things that best fit into the specified style. These can be small-sized paintings or photographs that depict northern landscapes or images of local animals, plants, or sights. Also open shelves will well decorate elegant ornamental plants in light-colored pots. From small decorative details can be called stones, candles and small figures. But remember that all this should not be in abundance.
How to install
But, in order for open shelves to look good in the kitchen space, it is not enough just to choose an option that fits the room's interior. It is also necessary to place them correctly. It is especially difficult to do this if you already have a kitchen set. Selected shelves should not break the symmetry.
First of all, decide on where your shelves will be located. Open shelves are not recommended to be located next to the stove. In this case, it is possible that they will very quickly become smeared with grease. The best option for the location of the designers consider the place above the cooking zone. In this case, the shelves and their contents will not get dirty with fat, in addition, all the necessary things will be at hand.
When installing open shelves, remember that they will attract a lot of attention. This is especially true for kitchens connected to the living room. In this case, the shelves can be placed at the junction of two zones. Thus, they will be simultaneously perceived as a functional detail, and as a decoration of space.
In modern kitchens, corner shelves are also often used. They are well complement the interior, as a small kitchen, and a large room. Corner shelves save space. At the same time, you can use various design ideas to make even such a simple shelf option look stylish and unusual in the kitchen space.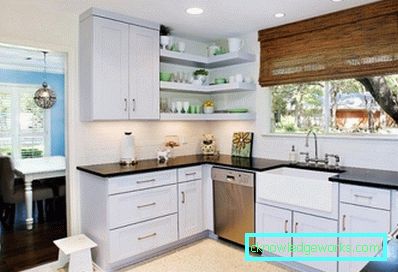 Corner shelves can be both wooden and metal or plastic. It all depends on the chosen style and how you budget. Original look high corner shelves, consisting of many tiers. They reach almost the very ceiling. The advantage of such shelves can be considered not only the fact that they look stylish, but also the fact that a lot of necessary things fit right there.
Stylish and modern, in the conditions of the kitchen space, look and asymmetric shelves. This detail is best complement the interior of the kitchen in the Scandinavian style or high-tech style. It is not always convenient to install things on such shelves, but they will surely attract attention with their unusual appearance.
Open kitchen shelves - this is an interesting stylistic decision that would be appropriate in almost any modern interior. Combine such open shelves with classic cabinets, or complement them with curtains to get the most attractive design of your kitchen.