When we hear the "kitchen made of wood", then in our view the image of a beautiful elegant room in a classic style immediately arises.
But kitchen sets, made entirely of real natural wood - a rarity. They are expensive and few manufacturers produce them.
Not only furniture can be made of wood, but the walls, floors and the ceiling can also be wooden in the interior of the kitchen.
Wood is an environmentally friendly and durable material. It has a rich texture, a variety of rich colors.
Bars of wood with a thickness of more than 20 mm are called an array. Often, facades are made of it, and the body, the bottom, and the partitions are made of chipboard or fiberboard. Veneer - thin wooden plates that veneer the furniture. The kitchen then looks like wood, although it turns out to be wrong.
Kitchens of solid wood - this means that it was made of hardwood, such as oak, birch, beech, ash, walnut, maple, pear.
This wood perfectly maintains humidity of air, differences of temperatures, is easy in processing. Such furniture for the kitchen of wood is almost not subjected to coatings, only slightly impregnated with clear varnish or tinted slightly for beauty. The structure of natural wood is beautiful in itself and should be as visible as possible.
If your kitchen is small in size, then it is appropriate to select only headsets from wood. But in the presence of a large space, the wooden paneling of walls, arches, partitions will fit into the design well, will delight the eye and the parquet floor. Complete the elite version of the kitchen of natural wood in a country house fully sheathed ceiling.
Corner layout of wooden kitchen
To save space, premises are often used angular kitchen of wood. This layout allows you to usefully use every centimeter of space. Note! Baroque style kitchen - exquisite with a thoughtful design (77 photos)
The various floor and wall cupboards in the corner are much deeper than ordinary cabinets.
Often, the wood in classic corner sets is artificially aged - patinated, giving it a look of elegance and antiquity.
Used wood
In order for the design of the kitchen room to look in harmony with the chosen style, you need to choose the right type of wood. After all, the color and pattern of different breeds is different from each other.
For example, if there is a patterned wallpaper on the walls, then it is better to choose solid wood of alder, beech. Against the background of monochrome wallpapers, a complex drawing of exotic trees will look great.
Most often in the design of the kitchen using these trees:
oak. The wood is light brown, slightly greyish with a clearly visible ring pattern.
Pine. Light golden color with a complex pattern, there are knots that give a highlight in the style of Russian country.
Karelian birch. Yellow-orange wood with a lace pattern makes the rock valuable, and furniture - elite.
nut. Chocolate-colored wood is used in modern style.
cherry. Orange-reddish wood with tree rings is used by Italian kitchen sets.
wenge. A tree without a black-brown pattern. Used for Japanese and ethno-style.
zebrano Amber-colored wood with black and thin brown veins has found application in modern expensive kitchen.
For practicality and beauty, solid wood is treated with a translucent, transparent and opaque coating.
The most popular protection option is varnish coating, which will last 5-7 years. A more familiar coating is water-repellent wax or oil. But it absorbs odors and does not tolerate grease stains.
Covering with colored enamel will make the furniture beautiful, will preserve the wood relief, but not the drawing. Various photos of the kitchen of wood will show you a variety of options from the designers of existing styles.
Requirements for wood
In order for the wood in the kitchen to serve you a maximum period, you need to fulfill all the requirements at each stage of processing.
And to find out that you have acquired a marriage, you can only after some time. So, if your wood "led", then know that the wood during processing was not properly dried.
Therefore, all wooden kitchen design must have a supplier guarantee.
But you yourself must strictly observe the operating conditions: temperature, humidity, cleanliness.
When you contact the experts, your kitchen made of wood from the manufacturer will play with warmth, comfort, originality and wealth in your living room.
Kitchen made of wood, always look noble and beautiful. You only need to correctly take advantage of the advice of professionals and the wishes of your family members.
Photo of kitchen design from wood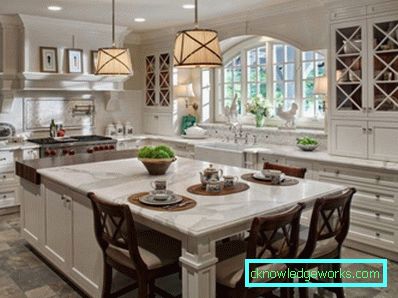 Video: