Kitchen furniture from Russia
Kitchen space is available in each apartment. The place of cooking should be modern, comfortable and functional; all the hostesses dream of such a kitchen. In the market of kitchen furniture can be found various manufacturers, both foreign and domestic. Furniture for kitchen from Russia is becoming increasingly popular, it is chosen by many new settlers and those who simply decided to change the interior.
8 photos
Features and benefits
Russian furniture products have many advantages and peculiarities in comparison with the ones brought from foreign countries. Russia boasts a large number of resources of various wood species, so the kitchen furniture has a diverse design and price range. Comparing the cost of local and imported furniture items, Russian furniture is much cheaper, since there is no need to overpay for shipping and customs fees.
Many homeowners trust Russian manufacturers, many of whom have managed to earn a good reputation. As a rule, furniture companies from Russia use only environmentally friendly materials, even if it is not natural wood.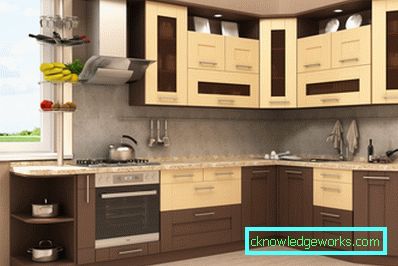 8 photos
Furniture items
Tables
Tables from Russian manufacturers differ in various designs and forms that can be selected for a kitchen room of any dimensions. If you are a happy owner of a spacious kitchen, then round and oval tables are offered for you, behind which the whole family and guests fit. For small rooms, the choice of tables is also quite wide. The most common model is considered a transforming table, which is able to turn from a small table into a large festive option.
Russian tables are made of wood, metal, MDF or particleboard. Oak models with a tempered glass top are considered the most expensive and elite.
Chairs
No kitchen can exist without chairs. This type of furniture products is mobile, practical and convenient. The ease of chairs is largely determined by their shape and the material from which they are made. Wooden chairs with backs are considered the most beautiful and look rich, but have a lot of weight, causing difficulties during transportation.
A variety of Russian-made kitchen chairs are stools that have not been out of fashion for a long time, constantly acquiring a new modern look. A variety of stools from Russian factories allows you to choose models for any premises, including small ones.
Corners
Kitchen furniture with a corner in the form of a sofa is considered one of the most popular. This option is suitable for both small and spacious rooms. The difference lies in the dimensions of the corner itself. Here you can be offered a chic soft corner sofa with a comfortable back or a modest miniature sofa.
Corner furniture allows you to create a stylish interior in a modern style. Many Russian companies offer corner sofas with an extra storage space, which is located under the seat. Under the order you can order upholstery from any material, even from genuine leather.
Top manufacturers
Korel
The main office of this furniture company is located in Barnaul. The range of furniture factory consists of furniture for any premises. You have the opportunity to order a kitchen in its size and taking into account the characteristics of the room. Interest free installment payment on the most favorable conditions for the buyer is provided for everyone.
White Furniture
The factory is located in Naberezhnye Chelny. The main direction of the manufacturer is working with natural wood, which is the most environmentally friendly material. A more affordable option is considered to be kitchen furniture made of chipboard and MDF, the cost of which is much lower.
All kitchens and furniture items are made to order. You can choose the design yourself by offering it to the manufacturer.
Atlas Suite
This factory has been producing furniture for kitchens for more than twenty years and occupies high positions in the rating of manufacturers of kitchen furniture. On an area of ​​25,000 square meters is the most modern equipment. Fully automated production process allows you to quickly produce furniture according to your size. European equipment allows you to make the most modern and beautiful furniture.
Thanks to special installations in the factory, the client has the opportunity to order a new countertop made of artificial stone.
Karina
This furniture company for the most part sells ready-made furniture. Branded stores are located in 25 cities of Russia and have more than 300 salons with modern exhibition halls. If you still do not find the desired products in the salons of the factory, you can order furniture. Experienced craftsmen and technologists will produce the kitchen furniture of your dreams that will fit perfectly into the interior with high quality and quickly.
Kitchens Party
This manufacturer assures that ordering kitchen furniture products from him, you make a win-win investment that will delight you for many years with its appearance and unsurpassed quality. Own production removes all restrictions that relate to colors, sizes and shapes.
Top Kitchen
Furniture factory is located in Moscow. In addition to the manufacture of furniture to order, the company offers free metering, delivery and installation. Professionals will personally appreciate your space and advise the best option that will save space and make the kitchen cozy.
How to choose
When you buy a new apartment, you want everything in it to be perfect. The main determinant of comfort and functionality is the furniture. Kitchen design is an important step in the arrangement of housing. Kitchen furniture should match not only your preferences, but also harmoniously with the general style of the room.
Before ordering kitchen items from any manufacturer, decide what your kitchen space will consist of. No matter how good the designers in the company are, they earn money by accepting a large number of orders. Use the kitchen to be only you, so the furniture should be chosen by you.
Studio apartments are considered to be a modern trend, where the kitchen smoothly enters the living room. In such areas, homeowners often want to make the living room spacious, leaving less space for the kitchen. In this case, you need to choose practical and compact furniture. When you make to order, you adjust and install all sizes that will be perfect for a particular space.
If you appreciate the durability of the kitchen, then choose natural materials, the furniture of which will serve you for many years and will not lose its presentation. Metal elements also have a place to be, as they have a long service life. But metal furniture will immediately add to the room a certain cold and severity.
In the presence of small-sized space, pay attention to folding chairs and stools, which are a good place to sit, and if necessary, they can be folded and put away in the pantry, hanging on the wall. So you will significantly save valuable meters and provide yourself with additional seats.