Kitchen floor cabinet
When it comes to repairs in the kitchen, many people realize that choosing a ready-made set of furniture that would suit both externally and in size would be a real problem. Most often, even those stubborn seekers who were initially determined to find an existing solution, eventually give up and resort to the help of designers and furniture makers. Despite the fact that colors, materials, types of shelves, etc. you can really vary, there are still certain standards on which you can build.
In this article we will focus on kitchen floor cabinets. We will tell you about the features, standards, varieties and even give you some good ideas about how you can make your kitchen modern, beautiful and at the same time convenient for everyday use. We hope this will help you in decorating your kitchen - the hearth of your home.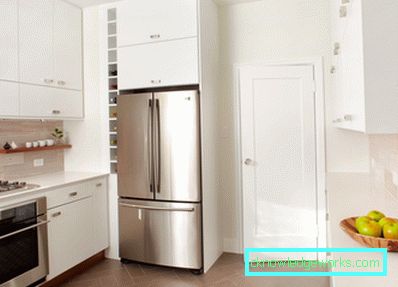 Standard sizes
If you take the total area of ​​the kitchen, then its volume can vary greatly, starting from a small kitchen of a panel house, measuring about four square meters, and ending with infinity.
For an economy-class kitchen, 2-3 floor cabinets will suffice, and one of them can be quite small, angular. The main rule - the depth of the lower cabinets should be equal to the width of the plate. If the proportions are violated, you will be uncomfortable. Let's look at the size in a bit more detail, because this topic is very important.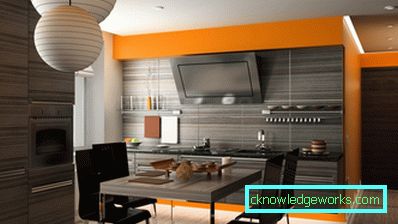 Traditionally, the depth of the floor cabinet is 60 centimeters, while the upper limit can be as high as 120 cm.
As for the height of cabinets for the kitchen - the most convenient working surface is at the level of your belt. Thus, when cooking, you will not need to raise your hands or bend over. The standard option - 85 centimeters is suitable for most people in our country.
By the way, when choosing, pay attention not only to the size of the cabinet, but also to the height of the internal shelves. Within the "norm" shelves are at a height of from 20 to 40 centimeters. Variations are possible, but require clarification.
The last parameter of the kitchen floor cabinet is the width. According to the standards, the minimum width is 30 cm (for one facade). The width of 50 cm is the upper limit, if your design requires a longer design, you will have to discuss it with the designers. The only option in which a width of 80 cm is possible. Or more will look adequate - if your cabinet has a trapezoidal elongated shape. If it is difficult for you to imagine what a wardrobe looks like, remember the dressers in the Hermitage.
Design features
There are several main variations of floor structures: U-shaped kitchen set, L-shaped (angular), parallel, lined up or insulated. But, we understand that you are limited only by your imagination, so a closet made to order can be even trapezoid, even round, even triangular. The main thing that you like and they were comfortable to use.
Countertops
An attribute that unites floor cabinets is a tabletop, a surface on which you can cook, install a sink, or simply arrange kitchen utensils and electronic appliances.
Between the cabinets with the table top differ in the materials used for their manufacture. The surface can be made of natural or artificial stone, metal, wood, plastic or chipboard. Most often, when choosing, they are repelled from the budget, and here we have no right to give you advice, but we can reflect a little on the tabletops made with our own hands, because your desire and skill plays not the budget here.
In order to make the tabletop by yourself, at least you will need to have on hand a certain set of tools: a saw, drill or screwdriver, hacksaw, trowel and trowel, as well as a cutter.
If you have all this, it remains for the small - to decide on the material and get to work.
What options do you have:
Tabletop can be made of concrete. To begin with, you will need to make a frame of boards or plywood, inside which you will need to install a reinforcing grid so that the construction does not collapse. Next, you will need to prepare the solution, pour it in and wait six to eight days for it to "take". When the cement hardens and the base is ready, you can proceed to the finish. You can use tiles, plastic, metal ... all that is enough for your skills.
The table top can be created on the basis of the timber. Prepare the frame from a single piece (approximately 40x50 centimeters) and use metal corners and dowels to attach the base to the wall. When the frame is ready, variations begin - you can attach a flat sheet of plywood and stick tiles to it, you can add a metallic finish, act on your own taste and color. 3) Another option where the worktop can be made independently is chipboard. The basis will be the timber, fixed along the perimeter wall of your kitchen. At this timber you will need to attach sheets of plywood. Sheets should not be thick (1.5 cm - this is the maximum), otherwise the design may not withstand. Top plywood can be decorated with tiles or porcelain.
Different among themselves and the functions of floor cabinets. Some need additional shelves, some prefer to embed dishwashers, washing machines, etc. in the cabinets. If you want to hide a refrigerator under the overall design, then you will need to choose a floor column cabinet, unless your model of the refrigerator ends at the level of your belt. Since there are a lot of variations on this topic, let's look at it in a bit more detail.
Varieties
With drawers. Drawers are most often retractable. Sometimes they move automatically when you open the door, sometimes they require mechanical effort. The boxes may be the same or different in size. The classic look is a small box for forks, spoons and knives, just below the table top and several large boxes for storing pots and pans.
The case case, it is called still a case column. This is a narrow long floor cabinet. It is quite common, Ved kitchen sizes are often small and you need to save space. The purpose of using such a cabinet is determined by each owner for himself, but, as a rule, it is used for dishes, and festive sets and glasses for alcoholic drinks are usually stored on the upper shelves.
Under the sink. The main thing is that the tabletop, and the cabinet itself was resistant to moisture, because even if you act super-neatly, water drops will still fall to the surface. Usually inside such a cabinet is left hollow, in order to be able to put a garbage bucket.
Sometimes floor cabinets replace the kitchen table. Furniture installation resembles a bar counter. This way you manage to combine two in one - a convenient surface for cooking and an unusual, fashionable space for eating.
Modern systems for filling floor cabinets
Put everything in shelves:
Drawers, and they must be nominated to the very end. It is very comfortable, beautiful and saves space.

Great depth and high bumpers. Agree, it is very annoying when a pack of porridge does not fit on the shelf ... for tall and narrow objects, such boxes must be in your kitchen.

The increased width of the boxes. Every good housewife has frying pans, and each frying pan has a long handle. To make it convenient for you to store the dishes, make at least one wide drawer in your kitchen.

Use delimiters. Have you ever looked into the master's work case, say, a plumber? In essence, a suitcase is the same box, but so that small objects are not confused with each other, partitions and various holders are made in the suitcase, with which you can fasten tools. Why not apply such a system in kitchen drawers?

Use pneumatic mechanisms and closers. For what? Imagine - your box is loaded to the top, you are cooking something, it is boiling there, it is fried, and you need to get, say, a crush for garlic. You push a heavy box, find an object, try to push the box again, trying not to drop the crush ... There is a chance that your kitchen will temporarily turn into a branch of hell. Closers will relieve the problem and do everything for you. A slight thrust of the drawer with the thigh and the drawer back into place. As an added bonus - noise reduction when opening and closing.

Separate drawer-dryer. Where to store the washed dishes? Of course, in this box and for obvious reasons, this box should be on the floor.
We have finished with important tips regarding functional solutions, and we can go on to the most enjoyable part - design.
Facade Design Ideas
Do you want the kitchen to look ultra-modern? Let your furniture be without handles. How to open such boxes? Everything is thought out, these models use a special mechanism that is triggered when pressed.
A wardrobe with frosted glass is always beautiful. Particularly elegant and fashionable at the same time looks white cabinet with a similar insert. In addition to glass, you can also use mirrors to make the kitchen lighter and visually increase the space.
Try installing two drawers behind the same facade. This is a good idea for kitchen cabinets located under the table top. This is done so that small boxes with cutlery do not stand out from the rest. Just cover them with a common facade.
Translucent walls can be suitable not only for hinged kitchen furniture, but also for floor drawers. Constructions of translucent materials are always spectacular and visually facilitate the interior. As a bonus - the contents of the box are always in sight.
Install a hidden locker for appliances. Most likely, it will not be floor standing, but will be located on the tabletop, but maybe you will figure out how to make a niche in the lower tier. The meaning of such boxes is security. You protect electrical appliances from moisture and sudden damage.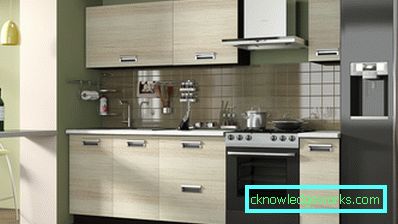 Make one section with open shelves. If you like beautiful and expensive dishes or you have an excellent collection of spices or alcohol, do not hide the beautiful bottles behind the doors. On the open shelves, they will not only please the eye, but will always be at hand.
If you eat a lot of fruit, one of the floor sections of your kitchen can be taken under the built-in baskets. Such shelves-containers perfectly allow air and protect from direct sunlight, keeping the fruit fresh. In order for the flavors to not mix among themselves, there must be at least three boxes: one for vegetables, the second for citrus and one for greens.
If you want to spend a minimum of time cleaning the kitchen, the facades of all your cabinets should be glossy. This option is one of the most practical and does not require special tools for cleansing or care, unlike stone or wood.
There are a lot of ideas for kitchen furniture, the main thing is that in pursuit of beauty you don't forget about convenience, because you will most likely have to cook every day, and you can do it in a well-equipped kitchen faster, easier and with much more pleasure.