Kitchen dining room
Large spacious kitchen - the dream of every hostess. It is often used not only for cooking, but also as a meeting place for the whole family at dinner, to discuss plans or just talk heart to heart. In this case, you need to think about combining the kitchen and dining room in the same room.
14 photos
Advantages of the joint room
If you are the happy owner of a large house, or, on the contrary, a small, cozy studio apartment, planning renovation, you can decide to combine the kitchen and dining room. For its arrangement desirable room space from 13 sq. M. This combination has the following "advantages":
Firstly, the kitchen and dining room together is, of course, saving time and space. There is no need to allocate a separate room to accommodate a dining room in it and there is no need to run around, setting the table;
Secondly, the combined kitchen-dining room seems lighter, it seems as if there is more air due to the increased space;
Thirdly, in the large kitchen-dining room there is an opportunity to install all the necessary appliances, without fear that there will be little space for free movement;
And finally, fourthly, you will have more opportunities to choose the design and style of the interior of your combined kitchen-dining room.
If you want to combine the kitchen and dining room, but at the same time differentiate them into zones, you can put a partition in the form of a bar counter or an island fireplace.
11 photos
We are determined with the layout
So, you started to create a project for the future kitchen-dining room. The first stage is the choice of its layout. We will talk about their varieties later. Next, you need to think about how you will produce zoning, i.e. the division of the kitchen-dining into working and dining areas. This can be done by placing between them one of the working surfaces, a bar or a large floor decoration, for example, an island decorative fireplace or a large potted flower.
The design of the dining area is also very important. Look at which dining headset your big kitchen has more - whether it will be a table with a soft corner sofa or is it better to choose a set with chairs? What form does a table need? How to choose the right color scheme to match the dining area with the cooking zone? Do not be lazy to go shopping, look through the catalogs, consult with the designers - in general, think over everything to the smallest detail and proceed to the arrangement of your kitchen-dining room.
Let's take a closer look at the most popular types of kitchen-dining room layouts. Most often, the following are recommended:
Linear layout. It involves the placement of furniture in the work area along one wall. This option is good because it saves space and provides the ability to install a large dining headset. Do not forget that lockers for storage of kitchen utensils can be hung on the wall, then all appliances and work surfaces perfectly fit. Also on the wall you can place open shelves for dishes, hang sets of auxiliary cutlery (cooks, skimmers, knives, etc.). If you still do not have enough space for all kitchen utensils, you can add an "island" - an additional work surface with a built-in sink or with drawers. Tabletop "island" can be used for a meal;
L-shaped layout. Its characteristic feature is the placement of the kitchen unit along two walls that form an angle. Such an arrangement of furniture is often found in kitchen-dining rooms with a small area (from 8 sq. M.) And allows for very efficient use of space. In elongated kitchens, this type of layout is the most convenient;
Parallel layout. This option, on the contrary, is more suitable for spacious rooms. Its feature is the placement of the kitchen unit in parallel in two rows, and between them a dining area is established. It is also possible that the table segment is installed in the corner, and an additional working "island" is installed in the middle.
Tips for choosing furniture and appliances
When buying a kitchen set, consider the relative position of its elements. Be sure to place the sink and stove away from each other, insert a work surface between them;
When choosing kitchen furniture, pay attention to the materials from which it is made. Their durability should be top notch - you will have to withstand high humidity, high temperatures, detergents (you will often have to wash the surfaces from grease and splashes of food);
Considering the various kitchen sets, pay attention to their equipment with all the necessary fixtures and accessories: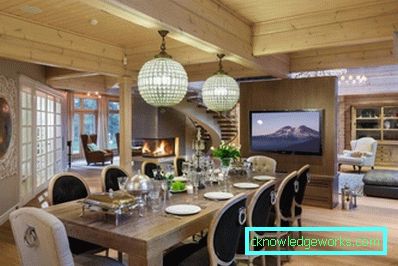 cabinet doors when opening should form an angle of 135 degrees;
when opening up it is important to have gas-lifts - special springs that support the door in the open position;
closers are necessary for the smooth closing of the doors - they will keep your furniture from inaccurate "slamming" the doors and, as a result, from quick damage;
from the bottom it is advisable to install drawers, so it is easier to get kitchenware from them;
To save space, you can think about installing rails - special hanging holders for dishes, shelves, kitchen utensils, etc.
Saves space and built-in appliances. Cooking surfaces, built-in refrigerators and ovens, dishwashers, hoods - this is only a small part of what you can equip a kitchen-dining room. It is important to place the equipment so that it brings maximum benefit with a minimum of occupied space;
Let's talk about lighting. Designers are advised to use warm soft light instead of cold daylight, as well as spot small bulbs located around the kitchen perimeter instead of a single lamp in the center;
Now for the choice of the dining room group. Naturally, it would be great if you pick up a dining area in harmony with the kitchen and repairs as a whole. However, first of all, pay attention to quality - such furniture is highly susceptible to wear due to frequent use and exposure to aggressive factors such as hot dishes and water ingress. Here are some more general recommendations to consider when choosing a table set: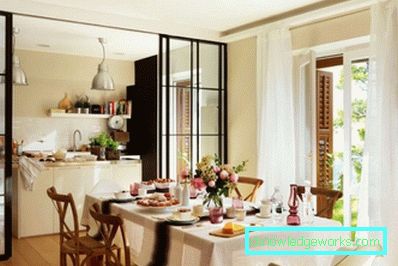 decide on what you will sit on. These can be chairs with soft or hard seats, stools without backs, small chairs with armrests or a soft corner with a sofa. Chairs and stools are more functional, mobile and take up less space; the upholstered furniture will turn the dining room into a cozy guest corner; Well, chairs can be a little bulky and not suitable for kitchens with a small area;
When choosing a dining area, be guided by the following types of tables: oval, round or square (rectangular). The oval and round shape of the table is ideal for meals and gatherings with family or friends, while a square table is considered unsafe and not very convenient due to the protruding corners. Alternatively, you can pick up a table with rounded corners, it is more practical;
Well, finally, pay attention to the material of manufacture. It can be plastic, wood, metal or glass. Furniture made of plastic looks pretty cheap, but it is suitable for a small kitchen, because it can easily be folded and moved to another place after a meal; wooden furniture is very beautiful and eco-friendly, but its disadvantage is a lot of weight; a dining area with metal inserts is perfect for a high-tech kitchen-dining room; a set of glass - a very elegant and interesting option, but not very practical;
being in a furniture store and choosing a dining area, "try on" it by yourself. Sit on a chair, appreciate its comfort; move to the table. Legs should be bent at an angle of 90 degrees, elbows - to lie freely on the tabletop. Be sure to pre-measure your kitchen-dining room and calculate the desired parameters of the dining set, so as not to take too small or too large.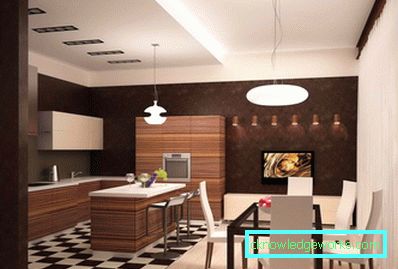 Styles
To choose the style of your kitchen-dining room you need to focus on the overall style decision of the home. However, there should be unique touches that adorn the kitchen - for example, a set of beautiful dishes on an open shelf or interesting curtains. In general, modern design ideas and projects are very diverse and any, even the most ordinary and simple kitchen can be turned into a cozy stylish corner, if you turn on the fantasy and add a couple of bold "chips". For example, we usually store cutlery in a cabinet, and you can buy several brightly painted earthenware vases of various sizes, put them on a hanging shelf and place appliances in them. If you wish, you can purchase other items in this style - a bright sugar bowl, pepper bowl, saltcellar, etc.
7 photos
Now let's talk about what are the styles of design kitchen-dining room and list their characteristic features and recommendations for decorating:
Classic style. This style is very loved by people from high society. It combines comfort with wealth and charm. There are two areas of the classical style - artsy, with elements of palace chic, stucco, carving; and strict - with well-defined proportions, elegant lines. It is necessary to decide on the direction in advance.
In any case, the furniture should be of high quality and expensive, mainly of wood. Household appliances - built-in, hidden from view. For lighting, use the chandelier, you can also place auxiliary lighting in the form of spotlights. The color scheme of the classic kitchen should be warm, without sharp contrasts and bright spots.
High tech. Modern, very interesting style. It is good because with a minimum of interior details, it is as functional as possible and very beautiful. You can even create a small kitchen in this style.
Kitchen set and dining area, as a rule, do not have any decorations and are made of chrome steel, glass, laminated MDF, wood. The color scheme is the contrast of black and white, metallic shades. Surfaces can be glossy or matte. The interior of the lockers should be ultra-modern, equipped with all the necessary mechanisms and closers for easy and silent opening of their valves. Another nuance - built-in appliances, hidden in the kitchen. The lighting is cold, using spotlights and an interesting, futuristic chandelier (optional).
Modern This style is characterized by asymmetrical details, smooth lines, smooth corners, curved shapes. Space zoning is very often achieved with a rounded bar counter. At the same time, the furniture should not clutter up the space, it should be as functional and comfortable as possible.
The color scheme of the Art Nouveau style - muted shades with several bright color spots, the elements of ornaments of the peoples of the world are allowed. Production materials - wood, plastic, veneer, inserts are possible under bronze. As lighting devices, spotlights are used in combination with a classical chandelier or with original shades.
Decorate the kitchen-dining room in modern style with various interesting vessels - vases, decorative bottles, cans, mugs; On the wall you can hang a modern abstract canvas, on the window - curtains with drapes or blinds.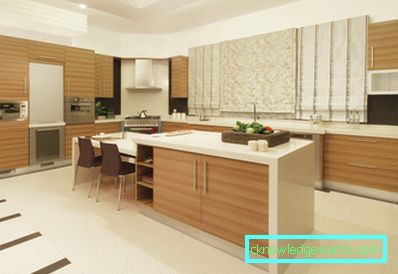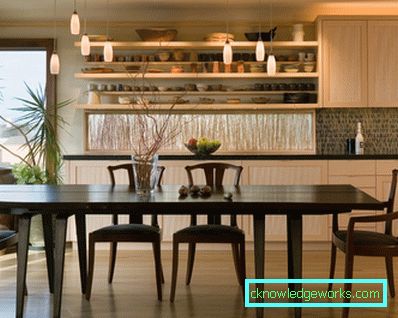 11 photos
Art Deco. Art Deco style is very bold: after all, it combines old classics and the most modern ideas! Asymmetrical fancy shapes, an abundance of accessories, expensive materials and interesting patterns are inherent in this style.
Equally bold and color range of this style. Do not be afraid to use bright colors - terracotta, red, mauve. Gold and silver must necessarily be present, at least in the form of spraying on decorative elements. Contrast colors are also welcome - black and white. Lovers of quieter shades will suit brown, beige, dairy, sand and ocher colors of interior and furniture details.
The furniture is preferred from valuable breeds of a tree. For its decoration, you can use bronze fittings, ivory, leather, glass, stones.
Graceful statuettes, exquisite paintings, marble geometric shapes, antique wrought-iron chandeliers and wall sconces, as well as luxurious heavy curtains with draperies, fit very organically into the interior of the Art Deco style.
8 photos
Eco. The most important difference of this style from the rest is its ecological orientation. Accordingly, the materials used in the equipment and decoration of such a kitchen should be natural, that is, wood, stone, glass, paper, rattan panels.
Furniture in eco-style, as a rule, wooden or wicker. Lighting - the most natural, lighting and appliances should be masked. The color range is natural and natural shades: blue, sand, earth color, grass color, pine needles. No sharp color transitions and bright spots are allowed.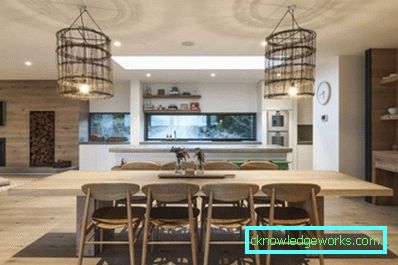 Decorate such an interior with live plants, you can use the cuts of the tree as a stand for hot. Instead of ordinary curtains, rolls are hung on the windows, for example, from flax.
Loft. Perhaps the strangest style of interior design. The word "loft" is translated from English as "attic". Perhaps this translation is the best characteristic of this style - deliberate "unfinished" repair, rough brickwork of the walls and pipes in full view, combined with cutting-edge appliances and furniture. Do not be afraid to combine the incompatible - in this style get along kitchen set with a glossy surface and rough wooden shelves; Antediluvian "Soviet" lamps on the cords side by side with velvet chairs.
The loft-style color palette is brown, brick, green, blue, black and white. For the decoration of the interior, you can use the most non-standard things that you can imagine - draw a "graffiti" on the wall, hang a road sign, etc.
Provence. And finally, we got to the wonderful, gentle, sweet style that came to us from France - to the style of Provence. Its most distinctive features are soft pastel colors, a lot of light, the use of a large number of textiles in the interior decoration and antique or artificially aged furniture.
Decorate the kitchen-dining room in the style of Provence flowers, lavender is especially popular; on the table you can lay a linen tablecloth, hang light curtains on the windows. A vintage wall clock will fit into this interior very beautifully and organically.
Color palette. Designer Tips
We talked a lot about different colors for each interior. Let's find out which colors can be combined and how they affect those around us:
If you have chosen a red, orange or blue color for the facade of the kitchen, you should know that the ideal environment for them is light beige, white and gray;
For green color is suitable combination with brown or metallic;
To the facade of a yellow color, select beige and terracotta shades in the interior;
Dark brown color perfectly harmonizes with milky;
If you choose black or white, feel free to complement them with bright color spots, but do not overload the interior with too strong variety of colors, two or three shades will be quite enough;
It is also important to know about the impact of different colors on the human subconscious. For example, the red color enhances the appetite, but it is too exciting and aggressive, so the interior recommends using its quieter shades, for example, burgundy. Yellow and orange are sunny colors. They cheer up and improve appetite. Green is considered one of the most favorable colors for use in the interior, as it is natural, has a calming and calming effect. Blue is a cold shade, it is desirable to use it in combination with sunny colors, otherwise it may reduce the appetite.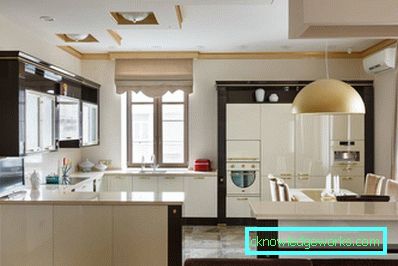 12 photos