Kitchen cabinets
No kitchen can do without kitchen cabinets, shelves and drawers - neither economy-class nor kitchen with a spacious living room. There are tables in which there are many shelves and drawers, usually near the wall without a window. They are necessarily covered by a worktop, and about one and a half meters above these tables there are upper kitchen cabinets.
Optimal placement in different areas
Kitchen furniture, like any other, necessarily carries a certain functional load. Kitchen cabinets are designed to store dishes and other kitchen utensils. Also in the kitchen cupboard have some products for which you do not need a refrigerator (salt, sugar, spices, cereals, etc.).
For a small kitchen, as well as for studio kitchens, as well as in the "Khrushchev", stylish cabinets with narrow shelves will do. Today, for the kitchen, cabinets with luminescent lighting are the peak of popularity - the kitchenette will not only transform and become more comfortable, but electricity will also be saved by such a solution.
The functionality of the kitchen and its comfort can largely depend on the location of the cabinets on it.
Kitchen cabinets can be placed according to one of three classical schemes:
linear, when pedestals and cabinets are arranged in one line, tight to each other;
corner, with a headset on both corner walls of the kitchen and with a sink in the corner;
U-shaped - this design is suitable only for a kitchen with a large area.
In a large kitchen, an option for a kitchen set with only lower cabinets is also suitable. Small kitchens and medium-sized kitchens will not be able to accommodate as many floor cabinets as they are able to completely replace all the wall cabinets and shelves.
For a mid-sized kitchen, there is currently a design option with a large wardrobe, where individual wardrobes and cupboards are replaced with one tall floor-to-ceiling cupboard. Such spacious and compact furniture looks very stylish and allows you to place everything you need, and there will be quite a lot of space left in the kitchen.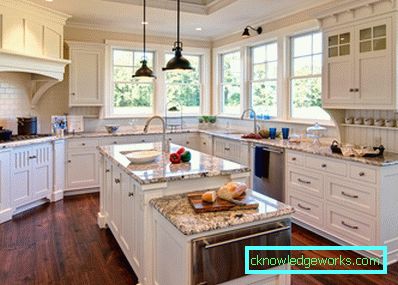 9 photos
Main types
When we choose a cabinet, we take into account the place where it will be installed and its appearance. Depending on where the cabinet is located, there are such types of it:
Floor cabinets. This is the most necessary furniture in the kitchen. It is designed to store pans, food, household appliances, care products. This cabinet is the basis for built-in appliances, such as, for example, a refrigerator, freezer, oven, cooking surface, kitchen sink, washer, and dishwasher.
Wall cabinet for the kitchen. Upper cabinets can serve as a cover for pipes, gas or ventilation. How to choose the height of the hinged kitchen cabinet? It's simple - it should allow you to reach out to any object in it, without using a stool for this purpose. But when it comes to optimizing the kitchen height, then you should choose functional cabinets to the ceiling.
A case (cabinet column) is two kitchen cabinets at once, but it is not hung on a wall, it is a long narrow cabinet that stands on the floor and takes up very little space. Its functions are the same as those of ordinary kitchen cabinets - they remove dishes, some of the products and kitchen accessories.
Corner (withdrawable cabinet). This cabinet will be an excellent solution in the case when the kitchen is located along two adjacent walls. This saves kitchen space thanks to roll-out, retractable and rotating storage systems.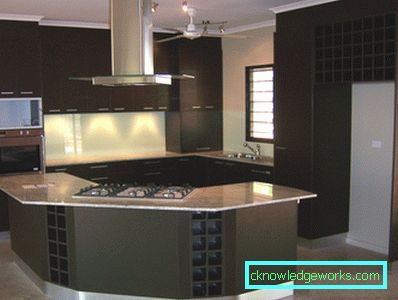 In addition, there are still such cabinets:
cabinet under the sink;
cabinet for built-in appliances;
closet with TV shelf;
cabinet for vegetables;
cabinet under the sink;
washing machine cabinet;
microwave oven;
cupboard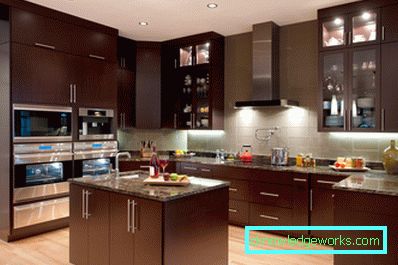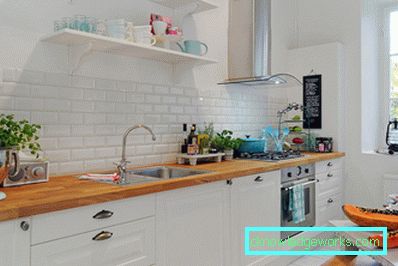 9 photos
As a rule, no one uses the space that is under the kitchen window, because it often has to be approached to open the window or just to watch, for example, a son or a daughter playing in the courtyard. Sometimes there is only a kitchen table, but this place can be much more functional. Under the window you can place the closet, the so-called "Khrushchev refrigerator".
Under the window sill you need to hollow out the panel or select bricks, make a wooden frame slightly protruding into the kitchen space, equip it with shelves and doors, and the locker is ready.
Hinged
About hinged cabinets we can say that they usually clean the dishes. The doors they can have both glass and solid, closing tightly. If such a cabinet is above the sink, there is a convenient location for a dishwasher.
Outdoor
In addition to everything said about the tables, you can add the fact that the tabletop is a traditional place where the hostess cooks food, her internal shelves are filled with food, dishes, various small kitchen utensils are filled in boxes.
Embedded
Built-in cabinets are reliable and high-quality items of furniture for the kitchen. They can occupy a niche or any other place. For wardrobes include wardrobes. They are very convenient to use and they will decorate the interior of any kitchen.
Modular
Modular cabinets are great space savings. Usually they look like mobile lockers, or retractable racks. With the help of these cabinets, the interior can be decorated as desired by the owners.
Materials and modern accessories
Many believe that for the manufacture of the kitchen cabinet, the best materials are natural materials: chipboard and wood. Others believe that a kitchen with a plastic wardrobe is more modern and stylish. In fact, such material as wood is very expensive, and this is deserved, because the wood frame is the most durable construction, although the MDF frame version will be much cheaper and also last a long time.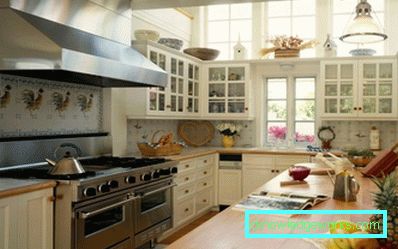 When it comes to the most inexpensive material for the manufacture of a kitchen cabinet, then the owners themselves decide what they should be made of, depending on the budget of the family.
Fittings
No kitchen cabinet can function normally without:
guides with retractable parts;
opening-closing mechanisms;
clips that fasten the legs for cabinets;
shock absorbers used for flaps and swing doors and many other elements.
The hardware is responsible for ensuring that kitchen furniture can be operated without hassle. The main elements that must be in the headset are precisely the opening and closing systems, which are hinges on the doors, on the closers and on the shock absorbers.
With quality fittings, the doors will never be loosened, they will not sag and will last for many years. Frequent replacement of accessories does not go to the benefit of furniture and its service life is shortened, so it is better when the furniture is of high quality initially.
Types of opening mechanisms
Push the latch will not use the handles on the cabinets. The door will gently open just by pressing it.
Lifting mechanism. It is used when there is not enough space for ordinary swing doors in the kitchen and a folding model is selected. Such doors can either rise completely or remain at a fixed height.
Sliding system. When the drawer is pulled out, the entire load goes to the guides. Here everything will depend on the quality of the hardware, and if it is high, even the overloaded drawer will slide out smoothly.
Filling
It's nice when the surface of kitchen furniture is not cluttered with unnecessary items - then order and comfort reign on it. To make it so in your kitchen, you should think about what kind of locker you can fill. In which part will there be, for example, a bottle-holder, a carousel, a wine rack, a place for bottles, what will be in the pull-out column, and also in plastic trays?
A showcase or semi-showcase with a retractable mechanism can be a great place where baskets for cabinets will be located, in which all the necessary accessories in the kitchen will fit comfortably.
Cabinets-transformers - this is an excellent solution for small kitchens. They save space, while having enough shelves to store various items.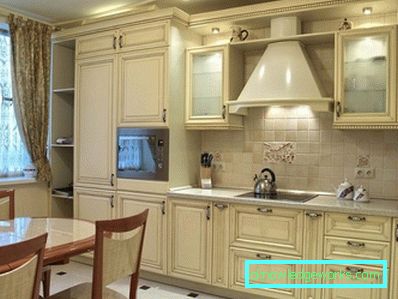 There are a lot of ways to fill cabinets and the main thing here is in convenience and in saving kitchen space.
Open
The convenience of open cabinets is that without any problems you can find any object standing on the shelf. Yes, and the cost of this type of cabinets is much lower, because their production is much less material. Open shelves can be beautifully decorated with dishes or cans, and this will add to the interior another beautiful detail.
The disadvantage of this design is that due to the lack of doors on the shelves dust accumulates and it must be regularly cleaned, for which you have to remove everything from the shelves first, and put everything back after wiping. Otherwise, all the beauty will be crossed out by an unaesthetic type of dusty objects.
Closed
A closed cabinet of the same size as an open one will be much more spacious, because the banks in it can be installed in several rows one on another, they can be installed very tightly and not worry about the fact that some object can be accidentally hooked. will fall off the shelf. In addition, for a tightly closed door is very difficult to penetrate the dust. The disadvantage of such a headset is only in its cost in comparison with the open one, it will be much more expensive than it.
How to save space
To save space, the kitchen space should be used very efficiently. To do this, the pots should be folded into a smaller one, rather than standing each separately, the broiler and the molds used for baking should be removed in one of the compartments of the kitchen cabinet. And if for a juicer there is no more room in the closet, then it can be perfectly hoisted over the refrigerator.
If the plate has a small sliding shelf, then it will be suitable for glass jars with spices, and other items will be sent to the empty space in the wall cabinet.
The place in the drawers can be freed up with a rack with hooks, a magnetic holder or a special stand for knives, vanes and some other kitchen utensils.
For a top-loading washing machine, there is a place under the flip top, inside the furniture module. When the countertop is closed, it becomes a bar counter - a useful and stylish kitchen attribute.
The niche under the window sill can also be used for storage, for example, preservation.
12 photos
Facade Design
The service life of a kitchen set depends largely on the choice of the facade, and therefore, the furniture you choose should have the following characteristics:
moisture resistant. In the kitchen, humidity is usually high, and therefore the facade can often be in contact with water or a liquid of another kind;
resistance to different temperatures (this is especially important for the space around the plate);
durability;
resistance to mechanical stress;
resistant to sagging doors.
Types of coverage
Wooden
The facades of wood - the prerogative of the kitchen in a classic style, in which the structure of this material can fit most organically.
From MDF with enamel coating
This material today is considered the most popular among buyers. This is the case when the kitchen, due to the wide range of coating colors, will differ not only in functionality, but also in brightness of colors.
Facades with a frame made of MDF-profile and plastic or glass filling (or from chipboard sheets) are attractive because they are inexpensive, the facade can be made in any form that does not limit the flight of design ideas.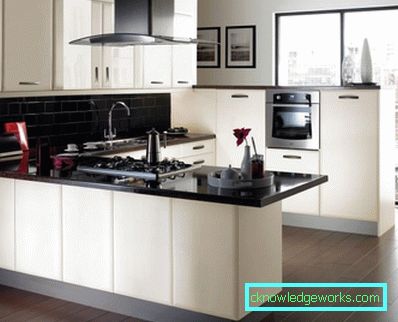 Plastic
Plastic facades are also quite popular. This is a completely reliable material that is attractive in appearance, and its cost is quite democratic.
Laminated from chipboard sheets
This option of facades is the most budget and will decorate the most simple and uncluttered kitchen.
Kitchen facade will become much more attractive if you use the ideas of decor in the form of stencils or decoupage. One should only remember about the combination of such concepts as design, color, decor and texture of the facade with what is already in the interior. Sometimes, even poorly matched eaves or rosettes can spoil the overall impression.
Backlight
How successful a small or large kitchen will depend on how functional the furniture is in it, how high-quality equipment is installed on it, how well the color decisions were made and how bright the idea itself turned out. But no less important aspect of the success of the kitchen is its lighting.
The most optimal solutions experts include multi-level illumination. Decorative lights can look like elongated fluorescent lamps, multicolored neon tubes or LED cord.
Ceiling lighting
On the suspended structure of stretch ceilings or several levels of plasterboard, decorative lighting will look beneficial. It should be placed around the perimeter.
Lighting on the walls
Walls can be decorated with classic sconces or lamps with reflected light directed to the ceiling. If there is a dimmer, it will give the opportunity to adjust the brightness of the lighting in the kitchen.
Headset lighting
Kitchen furniture today is produced with built-in decorative lighting that adorns the glass cabinets and open shelves. Furniture also looks beautiful, the bottom of which is decorated with LED tape: it seems to be floating in the air.
Lighting from the floor
The arrangement of decorative lighting on the floor surface may be on the same level with it or be deeper. The first option looks good in the case of the use of spotlights, glass on which is strong enough to withstand the load. The lighting design of the decor in the deepening of the floor is considered an exclusive and new design technique.
Care
Each individual type of material from which the kitchen furniture is made requires different methods of caring for it. Here are some of them: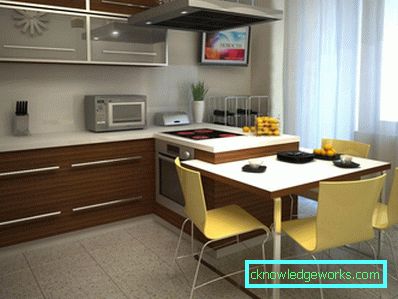 10 photos
Acrylic kitchen and care for her
Acrylic has many advantages:
material is heat resistant;
neither fungus nor mold is formed on acrylic;
This material is insensitive to moisture.
It is easy and simple to care for such a kitchen - it is enough to use a soap solution to wipe the surfaces. If it happens that the surface will require restoration work, it is completely unnecessary to call a specialist. Everything can be done independently by cleaning the place where the chipping was formed with emery, and then polishing the surface.
The appearance of the glossy surface is distinguished by aesthetics and attractiveness. However, the pleasure of owning such beauty spoils the fact that furniture constantly has to be wiped from dust. Such a nuisance is easily explained, because the glossy surface from wiping with a cloth turns out to be electrified, and therefore particles of dust are simply attracted to it. It turns out that it does not pass even fifteen minutes after rubbing, as the surface is again covered with dust.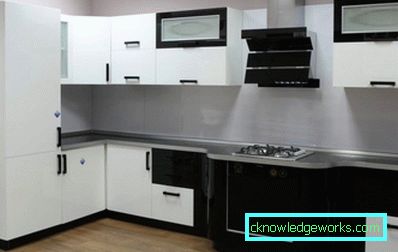 But you can deal with such a nuisance: immediately after the end of the wipe, the glossy surface is wiped with antistatic. Another nuisance that can befall a glossy surface is the loss of their original shine. In this case, there is also a "magic wand" - this is a wax that is able to restore the gloss of its former beauty.
And about the glossy surfaces - they do not like the sun's rays, so the sunny side of the house is not suitable for such furniture.
What care does a solid wood kitchen require?
For natural materials, special care is required. Kitchen furniture made of natural wood can lose its original solidity in such cases:
if it is often affected by moisture. This means that a damp cloth should not be put on a wooden surface, and if any liquid has spilled, it should be immediately removed;
if the furniture will fall for a long time direct sunlight. It means that it is better to put wooden furniture in darkened rooms or close the windows of the blinds;
if it is exposed to heat, then it is not recommended to place a hot cup or pan on wooden furniture.
To clean a wooden surface, use soapy water, then wipe all surfaces with a dry cloth. Dust from wooden surfaces should be removed daily.
Rules for the care of the kitchen of MDF plates In this case, only a soap solution is suitable, and it should not be too saturated. But preparations containing chlorine or abrasive elements cannot be used.
Daily care of the enameled kitchen. For such care on sale there is a special polishing, specially designed to cover this kind.
What care does a plastic kitchen require? Plastic coatings today is the most modern and progressive material. He is not afraid of moisture and has a sufficiently high heat-resistant characteristics. It is a pleasure to care for plastic furniture, in this case there are no special features in the care. But the rules for operating a plastic kitchen are still available:
Do not use abrasive scouring powder to care for such furniture, otherwise you will scratch the gloss.
Try to remove the dirt that appeared on the front of your headset as quickly as possible. Use a soft cloth moistened with a light soap solution to do this - this is the best and only way to clean the plastic surface.
Protect plastic from the scorching sun, for which it will be enough just to close the kitchen window with curtains.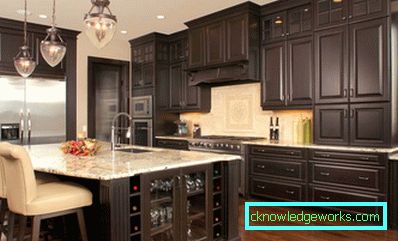 10 photos