Kenwood mixer
For many years, Kenwood has pleased its customers with high-quality kitchen and home appliances that meet modern quality standards and all the requirements of customers. The Kenwood mixer, which received wide appreciation not only in our country, but also abroad, is no exception.
Features
We are accustomed to the fact that if the device is called a mixer, then its main functions are beating and mixing products that are in a liquid state. Some models still know how to knead the dough. Here are just a Kenwood kitchen mixer is significantly different and the difference between them is big.
The fact is that this smart unit can do everything without exception. He is a full-fledged contender of an ordinary food processor. This professional mixer not only beats, mixes, makes dough, but also chops, rubs, makes pasta, makes juice and many other things. Therefore, it is not surprising that they call it a professional mixer.
Due to its larger size, it needs to be installed immediately on a permanent job. Its dimensions sometimes exceed the size of some combines, but it also performs more functions. Initially it was assumed that this unit will be used only at catering establishments. But thanks to its functionality, many housewives rushed to install it in their kitchen.
Submersible mixers of this brand are not inferior in popularity and functionality. They have a beautiful design, light weight and very comfortable to use.
On sale there are several options for this unique kitchen machine. We want to introduce you to the three most modern and functional ones.
Models
To start your review, we would like to start with one of the simplest Kenwood mixer models:
Kmix HM790BK . This device with a power of 350 W has not only five speeds of work, but also a pulse mode. This allows him to quickly and efficiently beat and mix any products, not allowing the appearance of lumps in the finished mass. Its corollas are made of metal, like the body itself, so the device is very strong and reliable to use. It can be stored not only in the cabinet, but also directly on the working surface, due to the presence of a special stand. The great advantage is not only the ability to wash removable parts in the dishwasher, but also the availability of cooking recipes using this appliance in the manual.
Titanium chef is a stationary mixer model from the brand Kenwood, made of cast aluminum, and the bowl is made of stainless steel. The power of 1400 W and the presence of three additional nozzles make it possible to use this mixer as a noodle cutter, juicer and meat grinder. The kit includes the following accessories: two types of nozzles for mixing and soft mixes, a whisk, a spatula, a dough hook, a recipe book, and splash protection. Adjustment of speed is carried out with the help of special protection against splashes, which allows to avoid their appearance even with the bowl full. The planetary principle of mixing products allows you to knead and beat the contents of the bowl evenly without the formation of lumps.
Kenwood SENSE SOFT POP - this is a true professional in the business and not easy mixer, and the whole full-fledged kitchen machine. A power of 1100 W and the presence of more than 20 attachments in the kit allow you to turn the cooking process into a real pleasure, because while Kenwood is working, you are resting.
The body of the device is made of metal, and the bowl of heavy-duty thickened glass. This mixer is equipped with an intelligent work system, which allows it to control the volume of products loaded into the bowl and select the best speed for their preparation.
And the ability to wash removable parts of this unit makes it convenient not only to use, but also to clean.
As you can see, Kenwood offers its customers a wide range of this device. So, in the Kmix series, stationary mixers are also available, which are very similar in characteristics to the models from the Chef series, and the reviews on these mixers are very positive. Each person will be able to choose and purchase exactly the mixer that he needs. And the reviews of the happy owners of the mixers of this company only once again confirm this.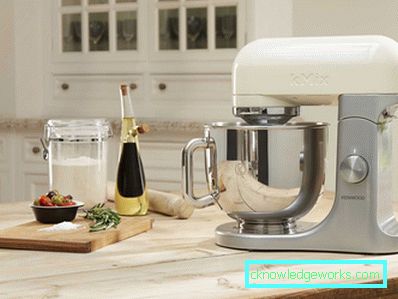 Reviews
Since the manufacturer is engaged in the release of various types of mixers, it would be wrong to summarize all the reviews into one. Therefore, consider the opinions of customers about the various types of this unit.
Owners of handheld devices note their compactness, high speed, low cost and ease of use. But some earlier mixers have no holder for the cord, which, according to the housewives, is a disadvantage. But almost all modern models are equipped with it. Users of this unit also note a high speed of work, with a relatively low power of the device itself and a low noise level. That undoubtedly refers to the pluses.
Owners of stationary mixers Kenwood have only the most positive feedback on their device. In particular, the strength of the case and the versatility of the unit itself are noted. The possibility of manual speed control and its use as a substitute for juicers and meat grinders are also indicated as one of the most significant advantages. Among the disadvantages can be identified only a fairly high level of noise during operation.
Those who are lucky enough to become owners of mixers - Kenwood SENSE SOFT POP kitchen machines have only one drawback, namely the high price. Indeed, not everyone can afford such a unit to the kitchen. But judging by the reviews, its cost pays off in full. Reliability and durability of this device in combination with high power and a huge number of nozzles make it a complete replacement for almost any home appliances.
If you need a really high-quality, reliable and multi-functional mixer, then you should pay attention to the products of Kenwood. A wide range of types and models of this device will allow you to choose the device for every taste and budget. And the quality of such units and the need for their use are proved by customer reviews.