Juicer Press
More and more people are coming to the necessity of acquiring a juicer in order to please themselves with a wonderful drink prepared by themselves. In this article we will take a closer look at press-type devices.
This type of juicer is a cold-pressed device and has clear advantages over the other juicers. The simplicity of the design and ease of operation makes it easy to use the device even for inexperienced users. A juice prepared with this technique is considered more useful.
8 photos
Kinds
According to the method of pressing press juicers can be divided into:
Hand held - This is the simplest device. They consist of a bowl where the juice flows and an embedded cone with which the drink is pressed. In some models, the bowl and the cone are separated and the cone is a nozzle. The name of the device speaks for itself - your hands act as a press here. The price of such devices is extremely small, it is explained by their narrow focus - with the help of such a device you can only get citrus juice. In use, the device is very simple - just cut the fruit, attach it to the cone and rotate it several times.
The main disadvantage of such juicers is the inability to obtain large quantities of juice.
In such juicers there is no filter, and, therefore, it is impossible to control the amount of pulp in the drink. However, this fact has a positive point, because doctors believe that the juice with pulp is much more useful because it contains more dietary fiber.
Mechanical Juicers are designed in such a way that the spinning occurs with the help of special tools: a lever and a press. Such devices allow you to squeeze the juice with a minimum of effort. Mechanical devices are versatile and serve to obtain juice not only from citrus fruits, but also from other fruits and berries. Such devices do not require a network connection.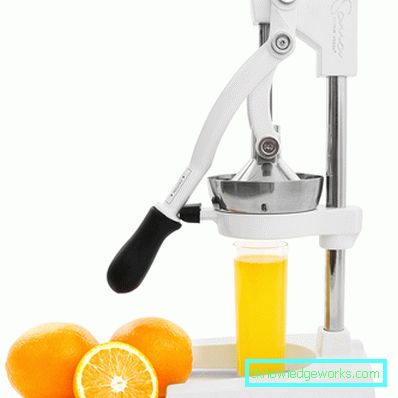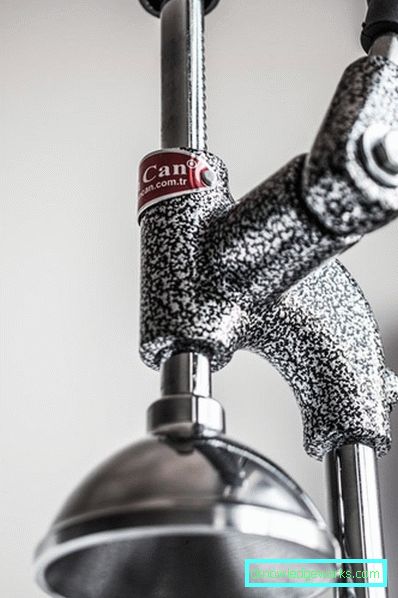 7 photos
Mechanical juicers are of two kinds. In one form, the spinning takes place with the help of a hydraulic screw press, another kind is a screw press, it looks like an ordinary meat grinder and often combines with it with the help of additional nozzles.
Screw devices with a puller have a more complex structure than previous types. Such devices are capable of producing a drink from such products that other devices cannot handle due to the presence of small bones. For example, from tomatoes, pomegranates, grapes and other similar fruits. Here, the bones are ground, mixed with juice and form a drink of uniform consistency.
The benefit of such a drink is obvious, because the product does not heat up and does not oxidize under the influence of air bubbles, which inevitably form during squeezing, for example, in centrifugal juicers.
Waste with this method of extraction is a very small percentage (about 5%). To regulate the density of the juice, that is, the amount of pulp, special filter grids are provided. The larger the opening in the filter, the thicker the juice will be.
Mechanical juicer with hydraulic press represents two plates between which the fruit is placed. Such machines are equipped with a clamping lever or screw. Using a lever or screw press is set in motion, presses the fruit, which results in a drink.
Using such a device you can get juice with almost no impurities. In this sense, it is considered the most effective of the rest. The yield of juice with this approach can even be 85-90%. However, to get such a result, you must make significant efforts.
This type of juicer is highly specialized, for example, only for citrus fruits. In such devices, the bottom element on which the fruit is placed is a cone.
Another type of pressing juicers - electric There are devices for the preparation of only drinks from citrus. They look like hand-made models, but you don't have to rotate the fruit yourself. For you it will make a car equipped with a motor. Juice, at the same time, flows into a special container. Such devices are equipped with special filters to regulate the concentration of pulp in the juice.
Screw models can also be not only mechanical, but also electric. The devices are equipped with an electric motor, through which the rake for vegetables and fruits rotates. During juice extraction the pulp is kept. The undeniable advantage of such devices is their versatility and ease of beverage. So, if you have a garden with a lot of root crops and fruit trees, perhaps this is your option.
Having dealt with the types of juicers, you must also figure out how much juice you want to produce. If your goal is to please yourself and your loved ones with a glass of juice for breakfast, or you have a small vegetable garden and you would like to make juice preparations for the winter for yourself. Appliances for home use very well cope with your task. They are also called household.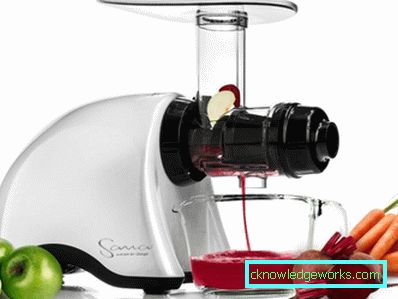 Professional juicers are used in catering places. But enterprises engaged in the processing of fruits and vegetables on an industrial scale, use industrial devices.
Reviews
Domestic Juicer "Bogatyr», Which many gardeners use to squeeze juice from tomatoes, apples, berries and other fruits, has a fairly simple device. The device consists of a plate, a basket, a piston, a frame and a screw with a handle that are fastened with self-tapping screws.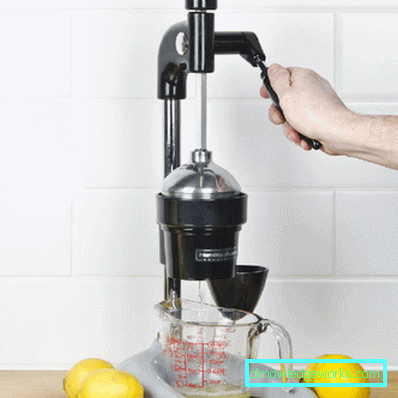 Based on consumer feedback, such a device is easy to clean. It is quite easy to use. Most consumers have noted the high wear resistance of the juicer.
The disadvantage is that it takes considerable effort to rotate the screw, which can be a daunting task for a woman.
Unfavorable reviews won the juicer press Gipfel for citrus. Outwardly, it looks like a glass with a press lowered into it. Most consumer complaints say about poor-quality squeezing of juice. Consumers say that 70% of citrus juice is not saturated. The vast majority of users have noted the unreliability of the design. In general, the feedback on this juicer is negative and consumers do not advise buying it, especially since its price is not low and ranges from 2,400 to 4,000 rubles.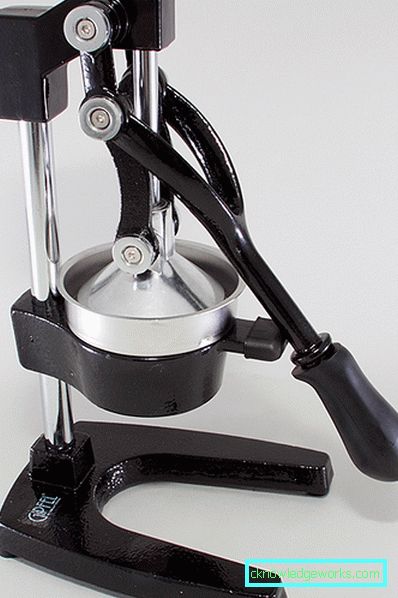 Juicer Exprimidor de Frutas, according to the manufacturer, copes with the production of juice from almost any fruit. The device is an ordinary manual juicer, but the press here is not your hands, but the lid that needs to be rotated to get the juice. It consists of three parts: glass, cone and cover. Consumers believe that the device is only suitable for the production of citrus drinks, as when squeezing the drink from other fruits and berries, small bones either leak through the cone or get stuck in them. And since there is only one cone in the set, there is no possibility to regulate the content of pulp in the juice.