Juicer for hard fruits and vegetables
Everyone, regardless of gender and age, wants to look good and be healthy. That is why more and more people around the world choose the right healthy diet. Recently it has become fashionable to drink fresh juice in the morning. In order to easily cook it at home, you absolutely must purchase a juicer.
Juice can be squeezed not only from fruits and berries, but also from vegetables, as well as to prepare herbal detox cocktails, peanut or soy milk. Not every juice squeezing machine can cope with this, but only one designed for working with hard fruits and vegetables.
Kinds
Centrifugal. Juicing with the help of such machines is as follows: the fruits (fruits, vegetables, berries) are placed in the bowl on top of the machine; the juicer crushes them with disc-shaped knives, after which the juice flows into a special container, and the remaining waste enters the separator. With this procedure, the temperature inside the device rises, as a result of which the products heat up and the juice is slightly oxidized and foamed. Because of this, some of the vitamins are destroyed and the drink becomes less useful.
Also a disadvantage of the centrifugal juicer is the impossibility of using it to squeeze the juice from the herbs for the preparation of "green" detox cocktails. In addition, this type of juice machine is quite noisy, which makes it difficult to use it in the morning. However, don't be in a hurry to be disappointed in the devices of this type: such a juicer cann't handle a large amount of work, with its help you will be able to recycle a large number of gifts of nature and it is great for everyday use;
Shnekovye. The principle of operation of such juicers is the careful grinding of products with a spiral auger (like a meat grinder). Next, the processed mass passes through a fine sieve, which separates the cake from the liquid. With such a spin, the temperature does not rise and the juice does not lose vitamins due to the forced heat treatment.
The screw juice extractor is capable of processing not only fruits, vegetables and berries, but also various nuts, useful herbs, and coffee beans, which is why screw augers are the most suitable for processing solid products.
Advantages and disadvantages
Like any household appliance, the screw juice extractor has advantages and disadvantages. Her strengths are:
Lack of heat in the process of work and, as a result, the preservation of all the beneficial vitamins contained in the original products. Juice obtained with its help can be stored for up to two days and will not lose its taste and quality;
Silent work. Morning cocktail preparation will not be accompanied by a headache and an obsessive noise;
The device of the screw juice extractor is perfectly adapted for daily use: many models have a self-cleaning function, rubberized legs hold the device on the surface and do not allow to slip, during operation no contamination of the workplace is excluded;
Well and, of course, the biggest plus: the ability to process any solid fruits and vegetables into a beautiful clear juice. Use it to squeeze carrot, beet, pumpkin, zucchini and apple juice; Cook peanut and soy milk.
The disadvantages of screw models include:
If the inlet of the device is narrow, preliminary grinding of large products will be required;
After 30 minutes of work, you need to take a break, otherwise the juicer may become unusable;
The speed of the screw mechanism is much lower than the centrifugal, so you need more time to make juice;
Not suitable for citrus. Therefore, if you sometimes want to drink a glass of orange juice, but do not want to spend money on two different devices, purchase a manual mini-version of a citrus juicer.
Rating of popular models
Consumers named three of the best screw juicers in the ratio "price-quality-set of options":
Model MOULINEX ZU-5008. This is almost a professional vertical screw juicer. It processes all fruits, is very easy to use and maintain, it can be used to prepare not only juice, but also a smoothie. Also, this car is quite silent and small in size. The amount of juice given out at a time is about 1100 ml. Its great advantage is the processing of the meal to a dry state, which is beyond the power of any centrifugal model;
An option for fans to save (but not on quality!) - ORION ORJ-031. It has a durable metal case, is equipped with protection against inclusion in case of improper assembly and automatic cleaning function. The engine of this machine is equipped with a grid, which contributes to its cooling in the process of work and, as a result, increases its resource. One-time delivery of the finished juice - about 800 ml;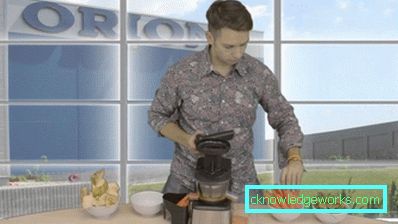 Another excellent model suitable for processing hard fruits and vegetables is the ZELMER JP-1500. It has all the qualities of the previous model, but the juice production is higher - about 1200 ml at a time. However, its cost is also higher.
Consumer reviews
The adherents of healthy nutrition, loving carrot, apple, pumpkin juices created by their own hands, as well as drinks from medicinal herbs, nuts, and various smoothies - say "yes" to screw augers. They note such positive qualities of these machines as the ability to process any hard fruits and vegetables, as well as berries, nuts, herbs and grains; "Dry" spin, due to which the output is the possible maximum of juice and dry cake remains; noiselessness and rather compact dimensions of the device. Also, due to the design, pollution of the working space is minimized.
Of course, there were also minuses: a higher cost compared to other types of juice cutting machines, a smaller choice of models and the inability for long uninterrupted work.
Before choosing a suitable juicer, think about how often you will use it and which drinks to prepare. You do not need to miss the first available device just because it has an attractive price, just as you should not overpay for options that you personally do not need. Therefore, think about everything carefully and make the right choice in favor of the device, which combines the ideal ratio of price, quality and a set of necessary options.