The principle of operation of the juicer
Features and benefits
Juicer refers to the small household appliances, although the size of this design is quite large, especially if it is designed for the preparation of a large volume of juice. This universal type of household appliances is perfect for modern housewives, and especially for families who adhere to a healthy lifestyle and tend to consume maximum vitamins and get all the benefits of fruit. Every housewife needs a juicer, especially if there are children at home. Its main purpose is to get pure, high-quality and natural juice from fresh fruits and vegetables, and this juice has much more advantages compared to packaged liquids.
Functions
These kitchen devices have an indispensable function - juicers or spin, depending on the model. At first glance it may seem that these are two identical functions, but in fact they differ greatly. Both functions are very different, the juicer allows you to squeeze a more clear and transparent juice, for its use it is not necessary to clean and chop products. This feature is best suited for processing and obtaining juice from solid vegetables and fruits.
The spin function is different from the above, it is faster than the previous one and allows you to prepare more liquid in a short time. For example, a Philips-made device that has a spin function can, in one approach, squeeze out more than 2 liters of pure juice, and you will not need to change the capacity for accumulated pulp.
This feature helps to get a thicker natural freshly squeezed juice, which will be rich in vitamins and will have a high fiber content. Such a drink better nourishes the body and has a very positive effect on it. Nutritionists recommend to use just such a juice during weight loss, because it accelerates metabolic processes in the body.
Spin juicer is more like soft berries, fruits and vegetables like bananas, tomatoes or strawberries. In this regard, this function is inferior to the juicer in diversity, but the spinning has great speed and performance.
For citrus
All juicers are divided into universal, which are able to squeeze the juice of any vegetables and fruits, and squeezer for citrus. With the help of the second type of this device, it is possible to squeeze out only citrus fruits of orange, grapefruit, lemon, pomelo, suite, mandarin and others. Their action is based on the movement of the motor. Besides it, the design consists of a cone-shaped nozzle with bulky ribs, on which half of the whole fruit is placed. Also included in the kit is a vessel for assembling the resulting juice.
The scope of this device is limited to the squeezing of juice only from the above fruits. But this product is quite easy to operate. In addition, high-quality models of such devices are very durable and have a fairly low price.
9 photos
How to choose
These devices should be selected with extreme care. When choosing, be sure to specify how many revolutions per minute a centrifuge can go through. The most appropriate indicator of its speed for normal operation is seven to ten thousand revolutions. High speed is almost unreal, this is a fraudulent move of sellers, so they show the high performance of the device.
Very convenient devices that have a brush for cleaning the mesh device and a container for collecting pulp. It is better if the design is equipped with an automatic circuit breaker, which will not allow the motor to burn out. It is best to give preference to models in which you can adjust the speed. The best is the presence of two speeds and the pulsation function of the device.
Centrifugal
Centrifugal spinning devices have a complex device and, therefore, they are quite voluminous. This device will occupy a significant place in your kitchen, and, as a rule, its cost is higher than other models, but it is notable for high productivity and good quality of the juice obtained.
Fruits and vegetables in this unit are ground using a disc grater, this is the first stage in the operation of this device, which simplifies the process of squeezing the juice that follows this stage. Then the resulting substance is lowered into the separator, where it moves in a circle at high speed and with a large pressure is ground on the walls of the centrifuge. The separator is necessary in order to separate the pulp and liquid fruit or vegetable juice.
8 photos
According to the design of this element juicers are cylindrical and canonical.
A cylindrical separator has a maximum spin rate: it can get up to ninety percent juice from fruits or vegetables, but this design usually does not dip the remaining parts of the fruit into a special container. You will have to get this cake with your own hands. Juicers with a canonical type of separator have a capacity for collecting pulp, but, although they are much more convenient to use, their productivity is about two times lower than in the previous type.
In general, the principle of operation of centrifugal juicers is quite simple. At the same time, they work pretty quickly and do a good job. In addition, this juicer - one of the most budget options. It also has a wide opening for immersing the fruit, so you don't need to cut the ingredients before starting the device. It should be noted that the juice in the process of this model, it becomes a little sour.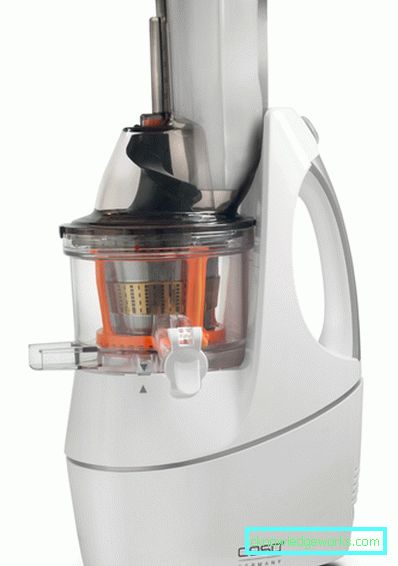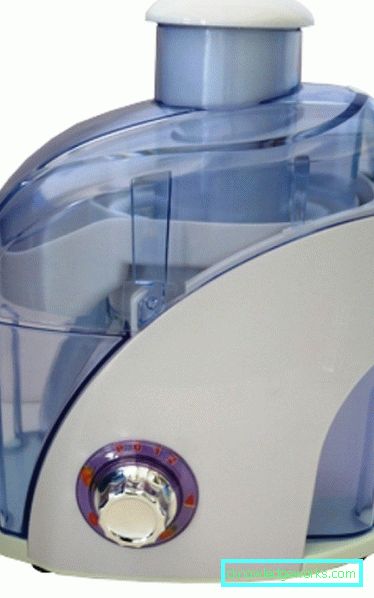 10 photos
Screw
Such devices are visually similar to a meat grinder. Their type of work differs depending on the particular type of juicer. Electric auger squeezer operates due to the engine, and the second type is a mechanical device, controlled by hands. All these designs are one screw or two screw, as well as horizontal type or vertical type.
The principle of operation of a screw type juicer is the following: in the center there is a spiral-shaped axis, which turns very quickly, chopping and pushing fruits or vegetables into a special compartment of the device. There, the pulp under pressure is squeezed through a special mesh, and after that, the resulting juice is poured into a container for it. Such a juicer has a slightly lower productivity than a centrifugal cylindrical device. It works as a slow press, so it can give the juice from any plants and their fruits.
Due to this principle of work, the resulting juice does not become sour and most of the useful particles of the fruit remain in it. This is achieved due to the relatively low speed of rotation. Fruits do not fall out and fit well in the holes specially reserved for them. Auger devices are much quieter than centrifugal devices and have a longer service life, they are much safer and safer. In addition, in such structures there is the possibility of self-cleaning device tanks, but this type of juicer is more expensive because of its versatility and versatility.
7 photos
For example, the horizontal type auger device of the Dutch manufacturer Princess acts by squeezing the juice using a screw and a metal filter with a fine mesh. This auger, rotating, presses on pieces of fruit and vegetables and then throws them onto a filtering device through which the resulting juice passes. This squeezer juice brand Princess consists of the engine department, throat part, auger, filter, lid for juice, boot compartment, pusher, containers for collecting juice and pulp, as well as brushes for cleaning. In order to understand the principle of operation of this device, the manufacturer included instructions on how to use the juicer.
Spin this screw design has a rather low speed. Its work begins as follows: in the throat part it is necessary to immerse products intended for pressing, which are ground by the screw and move to the filter, and the cake comes out already with dry strips through special small holes. The operation of this device is limited in time, its duration is ten minutes per approach. In order to prevent the device from overheating, it is equipped with an automatic shutdown system after twenty minutes of continuous operation.
11 photos