Ice blender
For modern housewives, crushed ice is the same necessary product as, for example, spices. As a product, it is used for the preparation of alcoholic and non-alcoholic cocktails, for shakes, as well as for dishes that require decoration in the form of an "icy fur coat". Of course, you can buy ice chips in the store in the freezing department, but it is much more convenient and economical to prepare it yourself. An ice blender can help you with this, and in most cases it is just an ordinary blender with a knife for splitting ice products.
Features and benefits
As a rule, the knife chopper is placed in a closed container, so that the fragments do not accidentally injure.
Knives for splitting are completed with models of medium and high power, from 400 W.
Blenders with ice packs are designed to chop large pieces to size.
Knives for chopping ice are completed with both submersible and stationary models.
Some manufacturers, such as Braun, prudently offer to purchase a jug-nozzle for splitting ice separately, in case you thought about this option later than you purchased a blender.
It should be noted that the knife nozzle for chopping is great for frozen fruit and nuts.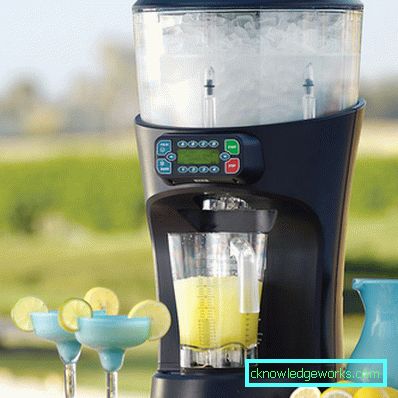 How to choose?
When choosing a blender for splitting ice, please note that this process causes less damage to glass and metal containers, but plastic containers can be very damaged. The model for chopping ice products should be powerful: the more powerful the device, the easier it will be to cope with ice.
Be sure to make sure that the blender has a special ice cap.
It is desirable that the buttons of the device do not work from inadvertently pressing, but it took some effort to start the process. The presence of the function "pulse mode" will allow more thoroughly crush the ice. Equally important is the reliability of technology. Prefer well-proven manufacturers and models that have positive feedback from buyers.
Model overview and reviews
Bosch SilentMixx MMB64G3M
Powerful stationary machine with automatic mode for crushing ice. Special indicators will inform you that the device is turned on and ready for ice. Power device - 800W, in case of overload the device turns off automatically. The blender is completed with a fairly large jug - 2.3l.
According to consumer reviews, the Bosch SilentMixx MMB64G3M blender very quickly processes the ice into a uniform crumb. The bowl of the device is easily removed and the knife is easily washed. Also, there is a lack of loud noise during operation.
Oursson BL0640G / DC
Universal model of a blender with a removable knife for ice and frozen fruit. The power of the device is 600W, sufficient for high-quality grinding of ice products. The volume of the jug is 1.5 liters, the material is glass resistant to scratches from ice fragments.
Reviews of consumers say that this is one of the best models in the kitchen of the modern hostess. In addition to splitting ice, the blender is endowed with several more functions, is reliable in operation and has an attractive design.
Philips HR1646 / 00 Avance Collection
Mains-powered submersible model with ice splitting and mechanical control. The device is equipped with a special button for intuitive control, with which you can adjust the speed of rotation. The power of the device is 700 W, the material of the submersible part is stainless steel.
In general, customer reviews about this model are positive. The main advantages of the device are quite high power with its compactness. He quickly and efficiently produces ice chips, allows you to quickly prepare chilled drinks and desserts.
Polaris PTB 0205G
Stationary blender model for splitting ice with a glass bowl made of shock-resistant glass with a thickness of 6 mm and a power of 600W. The blender is equipped with a fairly roomy jug with a volume of 1.2 liters.
Thanks to universality, reliability and decent power, the device is popular among buyers. According to reviews, the model is very well thought out, it works quietly and ice is well pricked.