Choosing a coffee machine for the home
In the XXI century, new home appliances are created every year, designed to help modern housewives to wash dishes, wash clothes, quickly prepare a variety of dishes, clean up the house, bring up children. Many things have become more accessible at home. And in order to enjoy a cup of freshly brewed coffee, now you don't need to go to a cafe or cook it in a Turk, you just need to buy one of the wonderful new-fashioned devices - a coffee machine for home use.
7 photos
The history of coffee machines began in Paris in 1843. The first car was created by designer Edward Loisel de Sante and presented at the exhibition in 1855. She was huge and ridiculous, her device resembled the furnace of a steam locomotive. The stoker poured coal into it to maintain the required temperature, the operator poured the ground coffee beans into the kettle and watched the pressure. This wonder unit had the ability to make 1000 cups of coffee per hour. It was not safe to use and could explode, but it was a real innovative idea. Many years later, in 1901, a more familiar espresso machine was created, which, of course, was far from modern models, but was much smaller and safer.
Appliances for home use appeared in 1974. And since then, this technique has been firmly established by coffee lovers, it is constantly being improved, new manufacturing companies come to the market, and innovative solutions are being implemented.
10 photos
Features and benefits
A coffee machine has a huge range of advantages over simple coffee makers. First, it is an absolutely automated process that requires a minimum of physical actions from a person. The coffee machine itself copes with the grinding of coffee beans and fully regulates its preparation. As a result, you just have to substitute a cup - and a fragrant drink is in it.
Secondly, the coffee machine is a stylish detail of a modern kitchen interior. Thanks to a huge selection of models and colors, you can choose the device that will satisfy your exacting taste.
And finally, thirdly, with the help of a coffee machine, you can make delicious coffee according to the recipe you like. And every morning you'll start with a cup of flavored drink.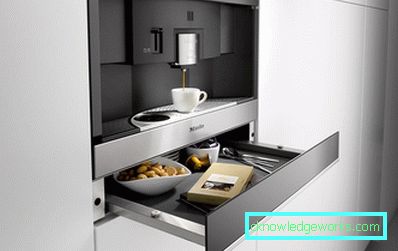 12 photos
Kinds
All coffee machines for home use can be divided into the following types:
Rozhkovaya. Machines of this type are attractive to consumers, primarily due to the fairly simple operation, affordable cost and excellent taste qualities of the prepared beverage. With the help of these devices you can prepare a classic espresso. However, they have a number of shortcomings, for example, they require cleaning the horn after each use, and also need additional tamping of ground coffee beans;
Portion (chaldovaya). In fact, some classifications do not separate this variety from the previous one, since many of the rozhkovy aggregates are equipped with a chald adapter. The main advantages of such coffee machines are high-quality initial product, quite simple operation, reasonable price, impossibility of spoiling the drink through inept preparation. The disadvantages include the limited choice of beverage types, the inability to change the strength and taste of coffee, the high cost of raw materials;
Capsular. It has similarities with chaldovoy in part of the use of the preparation of coffee is already finished raw materials, but in this type of coffee machines, capsules are used instead of pods. The undoubted advantages of capsule aggregates are excellent coffee, ease of use, affordable cost; cons - getting the original product of only one fortress, the need to constantly spend money on capsules, which are quite expensive;
Combine espresso. It works on the principle of a rozhkovogo machine, but it has a significant addition - a built-in grinder. This expands the capabilities of the device. Therefore, the advantages include the possibility of preparing a drink from both the already ground grains, and from the whole. The main disadvantage of the espresso combine is the need to clean the containers and the cone from the residue of the coffee cake after each cooking procedure;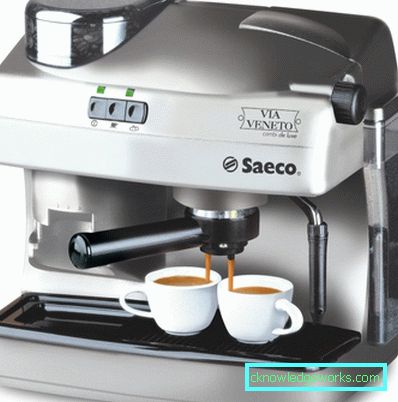 Coffee machine. The most attractive universal option. With it, you can make almost all types of coffee on the basis of classic espresso. Most models are equipped with a cappuccinator for frothing milk, there are automatic systems for cleaning and filtering. A person needs a minimum of action to prepare a drink. The disadvantages of such machines are, perhaps, a fairly high price and the required quality maintenance;
Drain type coffee machines. This variety is best suited for use in the office or a small coffee bar than at home.
Now let's briefly mention what types of coffee machines are:
Ceramic pot;
Espresso coffee maker;
Drip;
Geysernaya;
Vacuum;
Capsular;
French press.
8 photos
How does it work?
Briefly consider the principle of operation of each of the varieties of coffee machines:
For making coffee in a carob coffee machine, Pour the ground seeds into the holder, compress them, turn on the device. Heated to the desired temperature, the water will go there and pass through the prepared raw materials. At the exit, you get your espresso;
Pallets and capsule machines practically do not differ from each other and from the horn mechanism according to the action algorithm. The difference is only in the raw materials. The pods and capsules are already compressed mass, while the rozhkov apparatus requires additional pressing of the grains. And the basic principle of operation is the same: heated water passes through a pre-punctured package with a coffee mass and enters the filter, after which it is poured into the cup;
The espresso combine, as mentioned above, has a built-in coffee grinder. Therefore, the grains are first ground, then come to the horn, where the process of preparing the drink takes place;
An automatic machine is an apparatus with a more complex work algorithm. When you turn on, a preliminary check of all mechanisms for health or breakdown occurs, at which time you can see the flashing of the color indicators on the panel. Upon completion, if everything is in order, the green light turns on. Further, you pour water and lower it through the spout to fill the inner tank. You fill up the grains in a special place, determine the size of the grinding and the strength of the original drink, set the program for the machine. She grinds the raw material, presses it, scalds it with hot water, and pours coffee into a framed cup. Waste is disposed of in a special compartment. Many automatic machines are equipped with a cappuccino maker, which, using a tube, pumps out the milk from the substituted container, beats it into a cool foam and covers it with the finished espresso.
What type of heater?
Many potential buyers are interested in the question: what type of heater is better - a boiler or a thermoblock. In order to answer this question, it is necessary to define the concepts.
Thermoblock called a thin tube made of metal, around which the heating element is located. The water, passing through this network, instantly boils and enters the tank, where the brewing of the drink takes place. Thus, thanks to the thermoblock, water is heated exactly the amount that was declared for making a cup of coffee. At the same time power consumption is quite low. The result is a lack of excess unused water and less susceptibility of mechanisms to the formation of corrosive deposits.
Boiler - This is a tank in which water is poured and the whole is immediately heated to the required temperature. Further, the capacity for brewing, pours as much liquid as necessary to prepare a portion of coffee. The remaining water remains in the boiler. As you can see, this is not entirely beneficial from an economic and practical point of view, since boiling more water requires more power consumption. In addition, due to the presence of liquid residues inside the boiler, unnecessary stagnation and corrosion can form, which will later spoil the taste of the drink, and then the machine mechanism.
From the above, we can conclude that a coffee machine with a built-in thermoblock is more economical and profitable. Although if you do not pay attention to energy consumption and drink more cups of coffee at a time, or cook it for a family, choose a unit with a boiler.
How to choose?
Perhaps now we will say the obvious thing, but nevertheless, it is very important when choosing a good coffee machine for home use - all devices are different, they differ in many characteristics. And it confuses consumers and raises a bunch of questions. Most of them do not know which functions are important and which are secondary. In addition, very often there is the question of the optimal ratio of price and quality of goods. Below are the main criteria that you need to adopt when choosing a machine for making coffee.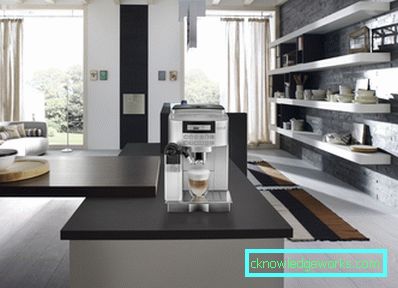 7 photos
Appearance
The interiors of modern apartments are distinguished by carefully selected furniture and household appliances. Therefore, it is not uncommon for a coffee machine to serve not only for its intended purpose, but also to be a significant part of the interior of a kitchen room. And in this case, the main criterion for selection will be how the selected device fits into the designed design. The most advantageous will look built-in coffee machine.
Together with other household devices: stove, dishwasher, microwave, coffee machine is built into the kitchen furniture. Coffee machines of this type, as a rule, are rather bulky, but they look expensive and stylish. Their weak points are lack of movement, difficulty in maintenance and high price.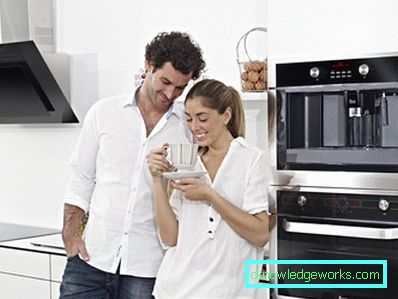 10 photos
Important criteria of appearance, tipping the scales in favor of a device, are also its size and weight. In this regard, more advantageous than the built-in, capsule machines: they are lighter in weight and can be transferred from place to place.
Some types of coffee machines have an external display screen that displays the possible modes of operation of the unit. This is a rather necessary and useful option that allows you to make a choice in favor of a drink of varying degrees of strength.
Type of brewing mechanism
This is a very important point that you need to decide. The fact is that it can be removable or non-removable. When the machine is working, it deals with a certain amount of waste products and is gradually polluted. Naturally, it needs periodic cleaning. Otherwise, the coffee will have a nasty taste, and the mechanisms will become unusable.
If you have a mobile unit for brewing, you need to occasionally pull it out and rinse well under the tap. If you do it regularly, you will not need the use of special detergents or additional manipulations. But it is important to remember when the last cleaning procedure was carried out and calculate the correct time for the next one. The greatest difficulty is the washing of the weaves of the tubes in the mechanism, but this must be done.
If you choose a unit with a fixed unit, this simplifies the task of cleaning it. When the next procedure period is appropriate (as a rule, it is necessary to repeat it every 200-220 cups of a drink), he notifies the user of this himself. Then you just need to take a special tool for cleaning (available in the form of tablets) and put it into the custard block by running the decalcification mode. It is very convenient and besides, the mechanism will be cleared much better and deeper than with manual manipulations.
Availability of coffee grinder
Many modern models of coffee making machines are equipped with built-in grinders. This, of course, is an advantage, as it expands the possible range of raw materials used and allows you to drink a drink with a richer taste and strength.
Another plus: such devices are able to independently form portioned tablets from ground coffee, which eliminates milled raw materials scattered throughout the kitchen.
Built-in coffee grinders in coffee machines are made either from ceramics or from steel. Coffee grinders made of steel are most common because of their wear-resistant qualities; moreover, they are not susceptible to breakage when small stones get into the coffee compartment, which are sometimes found in coffee beans. However, ceramics are still better. Such a coffee grinder will work much quieter and grind the seeds will be more careful. In addition, it is not subject to oxidative processes. But it is necessary to replace the blades every 2,000 grinding cycles.
Type of drink
Orientation to the possibility of making your favorite drink. If you love classic espresso and do not recognize other types of coffee, you can choose any coffee machine you like, because each model is able to prepare an espresso. And if you are attracted by a cappuccino or latte, be sure to check that the selected unit has a cappuccino maker - a tube, by means of which milk is whipped into foam and introduced into the finished drink. This is done by feeding vara and saturating the milk with oxygen, as a result of which a thick, delicious foam is formed.
Additional functions
Pleasant bonuses like an automatic built-in timer, which will help to brew coffee at a set hour, the ability to adjust the strength of the drink, grain grinding and the required initial volume. All these "chips" will not affect the taste and quality characteristics of the resulting product, but will be a good addition to the existing functions.
Top Rated
Recently, the market of coffee machines has been replenished with new models and manufacturing companies. Drinking natural freshly made coffee in the mornings has become very fashionable, and many have decided to buy such a device for themselves home. Below is an overview of the most popular coffee machines. They are rightfully considered to be units of the following world brands:
DeLonghi Nespresso, capsular. Wonderful and very pleasant to use the machine. The process of making coffee with its help is fully automated and takes a very short time. Your actions are reduced to filling the reservoir with water and installing a capsule with ground coffee in the compartment. This unit has another feature - you can brew a drink with milk in it. To get it, pre-install the capsule filled with dry milk and fill half of the cooked mug, and then change it to a capsule with coffee and finish cooking.
Philips Saeco. Automatic machines of production Romania. Have a very high-quality assembly and easy to use. They are equipped with a removable brewing mechanism, which is fairly easy to maintain. Many coffee machines of this company have an indicator screen that displays all the processes in progress. All models are equipped with cappuccinator. Some models have built-in coffee grinders.
Bosch. It produces automatic coffee machines, which are very popular among consumers. Their distinguishing feature is the versatility and sophisticated modern look. Brand Bosch is considered the best in the market of coffee machines. Its machines are brought to full automatism in everything, from grinding coffee beans to cleaning the heating elements.
Jura. The Swiss company, rightfully vying with Bosch for supremacy on the world stage. Produces high-quality coffee machines, equipped with many necessary functions. In this machine, you can make absolutely any coffee.
Nescafe Dolce Gusto. Perhaps one of the best budget options among capsule units for the preparation of coffee drinks at home. You can make an espresso or a delicious cappuccino or latte. The built-in water tank is quite large and you can make coffee for several people. The brewing time of the drink is very small. The Dolce Gusto machine will perfectly fit into the interior of home cooking, as well as a small office.
Reviews
If you have conceived to buy a coffee machine, but still hesitate: it may be more expedient and more profitable to acquire a simple coffee maker, do not rush to conclusions. Most consumers who have opted for coffee machines, leave only positive feedback about them. Here is what their owners say:
It has become much easier to make morning coffee. At that time, as it is necessary to tinker with the coffee maker, pre-pitch the seeds, and after - tracking the brewing process, the coffee machine takes all these responsibilities on itself. It grinds coffee beans to the desired size, processes them, forms tablets, prepares the drink of the fortress that you like and does it all in a matter of seconds;
The coffee maker does not have the ability to make other types of coffee, besides classic espresso, coffee machines equipped with a cappuccinator can surprise you with a fragrant cappuccino or a delicious latte with firmly whipped milk froth;
Many coffee machines are equipped with self-decalcification function., which greatly simplifies the care of them;
If there is an indicator display on the panel of your device, You can always find out what mode of cooking is installed, what needs to be done in the near future and how your assistant "feels";
Perhaps the only disadvantage in the acquisition of coffee machines for home use, consumers consider the rather high cost, which is higher than the price of coffee grinders, even if we take into account the low-end models of machines. However, their functionality fully justifies the costs. Therefore, if you like coffee, you want to drink it every morning and do not particularly want to bother with its preparation - a coffee machine to help you.
11 photos