Furniture set for kitchen
If you want to organize a comfortable, comfortable kitchen, then planning and purchasing furniture should be approached carefully and thoughtfully.
The color palette, style, materials used are amazing. In order not to waste time and not pick up the necessary elements of the kitchen, it is better to opt for the set.
A furniture set for a kitchen is a set of products that are made in the same style, they harmonize perfectly, complementing each other, and create an impeccable complex.
Kinds
Depending on the method of completion, the following types of kitchen furniture are distinguished:
With a set number of items that are included. All components are closely related and form a whole. You can stop your choice on this option if you are satisfied with the color palette, the material and the form, since all the elements are perfectly combined.
Modular furniture - consists of independent elements, wall and floor, made in the same style. Components can be purchased separately and combine them into a set, so as to perfectly fit the size for a particular room. You must select the necessary items and order them.
Separate interior items - An example is the chairs and tables for meals. Very often they are not included in the general set and they need to be selected separately, observing the same stylistic orientation.
Depending on the planning method, there are:
Island kitchen - in the center there is a locker for the stove or sink, other objects are arranged around them. A peculiar triangle is formed: a stove - a sink - a refrigerator. Such a layout is considered optimal for a large-sized kitchen.
Peninsular Planning - differs from the previous version in the presence of a bar counter or a serving table. This element logically complements the working area and divides the kitchen space into two parts: for cooking (working) and for eating (dining).
Linear arrangement - All kitchen items are located under one wall. This technique is suitable for almost every kitchen. The only thing you should not opt ​​for it, if you have a long and narrow room, since such a kit will visually extend the space even more.
L-shaped set - involves the placement of furniture in front of two perpendicular walls. This planning method is highly ergonomic, as the angle in the room is fully used.
Layout in the form of the letter "P" - kitchen unit is located along three walls, except for the one where entrance doors are installed. Suitable for a kitchen that is large in size.
Galley or two-row planning - It will be an ideal example for a room in which there are through doors, since the components of the set are placed along the walls. The finished set is quite rare, but you can pick up furniture with the necessary items.
Benefits of the kit
A distinctive feature of the kitchen set is the ability to choose the required number of cabinets that fit perfectly into the room, depending on its size and parameters.
If the kitchen has a non-standard layout, you can choose the necessary elements for its arrangement.
The main advantages of the kitchen collection kit:
Ease and ease of installation.
A huge variety of sizes of individual hull elements.
An opportunity to choose a color palette and original design.
You can vary the number of required modules.
The design can be slightly modified if you use other accessories.
Main components of the headset
Each housewife decides on her own what components of the corps headset and in what quantity should be placed in the kitchen.
The most popular items are:
Wall cabinets - determine the overall height of the furniture. There are:
open view - a variety of shelves;
closed type - have deaf or glass facades.
Floor tables or cabinets are the main components of the kitchen set, which contains all the necessary utensils, dishes and long-term storage products.
Cabinets in the form of canisters or columns are very often used to embed a variety of dimensional household appliances, such as a refrigerator or a dishwasher.
The buffet is a tall and wide cabinet with a glass facade. This item is used in large rooms. Usually in it place beautiful ware or service, decorative elements. In the lower part, you can arrange a variety of kitchen utensils, as often the doors are made of opaque material. This element of the set adds refinement to the interior and is applied in a classic style.
Table-stand, bar and semi-bar racks, which can also be included in the package. Often these interior items are mobile, equipped with wheels, making them easy to move around the kitchen space, depending on the needs.
Tables and chairs - when choosing a table, you must consider the number of family members who will sit behind him, as well as focus on the size of the room. For a small kitchen, a folding or sliding model can be an ideal option, which, for example, is laid out for dinner, so that all households can fit behind it. The rest of the time such a table is complex and does not take up much space. In form it is:
rectangular;
oval;
round;
square.
Instead of chairs, a kitchen corner can be used, which will be a great alternative to them. It is distinguished by high functionality, since under the seats there are usually additional sections in which you can store various accessories.
The main aspects of the choice
To make the right choice and purchase the kitchen suite of your dreams, you need to decide on the basic parameters:
Cost of - you should determine how much you are willing to spend on the purchase of the package, and based on your ability to choose furniture.
The material from which the modules are made. Whether it will be completely wooden furnishings, or a more economic option: MDF or fiberboard. The working surface will be made of plastic or artificial stone? Should there be glass or metal elements?
The size - opt for a set that fits perfectly into the kitchen space without cluttering it.
It is worth paying attention to the functionality and ergonomics. It is better to choose a set with a large number of retractable drawers and shelves, it will allow to place all the kitchen utensils and necessary things, and the dishes will always be at hand within reach.
Look at the height of the tabletop - you should be comfortable working for her. Stand near the work surface with your arms bent at the elbows, the distance from the elbow to the table should be about 10 to 15 centimeters. In this case, your hands will not get tired if you cook and cut foods.
Popular styles
Each housewife, planning the design of the kitchen room, seeks to get not only functional, but also fashionable and stylish kitchen, in which it will be convenient to cook a variety of goodies and in addition to receive guests.
The most popular styles of design furniture set for the kitchen that do not go out of fashion, and remain relevant for a long period of time:
The classic trend - kitchen furniture, made in this style, creates a cozy homely atmosphere, it is time-tested and has a huge number of fans. This set will look great in a large room with high ceilings, and in a small kitchenette, which differs by its modest size. Ideal fit into the interior of an ordinary apartment or cottage.
The main features of the classics:
it is made of natural wood, or a material that imitates it in appearance;
arches, cornices and balustrades are used as decorations;
wall cabinets are arranged vertically, have hinged doors on the facades;
floor cabinets and cabinets also include doors that swing open;
stained glass on the facade is used as a decorative element;
if built-in appliances are used, it should be in harmony with the design of the kitchen.
Modern - this modern style will be an excellent option for those who are accustomed to follow fashion trends and trends. One of its directions is high-tech, which combines metal and glass surfaces.
Distinctive characteristics of furniture in the modern style:
For facades, a variety of materials are used: glossy, matte or lacquered MDF surfaces, aluminum profiles with glass inserts, plastic.
This is a discreet direction, which prefers simple and clear forms and lines. Various decorations do not apply.
Hinged kitchen cabinets are placed horizontally, the doors are raised using the latest pneumatic mechanisms.
Floor tables have wide facades and retractable drawers to perfectly fit the size of the hinged elements.
Widely used built-in lights.
Household appliances are usually built into cabinet furniture.
Country style - kitchen set, made in this manner, can be placed in a normal city apartment, and in the country. Such furnishings have a fairly good quality, reasonable price and easy to use.
Characteristic features of a set of furniture for the kitchen, made in this style:
made of MDF, natural wood, facades can be decorated with glass;
has a strict seasoned lines, without any decorative effect;
hinged lockers are arranged vertically, have swinging doors;
bedside tables are equipped with small opening door facades;
household appliances are not built, but is an independent element.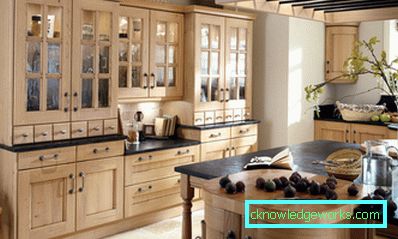 Manufacturers
Stopping your choice on a particular manufacturer of furniture sets for the kitchen, it is better to give preference to proven companies that have been on the market for more than one year.
You can pick up a set as a foreign brand, for example, IKEA, and domestic, an example is the Collection from the manufacturer Spark.
Over the long history of existence, Russian manufacturers have learned how to develop kitchen furniture, which is no different from foreign counterparts in quality, but it has a more affordable price.
What specific set of furniture for the kitchen is suitable for your room, you decide. The main thing is that it is functional, comfortable, comfortable and perfectly fit into the interior of the room. And then you get great pleasure from cooking and eating.