Furniture for small kitchen
Designers claim that furniture for small-sized kitchens can also look stylish and beautiful. There are many solutions to furnish a small space so that there is a place for everything needed, and that the arrangement of kitchen furniture is not only convenient, but also functional. Consider some of them.
Kinds
Kitchen wardrobes. We all are accustomed to that the closet can decorate the living room or hallway. The fact that the coupe system can be used in the kitchen, few people thought. This simple solution may be ideal. All the small things can be placed in one place and not spend time searching for a can opener or a saucepan of a certain size. To revitalize the interior, you can leave several open shelves on which to place photo frames or beautiful dishes.
Combined furniture. This is a relatively new phenomenon in the furniture industry and such projects are mainly made to order. This type includes items that, in addition to their main functions, perform some kind of auxiliary. For example, a sofa with a folding table, a wardrobe with a cell for a microwave, etc.
Furniture transformer in essence resembles a combined version. An example would be a floor cabinet with a moving work surface, a folding table - a cabinet with drawers for storage, etc.
Built-in set. The height of the refrigerator, for example, is better chosen so that it can be hung over the wall closet or, if it is very small, use it as an additional work surface. A tabletop is better to do a solid, so that there are no gaps between the cabinets. It may seem very unexpected to many that the oven is raised above the floor and built-in inside the cabinet. Thus the middle turns out involved, and the bottom can be used for ware and other utensils.
Folding furniture. The most vivid example is the table known to everyone since childhood, various folding horizontal surfaces: tables or seats, as in train carriages. In the folded state, they practically do not take up space, and if necessary serve for their intended purpose.
Kitchen hoods. This is a must for a small room. Smells accumulate in a small space and fat deposits settle. To facilitate cleaning and preserve the aesthetic appearance of the kitchen set, a hood is simply necessary. If this is a stationary option, then you can put a shelf for spices or decorative elements above it. Or you can choose a retractable design. First, it takes up little useful area. And secondly, retractable hood allows you to build another cabinet for kitchen utensils.
Dinner Zone. Choosing furniture samples for "Khrushchev" or another apartment project with a small kitchen area, you should avoid furniture with sharp corners. This will protect you and your household from possible injury during the inevitable collision. Instead of the usual rectangular table, you can make a bar that will be perpendicular to the desktop and will be its natural extension. An excellent solution would be to expand the window sill and make it part of a dining table with a folding or stationary table top.
Using railing systems. There are three types of rails. They can be positioned vertically, horizontally and at angles. Such a stylish design will transform the kitchen and greatly facilitate the task of compact furniture layout. In order to avoid the feeling of cluttering up a large number of objects, designers recommend choosing rails in the color of the working wall so that they are visually less noticeable.
Location options
Classics of the genre - furniture in a line along the wall, a dining table against the opposite wall, and in the middle a free zone. In this case, it makes sense to make one continuous surface and install a sink and a hob in it. Oven width to choose so that it does not protrude beyond the boundaries of the facade. Wall cabinets should be hung at a height of at least 60 cm from the working surface. With a smaller distance, moving around the kitchen can be difficult.
Corner kitchen. This option for furniture planning is becoming increasingly popular. In this case, all the available space is used, and with maximum benefit. This layout saves time - you don't need to look for anything, everything you need is always at hand. In addition, the corner set provides an opportunity to separate the working area from the eating area. If desired, in such a kitchen can even fit a soft corner. The presence of additional cabinets will relieve the upper space and eliminate the need for wall cabinets. A little advice: if the dresser of the corner kitchen is located near the doorway, it makes sense to make its project rounded or beveled. This will also save a few extra centimeters.
7 photos
Color solutions
Experts advise against shading bright, screaming or too dark colors when designing a small room. It is better to pay attention to all bright and warm shades. They can not only visually expand the space, but also make it stylish and modern. A small high-tech kitchen, for example, can be made in white or light gray. But only small details can be dark: tile decors on the working wall, a painting and even a tabletop, but only in combination with light walls. For a classic kitchen, all shades of yellow, pale green can be used in combination with gold, beige and white colors.
To free up extra square meters, it is not necessary to install a washing machine and a refrigerator in the kitchen. The first place in the bathroom - now you can buy such mini models that fit even under the sink. And for the second, you can allocate space in the hallway or in the storeroom.
Often stationary communications are not very conveniently installed, which makes it difficult to choose furniture. Try experimenting and rearranging the sink, gas column and stove so that not a single centimeter is empty, and you can, for example, build a small box for bottles or household chemicals.
Sink can be transferred to the window, connecting it with the working area and while washing dishes, but during cooking you will always be aware of what is happening on the street.
In the case of transferring the car wash, you can get rid of the furniture one wall, on which there is a place for a television panel or even a home theater with karaoke. And your kitchen will turn into a place for cheerful gatherings.
If standard furniture seems too wide, you may want to think about an individual project with a narrower top. This will not be evident, and you will feel and appreciate the additional 5-10 cm of area. Using rollers for lockers instead of maidens is a rather unusual solution, but it will allow to get the contents of cabinets without blocking the aisles.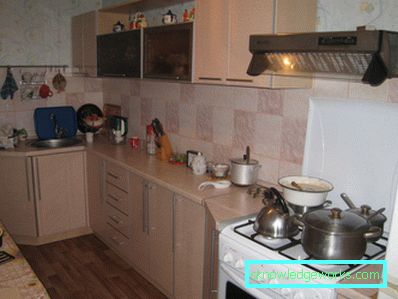 Modular kitchens
You can create your own version of the furniture in the kitchen, using furniture from different sets, combining colors, size and items of the headset itself. For example, you can buy only lower cabinets, complementing them with open shelves, or purchase the bottom of one color, and the top - of another. You can also buy only a cutting table or only a cabinet for washing, and as a storage system you can buy a cupboard that was generally intended for the living room. The only condition - it must be in harmony with the rest of the furniture in the kitchen.