Furniture for a small kitchen
The kitchen is a special place in every home, so it is important to equip it properly. Regardless of the available space, you can make your kitchen cozy and stylish. You do not know what furniture is suitable for a small kitchen? Read our article and you will find answers to all your questions.
Features and benefits
The main "trick" in the design of a small space - the game of color. It is necessary to choose such colors for decoration of walls and furniture so that they maximize the space visually. In addition to the color solution, there is still a lot of nuances that can be operated on when creating a miniature kitchen area.
Here are a few rules for arranging a small room that you need to know:
Arrangement in bright and monotonous colors will allow you to "hide" the real parameters of bulky furniture.
In the presence of dark walls, in kitchen furniture it is necessary to give preference to light colors: white, beige, gray or any other pastel shade combined with the walls.
Your kitchen in dark colors and completely redo the interior you can not? To help you come numerous fixtures that need to be installed in the working and dining area (the more fixtures, the better). You can "add" space with the help of sunlight from a window, which you only need to slightly emphasize with organza or tulle.
Before buying furniture and appliances in a small kitchen, think carefully about what you really need. Does your family consist of two or three people? Then you definitely do not need a huge fridge up to the ceiling and a massive kitchenette with a sofa. As for technology, in a small space it is better to install a built-in dishwasher, stove, etc.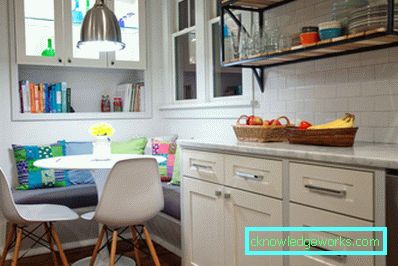 Follow the tips, experiment and make your kitchen the way you want.
For an area of ​​6 square meters. m
You have a very close kitchen area and you practically have no place to turn around, but are you even afraid to think about noisy parties? Do not despair, because everything can be changed. Proper placement of furniture can change the space beyond recognition. We will tell you how to properly and organically place all types of furniture in the kitchen so that the room becomes more spacious.
Planning
The first step towards remaking a small kitchen is to create a plan on paper. Want to change the kitchen in 6 square meters. meters absolutely everything? Then imagine the kitchen of your dreams and draw it on paper. Find a place on the plan for each piece of furniture so that the placement is quick and successful.
Arrangement
The second stage at the stage of arranging a small kitchen is the arrangement of furniture, which should be harmonious and appropriate. Immediately it should be noted that the usual kitchen set is not suitable for Khrushchev and any other apartment with a miniature kitchen. The best solution is making furniture to order. Because in this case you will have the most functional and at the same time small furniture.
A few placement tips:
Cabinet linear furniture for a small kitchen is only suitable if you do not need a dining table (you live alone or have dinner in the living room at a large table). Thanks to this arrangement, one wall will remain completely free of furniture and it will be easy for you to move around and do cooking in an updated kitchen.
You can place a set of kitchen furniture on both sides. In this case, each side will perform its specific function.
One of the most successful options for the kitchen of 6 square meters. meters - the angular location of the furniture. In this case, in the opposite free corner you can put a small table.
Arrangement of furniture in the form of the letter "P" at first glance seems very cumbersome, however, if you make a set of individual sizes, you can get quite a cozy kitchen.
The refusal of the dinner table in favor of the bar counter would be appropriate in any case, since such an alternative looks not only original, but also takes up minimal space.
Furniture placement must meet two main requirements: functionality and minimalism. Remember that in a small kitchen should not be too much furniture.
Design
Taken for the design of the kitchen interior, select a practical and versatile furniture, which at the same time will look harmonious and stylish. These include tables with folding top, or fully folding design. Also fit built-in furniture and appliances.
Upholstered furniture - this is something without which you can not do? No problem. Even in a small kitchen, you can find a corner for a cozy armchair, connecting in it a place to relax and store kitchen utensils (you can build a drawer under the seat). If desired, you can purchase a chair-bed, which, if necessary, can serve as a bed for a guest who lingers on the night.
Colour
As for the color design, here it is necessary to give preference to monophonic and light tones, for a feeling of maximum spaciousness. However, there are many interesting design options that combine a variety of colors:
White in combination with exquisite Bordeaux looks unusual and elegant. The game of contrasting colors increases the space and makes the 6 meter kitchen spacious. In a small room quietly located kitchen, refrigerator and dining group. Additional space created by the mirror and patterned surfaces.
Blue miniature kitchen. U-shaped arrangement, the rejection of the second tier of the headset in favor of weightless shelves, glossy surfaces - all this made the cooking zone as functional as possible and not too overloaded. Thanks to the tiled decoration of the floor and walls, the room seems more spacious than it actually is.
Exclusively wooden furniture of a caramel shade. in the interior of a small kitchen looks beautiful and incredibly home-like. The arrangement of furniture is chosen in the classical style - linear, while the dining table is located according to the type of bar counter. In general, the room, thanks to natural materials and natural colors, looks quite spacious.
Kitchen 6 squares in black and white tones. It would seem that the black color does not fit into a small space. Not in this case! A huge role in the "expansion" of the kitchen area is played by glossy surfaces and a few white panels, as well as an unusual floor pattern that is fascinating.
Say "yes" to bright colors in a small kitchen. Bright and juicy cuisine seems more spacious due to the light shades in the design. A significant role is played by contrasting wall and floor tiles, which attracts the eye no less than the solar suite.
Get inspired by photo ideas and create your own unique interior in a small but cozy kitchen.
Tips
There is no doubt that much depends on the choice of cabinet furniture in the interior of the kitchen, but you should not forget about the additional details. Designers recommend that you familiarize yourself with some tips regarding kitchen accessories and individual pieces of furniture:
For a small kitchen, purchase compact tables of oval or round shape with a glossy or glass surface.
Corner sink - a convenient and compact solution for the working area.
Appliances in a small kitchen should be exclusively built.
Roofing, as an alternative to hinged kitchen cabinets.
Transparent shelves of metal and glass instead of the upper tier of the kitchen set.
Lighting in the form of small LEDs built into furniture, walls and ceilings of the LEDs will not only increase the space, but also decorate it.
Correct curtains for a small kitchen should be transparent or translucent, they must necessarily have a light monochromatic shade. You can also replace traditional curtains with classic blinds.
Engage the window sill; from it you can easily build a dining table for a family of two people.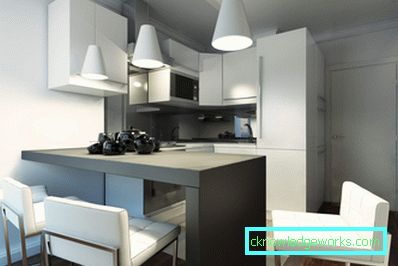 Being engaged in arrangement of furniture, do not forget about its color. It is possible that you like green and red, but prefer white wall decoration to keep your kitchen as spacious as possible. But the color of the furniture you can choose the one that you want. See samples of the interior of a small kitchen in our article and create your own design based on them.
Interesting solutions in interior design
Options for the design of a small kitchen a large number. But each design is based on certain principles of planning the kitchen area, using the most different furniture, including from the company IKEA.
White color
With the help of white color you can create a fairly spacious space. If you use it to the maximum (furniture, walls, ceiling, accessories), you can achieve an incredible effect:
Milky-white kitchen looks stylish and very cozy. This effect is achieved due to the presence of a variety of text in the design: brickwork, glossy panels of the headset, textile chairs, a carved table and mirror framing, a mesh chair. The parquet floor, black lamps and green flowers in transparent vases serve as bright accents.
Stylish kitchen in white colors. the walls, furniture, ceiling and numerous details are executed in different tones of the same color. It would seem that such an abundance of white should "dissolve" the kitchen and turn it into a hospital ward. Why did this not happen? The demarcation of the space is due to barely noticeable strips of wood color that frame the upper and lower cabinets of the headset. No less important are wood working panels and parquet floors.
A bet on white in the design of the cooking zone will never be losing. Do not be afraid that you will be too frequent cleaning, because the kitchen surfaces of any color always need a thorough and daily cleaning.
A color scheme
The combination of several warm or cold shades in harmony with each other. Thanks to the right choice of color, the kitchen will not look too bright or overloaded:
A vivid example of the combination of two harmonious colors. White and red match perfectly anyway. In addition to the red and white panels are silver-gray and black parts.
Cozy kitchen decorated in orange, gray and green. The unusual combination of colors makes the kitchen truly stylish and unusual.
The main thing is not to overdo it: at least two and a maximum of three colors in the same room.
Redevelopment
The ideal option to increase the kitchen space is redevelopment in the literal sense of the word. Despite certain difficulties, the expansion of the kitchen zone due to the demolition of the adjacent wall from the living room is a rather frequent phenomenon. In order to avoid "porridge" from the kitchen and living room, the combined stop must be properly organized. This can be done in several ways:
Differentiation with contrasting walls, floor and ceiling
Furniture as a separator fits perfectly; it can be either a table, a shelf, or a bar counter.
Redevelopment allows the most efficient use of space. In addition, the kitchen-living room and whether the kitchen-studio looks very stylish.
Lighting
To make the kitchen spacious, just choose the right lighting. It is strictly forbidden to use a large standard chandelier in a small kitchen. Ideal - small wall lamps and built-in LEDs in the work area and a small composition of small lamps above the table.
Some photos - examples
In the small kitchen, built-in LEDs above the working area and a three-level lamp above the dining group are presented as lighting devices. Glossy surface of the ceiling gives additional brightness to the light.
Bright kitchen in light and dark colors especially needs proper lighting. Therefore, in this example, there are three versions of the lighting fixture: the original chandelier above the dining table, the built-in lamps around the perimeter on the ceiling beam, the LEDs above the working area.
Too bright, or vice versa, dim light, equally bad for a small space.
Additional tier at the headset
An interesting, albeit rather cumbersome way to equip a small kitchen area for which high ceilings are required. Additional lockers or shelves can be used to store a variety of items, including products with a long shelf life. Some vivid examples
Compact kitchen with an extra cupboard under the ceiling
Two-level suspended kitchen cabinets almost merge with the wall and ceiling, so do not look bulky.
Deciding on such massive furniture, weigh the pros and cons, so as not to clutter the kitchen with numerous cabinets.
Use of mirrors
With the help of reflective surfaces a small kitchen can be "increased" many times. This can be done in several ways:
To decorate with a mirror tile or mosaic a kitchen apron
Cover one wall with a full mirror
Floor or ceiling mirroring
The easiest way to hang a regular mirror in front of the window. Thus it is possible not only to increase the space, but also the lighting.
"Optical illusion" in the decoration
Of course, the ideal kitchen walls are plain walls. But why not risk it to somehow make it bigger? Paper and textile wallpaper with unusual colors can come to the rescue:
A small room with a low ceiling can be "lifted" with a vertical strip or pictures with a vertical orientation. However, it is possible to experiment in this way only on one wall. Otherwise, the kitchen will turn into a sort of striped "glass".
A good option for narrow rooms - painting the wall in a strip of contrasting colors. Thus the room will become visually wider. Here it is worth considering the height of the ceiling, because if there is a low option, horizontal stripes should be excluded from the interior.
Wallpaper in a cage or rhombus will visually raise the ceiling and "stretch" the walls slightly to the sides.
All of these principles apply not only to the walls, but also to the ceiling, so experiment with flooring.
Combination with a balcony
There are some lucky people who have a balcony in the kitchen, so they can easily increase the kitchen space at his expense. For this, the wall is removed and the balcony space is insulated. Examples of how best to do this:
: A vivid example of how you can make a dining area from a balcony through a bar counter
A bold option, because the entire work area is located on the balcony. For that, the place in the kitchen was enough not only for eating, but also for rest.
This option shows how you can combine a dining area and a place of rest on the balcony.
Inspire, draw ideas and do not forget the main thing: you need to know the measure in everything.
10 photos
Reworking windowsill
A window sill in the kitchen is often a container for indoor plants or small things. If desired, you can use it to the maximum. For example, having converted it to a dining table, or making it a continuation of a kitchen set. Alternatively, under it you can build a closet for storing various products.
Door refusal
Probably the most obvious and main point in the design of the kitchen space - the rejection of the door. A standard door hides a lot of space in a miniature kitchen. The absence of a door can be replaced by an arch or a curtain.