Folding chairs for the kitchen
The kitchen is one of the most popular rooms in the apartment. This is the place where the housewife spends most of the day, the whole family gathers at the table in the evening, and invites friends and relatives on weekends. Accordingly, the kitchen requires a large number of comfortable seating.
Now there is a huge selection of kitchen chairs of all designs, colors, shapes and materials. Each manufacturer has its own extensive collection. First we choose a kitchen set, table, and then chairs that will fit into the style of the room.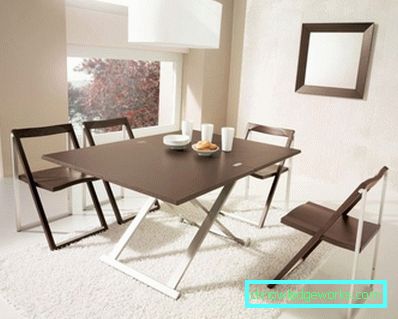 You can stop the choice on chairs with a standard square-shaped seat, on 4 legs, or with a rounded seat on 3, folding or rigid design, normal height or high bar stools. These chairs are less bulky, and often look beautiful, even when folded.
In this article we will pay attention to folding kitchen chairs, which will be especially indispensable in small kitchens, because of their compactness. In addition, they have many other advantages.
Benefits
These chairs are compact, they are easy to fold out when they are needed, the rest of the time they can be folded and put away against the wall, pushed under the table, put into the closet, they will save space. You can choose the usual chairs, and folding to get when you need to add seating at the table. They can be taken out on the street, taken to the country. Designers are constantly offering new models, as if competing with each other. So, for example, they invented to connect a chair with a hanger. This is a great find, it is convenient to hang things on such a chair, and you can also hang it on the wall or in the closet and thereby save even more space!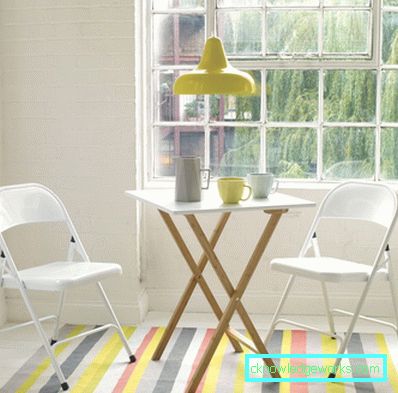 They are durable and reliable, and also weigh little, due to which they are easy to quickly assemble and, if necessary, be removed back.
Folding chairs are made from modern ergonomic materials. They are easy to wash and clean, it does not require any special conditions.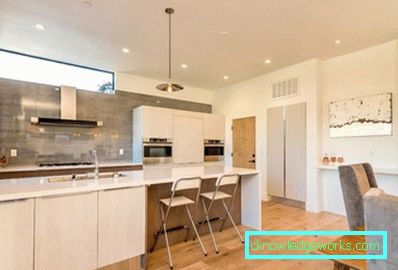 There is a huge selection of similar furniture, they will fit into any design. There are also models of folding chairs that turn into chaise lounges on which it is convenient to rest.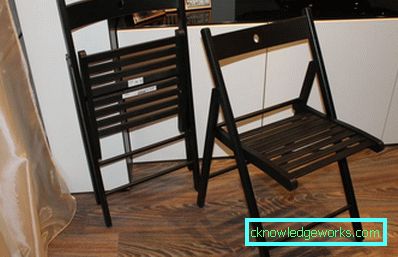 You can find models that are very affordable and affordable for any person.
Materials
Metal
Durable but lightweight chairs. For their manufacture, chrome-plated or painted steel tubes with thick walls are welded.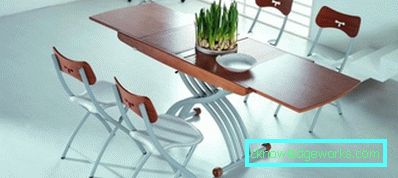 The stools on the metal frame often have a back, and the chairs - the armrests, which increases convenience.
Most metal-framed chairs have a corrosion-resistant coating. Aluminum alloy does not rust and has an even lighter weight.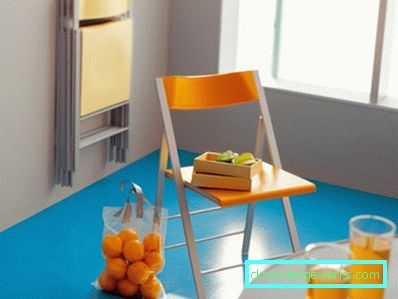 Metal structures withstand a lot of weight (over 100kg), are resistant to rust and shock, they have a long service life. Their only drawback is the possible slip on the tiled floor.
Plastic
Plastic, or plastic, is the second popular material from which the frame of folding chairs is made. It is practical, lightweight, aesthetic and has a large selection of colors. Its only drawback is that it is not as durable as metal and fails faster, but this is easily compensated by cheapness.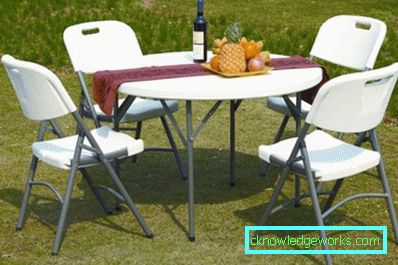 Plastic chairs can be put in the apartment in the kitchen, as well as on the balcony, loggia and in the country, on the veranda. It is easy to look after plastic, it does not spoil from moisture.
However, plastic products should not be kept close to a working battery; in no case should contact with a hot pan or frying pan be allowed.
The seats
The seats of folding chairs are most often represented in the form of a rectangle or circle.
The following standard sizes exist:
Width: 27 - 40 cm;
Depth: 30 - 40 cm.
Round chairs make a diameter of at least 30 cm.
Height: 40 - 50 cm.
Bar stools choose the appropriate height for the bar.
Legs
The legs of chairs and stools have many forms and materials of which they are made. Straight, curved, carved, twisted, crossed and so on. They are made of wood, aluminum, chrome-plated steel, LDSP and plastics.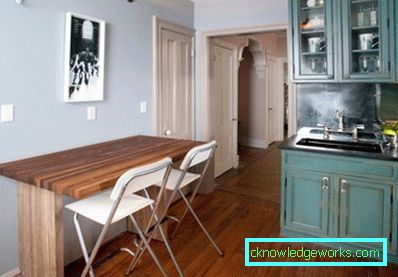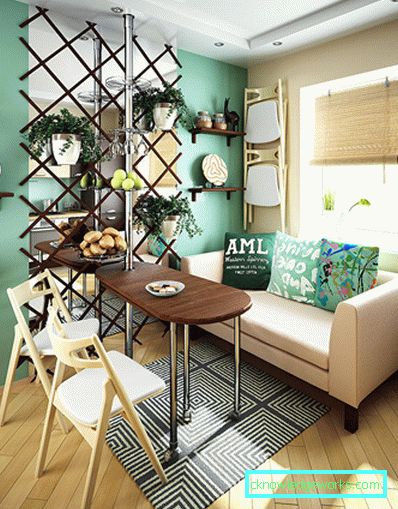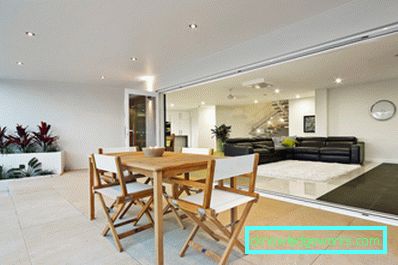 How to choose
So, you decided to equip the kitchen with comfortable folding chairs. Firstly, they should be related to the general interior and all other furniture, first of all, the kitchen table in style, color and shape.
Round seats do not look good with a glass square top, curved legs do not fit well with straight. Classic does not fit well with hi-tech. Therefore, choose chairs or stools similar to the table materials, colors and shape of the legs.
If you plan to use folding chairs as the main, then choose a model with a soft back and armrests, upholstered in leather or leatherette. The edge of the seat should not hit the legs.
Considering the chairs from all sides, pay special attention to the folding mechanism. They should unfold smoothly, stand firmly on the floor and not swing. Make sure that the metal frame is free of dents and other damage, and its connections are carefully and reliably welded.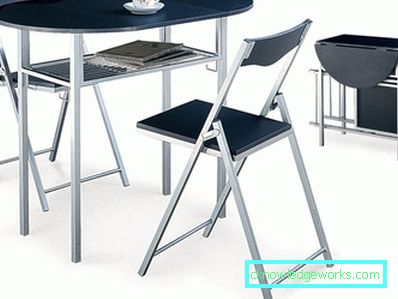 If you want folding chairs to serve for a long time, then do not need to save. Cheap models will fit only for intermittent use. Decide in advance where you will store the chairs. Remember that wooden chairs can deteriorate from moisture and moisture, so they can not be stored on the balcony or loggia. Most plastic chairs are deformed by high temperatures. Pay attention to this.
Ikea
The company IKEA manufactures furniture for every taste and financial possibilities. There is a huge choice for small kitchen owners. In the department of garden furniture, there are many folding chairs and stools that are suitable for indoor use. They have a positive feature in that they have perforated backs and seats, they quickly dry out when water gets on them. Chairs from IKEA are of sufficient quality and will last you a long time.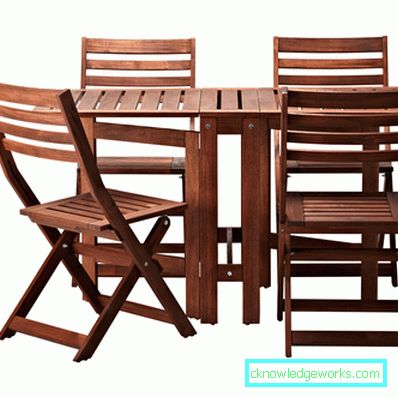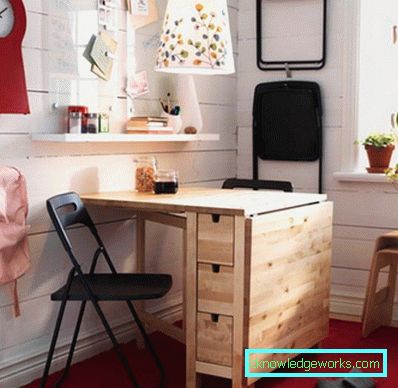 Bar Stores
The bar stool consists of a seat and a frame fastened under it.
Bar stools have many advantages, such as:
They create a stylish interior and attract attention with their elegant look.
With the help of them and the bar counter, you can replace the standard kitchen table, create something new in a familiar kitchen setting.
There is a large field of opportunities for experiments with interiors, and it does not require large expenditures.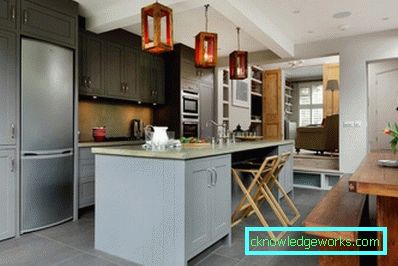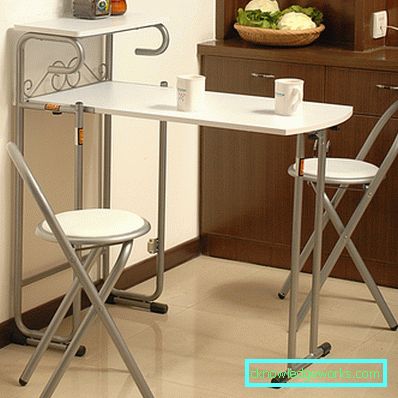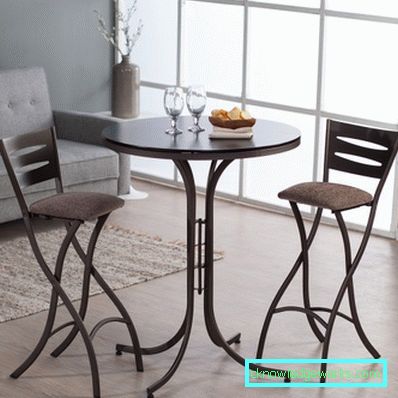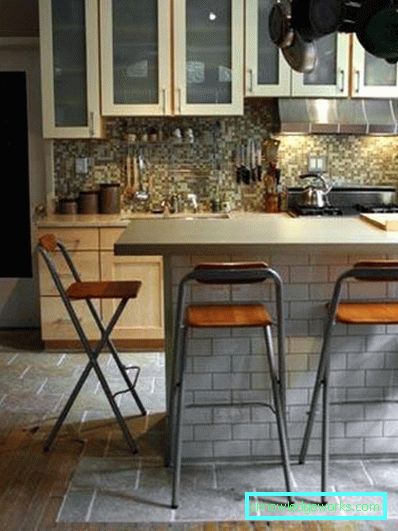 Namely, folding bar stools have additional advantages:
Take up a minimum of space, even less than folding chairs.
They can be easily folded and transported to the summer cottage, and in the fall it is just as easy to return home. The same is convenient for owners of summer cafes and bars.
Folding designs are cheaper than standard ones.
There is a huge selection of models, any variations and prices, they will be easy to choose for any style of interior.
They are quite easy to carry, and this is significant during cleaning.
Choosing bar stools, pay attention to the design was easy and reliable.
Reliability ensures durability of furniture. Check whether the legs are well attached to the seat, whether they are the same length, how well the parts fit together.
Of course, the chair should be light, because its folding design implies that it will be moved from place to place. More often choose metal, but you can buy wood. Metal construction has several advantages over wood:
The ratio of service life and cost of goods.
They are more durable, retain the appearance after the blows, leaving no dents.
Metal looks stylish, but with the help of spraying technology, you can choose any color or chrome metal. It should be noted that the paint holds less than chrome. In addition, it has other advantages: it remains smooth after cleaning and has a particularly stylish look, which is a well-known fact.
The chair can be stored for a long time, it does not break or deform.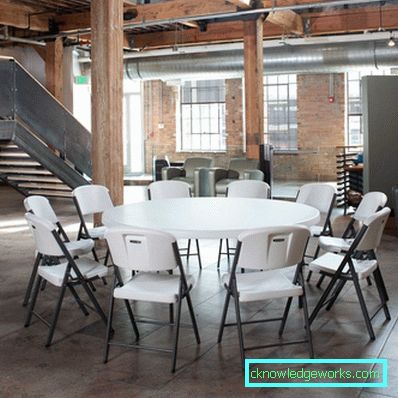 Metal constructions fit perfectly into the high-tech interior. This is a great option for the kitchen with a large number of objects made of glass, metal, where there are many smooth mirror surfaces. Metal goes well with leather seats.
While the wooden seats are suitable for the interior in eco - style, various village styles such as country and Provence.
Folding chairs can be chosen from a huge range, for example, in Ikea stores. Pre-imagine how they will look in your kitchen, select in accordance with the existing interior.
Do it yourself
Folding chairs can also be made by hand. The easiest way to make a chair out of wood. It will be much cheaper than in the store and then you can give it to friends or put it in your apartment. To do this, you do not need to have special skills of a joiner and almost anyone can cope with the assembly. Necessary parts can be purchased at the hardware store. The tools are simple and can be found in any householder. As a material, birch, beech, oak or pine will fit. Parts are treated with a means of preventing the absorption of moisture.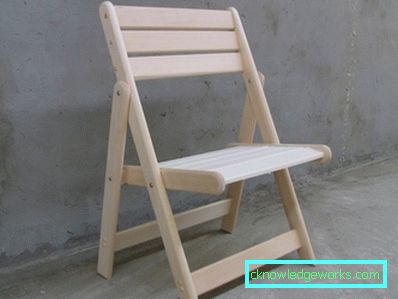 We told you about what types of folding chairs are, what are their advantages, you just have to go and choose those models that will refresh the interior of your kitchen.