Floor standing freestanding kitchen cupboard
A cupboard for storing dishes is a thing that no kitchen can do without. Now, very often the dishes are placed in wall cabinets, and the floor-standing, stand-alone option is not so popular. And, I must say, it is in vain, because such storage for dishes is very stylish and beautiful, it can highlight any interior and even save space.
7 photos
Why floor closet?
Floor cabinets for storing dishes are a good alternative to many hanging drawers and pedestals, and there is a rational explanation for this, because this method of storage has many advantages. From its main advantages can be identified:
Spaciousness. In storage with many drawers and great depth, unlike small wall cabinets, can fit a lot of things at once.
Durability. Usually chipboard is used as a material for this furniture. It is a durable, durable material that can imitate wood, or, depending on desire, acquires any other external data.
Stylish accessory. Thanks to the huge amount of color and design solutions, the floor model will fit into any interior and will become an unusual kitchen detail.
Cost Such a solution for storing dishes, of course, will cost much less than buying a whole headset or even a few wall cabinets.
Small size. Well and, which is important for many, such a thing, along with spaciousness, can be quite small and certainly take up less space than all the lockers and bedside tables combined.
What are
Basically floor storage for dishes can be divided into the following types:
Pencil case.
Low cabinet.
Showcase.
Corner cupboard.
It is also called the column. Usually it is a tall and narrow cabinet, it can have drawers. Although it seems small, the height compensates for the lack of width, so it turns out to be very roomy. In addition to dishes, non-perishable products or small household appliances can be placed in the column, so that it will always be at hand, but will not take up extra space. This option is simply indispensable in small rooms where there is an urgent need for ergonomic use of space.
Pencil case
Low cabinet
This option looks more like a nightstand rather than a wardrobe in the full sense of the word, but it can also be used very functionally, because it can be used simultaneously as storage and as an additional work surface.
Showcase
More often it is called a sideboard or cupboard. This model is somewhat cumbersome, so use it better in large rooms, otherwise it will look a little ridiculous. But if there is an opportunity to place a buffet, it will become not only an ideal option for storage, but also a stylish piece of furniture that attracts everyone's attention. The spaciousness and beauty of the display cases are indisputable: the shelves, closed with glass doors at the top, will show the guests the most beautiful sets, and you will be able to put the rest of the dishes on the lower spacious shelves and protect them from dust.
Corner floor cabinet
It is convenient to integrate circular rotating parts into such a cabinet, this will help to optimize the space, but in general it cannot be said that such an option, as an independent one, will be distinguished by great functionality, therefore, it is most often used as an addition to other storages.
Height
When buying a floor cabinet in the first place you need to decide on its dimensions. This is an important point, as the correct choice of height will help avoid unnecessary loads on the spine and hand fatigue.
You can determine the height based on the growth of the hostess, which will most often interact with this cabinet. The standard height for low pedestals -80-90 cm, this figure is considered ideal for average height. If a woman's height is higher or lower, then the height of the stand can be changed with the help of adjustable legs or made to order.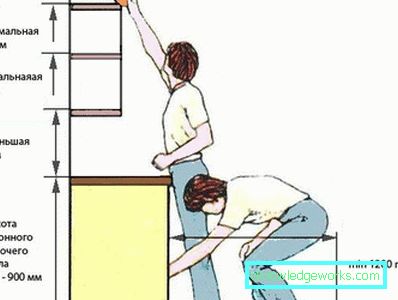 For other types of storage indicators, of course, will be different. For example, it is more convenient and aesthetically pleasing to pick up a pencil case for the height of the entire kitchen unit, but if desired and necessary, you can also choose one that will rise to the ceiling.
As for the windows, they generally can be gigantic. So, the height of some sideboards can be 2 meters and even more, limited only by the height of the ceiling and the preferences of the buyer. However, many of them have a small shelf that serves as a worktop, which will be the standard 80-90 cm.
The corner option is likely to also have standard sizes, as it is often used as a cabinet, but if desired it can be larger.
Kitchen cabinet do it yourself
Everyone wants to have a unique thing in their home, but there will always be those who want to get such an original design that they are ready to do it with their own hands. In principle, in the manufacture of the kitchen cabinet with their own hands is nothing complicated:
First you need to understand what dimensions are required and develop a drawing.
After the perfect wardrobe is ready on paper, you can go to the store for materials. The most convenient option is chipboard or MDF. They are economical and look good, it will be better to buy imported options, and if it is domestic, then carefully check the quality. If you want to make something really elite, you can buy an array of wood.
If desired, the facade can also be made independently, however, there is not enough basic carpentry level here, so it is better to just buy it, it will not be expensive, and the store will always find the one you like the most.
Further various small details are bought: handles, loops, shock-absorbers, screws, etc.
When all the necessary materials are purchased, you can proceed to the assembly. All parts are interconnected, where it is necessary to drill holes and insert screws.
The back wall is attached using a special stapler.
Loops fasten to the facades with self-tapping screws.
To the cabinet body, which is almost ready, the facades are fixed and fixed with the help of hinges. Storage for dishes ready.