Increasingly, European styles are in demand in interior design, which have been forming for a long time in various traditional regions. One of these styles is Provence, formed in the south of France, in the region of the same name. For the kitchen, Provence offers the mood of a hospitable rural home, where there is a lot of air, light, eco-friendly materials, and natural colors. French charm in the design of curtains represents any hostess a lot of opportunities for creativity. Provence style is the mood of a country estate, hospitality, comfort. In the photo below you can see the actual decisions on the choice of curtains for the kitchen in the style of Provence.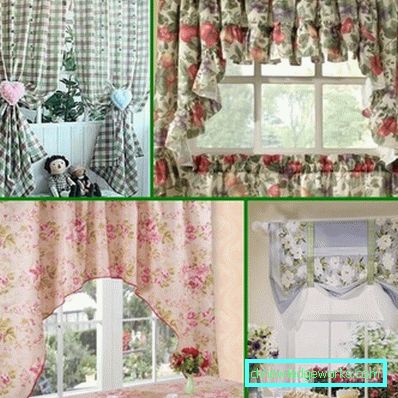 Types of fabrics
Textiles for Provence style can be different in color, fiber composition. When choosing fabrics for curtains, preference should be given to natural or blended options. Drawings on the fabric of this style can be woven, embroidered or printed, preserving traditional floral motifs, monograms of bouquets, fruits and birds.
For this style are well suited to the various timbers - tassels, fringe, textured tape. Sewing your own curtains in this style will not be difficult. Choose options for curtains for the kitchen in the photo, boldly make changes to your interior.
Tapestry
Fabric for curtains, which consists of several layers of colored threads, due to interlacing create a pattern or ornament of flowers. Suitable for curtains, pelmets, as well as for upholstery of chairs or upholstered furniture.
Veil
The veil of fine cotton fibers is almost transparent and weightless. From this fabric you can sew light curtains that will transmit light, air. Suitable for assembly, ruche, draped curtains, straight curtains.
Cotton
Cotton is a completely natural plain weave fabric with offset printing of various patterns. For Provence style choose curtains with floral pattern on a bright, sunny background. Quite often you can find the image of birds, olives, apples, grapes, bouquets of lavender. Cotton curtains are suitable for the interior imitating rural life, sew the usual cafe-curtains, with ruffles and bows.
Satin
Cotton twill weave that gives a glossy surface to the fabric. Satin is chosen for curtains in interiors that look more like the rich estate of French aristocrats. The figure of sateen is also printed, but of more noble tones, often consisting of branches of roses, lilies, and jasmine.
Linen
Lyon is a natural fiber, rather rigid and textured on appearance. The advantages of curtains made of flax are plain weave, practicality and natural color. Unbleached linen is on sale, dense threads create the texture of homespun cloth. Looks great with wooden furniture. Available blend version of linen fabric with viscose silk, which is less wrinkled, softer to the touch. As a rule, flax is chosen without a pattern.
Tip! Natural linen maintains machine wash, with each whitening slightly, which gives Provence the right flavor.

Curtain models for Provence style kitchen
The French village of the 19th century formed a very cozy, homely, elegant decor. Natural cotton materials, simple shapes and naive flower drawings characterize the main techniques in using textiles for curtains. Simple rectangular shapes, framed ruffles, ribbons, braid, lace. In the photo you can see how the curtains of Provence style harmoniously look. In addition, they are easy to sew with their own hands.
Portieres
Curtains for the kitchen should be from light dense materials, better than natural origin. Cotton, linen fabrics of light colors will be the best option for Provence style. Drawings are necessarily floral - large roses, rosettes in a frame of leaves, or a small two-colored cell. You can decorate the curtains with ruffles, frills, artificial bulk flowers, lace braid, tassels.
Portieres for the Provence-style kitchen can be monophonic, with lambrequin, pickup. As a rule, the colors should be warm pastel tones, and the finish is one or two tones lighter.
Tulle
Curtains of Provence style support the charm of rural life. Simple thin, almost airy, weightless materials are lightly gathered on the braid. Lace, veil, batiste, awning is very suitable for the role of tulle for this style. Ties of ribbons, small flowers, festoons, frills fill the kitchen with original homely comfort.
Tip! As a tulle, you can choose lace fabric, so you support the mood of Provence.

Cornices
Quite often in the decor of Provence there are elements resembling shells, grapevine, sea wave. For the Provence style kitchen, cornices are used, which are suitable for furniture, either wooden tone to match, or metal wrought iron.
Tip! Choose curtain rods for imitation of natural metal and wood, thereby saving you the budget and time to search for the perfect option.
Colour
The style of the curtains for the Provence is characterized by combinations of natural, bright colors. Sunny, pastel, subtle tones fill the kitchen with impressions of peace, comfort and well-being. This style loves surfaces that are favored by the sun and time. Therefore, designers offer furniture light milk, cream tones with metallic elements of copper color. Beige, olive, sand tones of the floor, walls will harmoniously look together with textiles made from natural fibers.
The main colors for Provence style are all pastel shades of the natural range. The curtains of this style are rather simple, the main role is played by the print, which should correspond to the traditions of old France. Consider in the photo the main ways of using colors in this style:
White and its shades of sandy, creamy tone in curtain fabrics. This range gives the room a light, spaciousness to the interior, often goes well with other colors. Suitable for rooms of any size, especially for small kitchens. Considered fashionable shades of eggshell, champagne color. Curtains of these colors visually increase the space.
Lavender is a light purple color, which is used in the interior in muted shades in combination with cream and green tones. Cotton curtains in the style of a lavender cafe will decorate the Provence style kitchen.
Olive is also a natural shade of the area, perfectly combined with sand color, muted pink. The furniture of olive tone complements the details of dark wood, metal. And the curtains can be monophonic or with a large pattern of a contrasting color.
Pistachio color, surprisingly harmoniously looks with beige, color of baked milk. In textiles curtains maintain a cozy atmosphere and peace.
Blue color for curtains is chosen by people who design the sea-style kitchen with elements of Provence. Blue blends perfectly with white, light brown and green colors. Straight plain curtains will complete the image of the sea interior, resembling sails in the azure smooth surface of the sea.
All of the above colors can complement each other in the interior in a 5: 1 ratio.
Tip! Choose for the kitchen of Provence style colors that seem to have burnt out in the sun, then you will be able to create a piece of European life at home.
The interior of the Provence style kitchen is, first of all, the cozy atmosphere of the French country life full of peace, warmth, sun and family gatherings. This style is chosen by families who want to create a cozy, sophisticated lifestyle at home. And to create the perfect version of Provence help photos of our site.
Photo Gallery