Cremesso coffee machines
Features of technology
Model "Una"
From economy to premium
Compact "Uno"
Products made in Switzerland have always been of high quality and reliability. The company with more than half a century of history produces coffee machines. Cremesso, which are known worldwide. The company specializes in the production of not only technology, but also coffee capsules. The choice is very large, now the linear series includes the following models: "Compact Automatic","Café latte","Uno","Una","Compact one".
Features of technology
The Cremesso coffee machine has a number of distinctive features that favorably distinguish it among other brands. This, for example, energy saving. All models of Swiss coffee machines are equipped with a standby mode and automatically switch to the minimum power consumption, less than 0.3 watts per hour. This ability saves the consumption of light (it turns out that money).
It is also worth noting that it helps to minimize the harm that is done to the environment.
Cremesso flavored drink making devices are able to warm up instantly (in just 15 seconds). It also reduces the brewing time of coffee. All cars are different original design and a wide palette of colors. Such a thing will successfully fit into any modern interior design and will be a great addition, as well as an indispensable assistant in any kitchen.
The grid on which the mug is placed can be purchased separately for the coffee machine of any model. The Swiss manufacturer has taken care of the convenience of its customers. It offers accessories and replacement parts separately. This eliminates any troubles and surprises.
Model "Una"
"Una Automatic"- is a capsule coffee maker in four bright colors. For lovers of classics, lightness and minimalism there is a white version.Pure white". Strict conservatives fit dark blue "Midnight blue". Proponents of bright and vivid colors will like modelsCherry berry"And"Velvet Purple"- burgundy and purple colors. Such a device costs about 9 thousand rubles.
The amount of coffee, the volume of mugs can be adjusted using two automatic programs. A cup stand can also be debugged for you. Such a model in the kitchen will take up little space, because in width it is only 10.5 cm. There is a cleaning function, and the control is intuitive - with the help of just one button. The device warms up in 15 seconds. He instantly prepares aromatic delicious coffee with a stunning crema. In power saving mode consumes only 0.3 watts, the total power is 1455 watts.
Invigorating drink and high-quality foam creates pressure in the pump at 19 bar. At one time the machine can make up to 0.65 liters of coffee. The water container can be removed, as well as a tank for drops. It is convenient to wash them. You can independently adjust the volume of servings. The package also has an automatic decalcification function. The body is made of plastic.
On the operation of the device will additionally remind the power indicator, as well as the indicator of readiness to brew coffee. In height, this device is 25.5 cm, in width - 10.5 cm, depth - 37.1 cm. Weight is 3.25 kg.
Reviews of this model are extremely enthusiastic, buyers are very pleased with this device.
From economy to premium
"Compact Manual Glossy Red"Is a capsular coffee machine from a Swiss manufacturer that looks attractive, very bold and stylish. At the same time the device prepares an amazing invigorating drink. This premium unit is suitable for true connoisseurs of black coffee. There is a cleaning program that automatically does all the work for you. Energy-saving technology allows you to use the device with maximum benefit.
"Compact Automatic Burgundy Red»Also applies to premium models, has a" smart "energy-saving system and a stylish attractive design. With such a device in your kitchen will enjoy not only the taste buds, but also the eyes - from a beautiful picture. In this coffee machine, you can adjust the cup stand, there are also three programs for filling the cup. The total volume is one liter. The machine can be descaled automatically.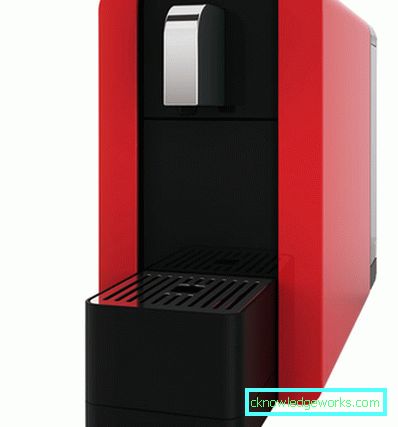 "Cremesso Delizio Compact Touch"Has a 1.1 liter water tank. A thermoblock is used as a heater. The coffee maker is equipped with auto power off and a regulator of portions of hot water. The total power is 1000 W and the maximum pressure is 19 bar. Coffee is prepared automatically, there is an automatic decalcification.
Compact "Uno"
Model "Uno fire red»Different new original design and unique bright color, energizing and uplifting. As in other Cremesso devices, the heating here is very fast, the coffee from the capsule is prepared under a pressure of 19 bar. It turns out a rich aroma and unsurpassed foam.
Such a device will allow you to enjoy a real invigorating drink and emphasize your individuality and extraordinary taste.
The Uno coffee machine combines simple lines and modern minimalist design, as well as high-quality assembly. Managing such a device is as easy as possible: you just need to load the capsule and press a button. The rest of the work "smart" machine will perform itself. The package includes a water tank of 0.65 liters. The power saving mode is provided. Such devices are very convenient.
Cremesso "Uno" coffee machines - in the video below.