Stool cover for the kitchen
Each hostess is trying to create comfort in her home. And since the kitchen is the most beloved and most visited place, they start with it first of all: they buy various paintings on the wall, cushions for sofas, and covers for stools. The latter is especially popular in our time, because very often there is no money left for new furniture after repairs, so covers are the best way to "refresh" the interior of your kitchen.
The stool cover for the kitchen is not only a budget option for the decor, it is also the creation of warmth and comfort in the room. After all, such a design of such a product can be invented by yourself if you connect your imagination.
We sew for yourself
There are two types of covers: factory-made and hand-made. They can be bought in almost every furniture store, choosing any color, shape, material from which it is sewn. But it is much more pleasant to create such products with your own hands, while investing your soul in them.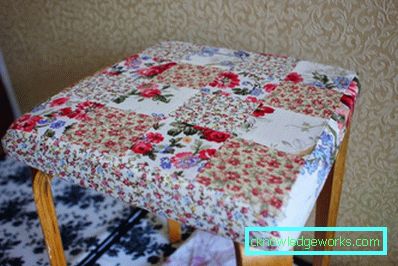 Each can create a cover for updating old stools or chairs that have already worn out, but it is a pity to throw out. They can be turned into beautiful and comfortable kitchen interior items.
To date, there are a lot of techniques for their production. The most popular among them are: knitting or crocheting, sewn from fabric, made by the technique of "biscuit" and much more. You need to choose the right models in accordance with the interior of your kitchen.
Furniture with updated covers looks elegant and attractive. And the most important thing is that one does not need to be a professional craftswoman to do such a thing.
Material
In the work on the cover you can use almost any material that you have. But still it is worth remembering that the covers are designed for the kitchen. This means that there is a risk of splashing or staining them when cooking. Therefore, it is better to use these types of covers:
fabric - they are quite easily erased, which is a big plus, given their location.
Leather - the best option, as they are easily wiped when contaminated, quite simple in care, but they have a beautiful appearance.
knitted - they look great and will be inexpensive if you tie them yourself.
But what do you need to make products for stools? Let's find out.
Sewing tools
If you do decide to sew the covers with your own hands, then you will need the following materials:
Scissors.
The cloth.
Threads.
Needles.
A piece of chalk.
Cardboard for future patterns.
Foam rubber
Elastic.
Sewing accessories.
Decorations.
But, before starting work, you need to decide on the shape of the product. It can be round or square.
Master Class
The process of manufacturing the product is very simple. Let's break it down into points:
It is necessary to throw a piece of cloth on the stool, with which you will sheathe it, and measure it around the perimeter.
Cut the desired piece of material.
On the front side it is good to pull off and fix something, for example, with pins.
Leave 3 centimeters on each side for treating the seams.
If you have spare parts, cut them off, they will no longer be needed.
Fasten the back and front parts of the case with pins.
Try the product on the stool: if it is perfect, you can sew stitches, if not, measure the length of the fabric again well.
In order to conveniently remove the cover, for example for washing, you can sew a back or a zipper on the back.
The easiest case can be sewn without a pattern. If after all you want to make a pattern of your product for more precise tailoring, this is very easy to do. You just need to take measurements from your stool and transfer them to a piece of cardboard or fabric. But this is only a waste of time, because all this can be done immediately on the material.
If you wish to decorate the kitchen stool, you can do it with the help of satin ribbons, lace, beads. It will make them more interesting and attractive.