Color refrigerators
Colored refrigerators are a bright challenge to trivial kitchen interiors. This is a new design solution that cancels all the rules of color combinations of furniture and home appliances that have taken root. It rewrites the established laws of the design of kitchen space on a modern motif and opens up more room for imagination. In this case, the color refrigerator does not necessarily have to be bright. Inveterate conservatives can look at beige or pearl models, lovers of experiments will appreciate the rich colors of the rainbow, subtle natures should pay attention to the pastel range.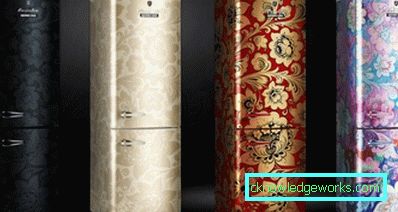 How to choose?
Deciding to purchase a color refrigerator is one thing, but choosing the right shade is another. If you do not approach this issue seriously, such a purchase may simply not fit into the thoughtful kitchen design. In order not to get complete disappointment instead of functional details of the situation, you need to consider some aspects:
Household appliances have the right to be of different colors. In Russian kitchens, white prevails. This is a simple and familiar solution, but it is not an immutable rule. Such a stereotype in color combination appeared only from the fact that most of the equipment for the kitchen comes in white or metallic. Accordingly, the choice of one device automatically determines the choice of the others. In fact, the basic principle is that the technique should be harmoniously combined with the interior design, and this does not at all oblige one to confine himself to the grumbling classics.
The compatibility rule works in all areas. The idea to add brightness to the kitchen is interesting and good in itself, if it is properly implemented in reality. When choosing a refrigerator, it is important to foresee how it fits into the interior, and take into account the basic rules for combining colors. The following options are possible: monophonic, harmonious, contrast.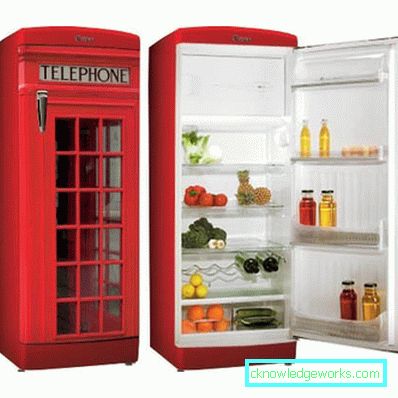 Monochromatic design of the room involves furniture, appliances and accessories in the same color, which is represented by different shades - from light to dark.
The harmony of the situation is based on the principle of complementarity of colors on the color wheel.
The game of contrasts provides a combination of color and its antipodes: red-green, orange-turquoise, yellow-blue.
The fridge may be an accent or addition. It depends on what role he is assigned to, how bright he can and should be. It is hard to imagine that a soft-blue fridge with rounded shapes can draw attention to itself in the high-tech interior. At the same time, a bright red holder of sharp corners and sharp lines will "argue" with a soft vintage setting. However, it is necessary to change their places, and harmony will be restored.
The presence of supporting elements. Even if the refrigerator is meant to be a bright spot, other details of similar color are necessary in the kitchen so that it fits well into the space. This can be a tablecloth drawing on the table, an apron, a set of dishes, salt shakers, napkins and other trifles, without which life can not do.
Focus on the new model. Diligent search for the right color can distract from the understanding that the refrigerator is not only and not so much an interior item. This is a home appliance that is purchased for many years. She has to cope with a number of tasks. To buy did not become a disappointment, you should choose from the latest models. They are by default more progressive than the old ones.
Manufacturer reliability A manufacturer is not just a brand. It is a guarantee that the equipment is made of quality materials, that it will serve properly and for a long time.
Energy efficiency class. At this parameter it is worth paying attention first of all. Refrigerators are very "voracious" - especially if they are equipped with a large number of additional features. In order for the annual operation of the equipment not to get up in a round sum, you need to look at the models of classes from A +++ to A. A class B model will work well. Representatives of class C and below require increased power consumption.
In the market of household appliances refrigerators of different colors are presented.
White gloss
Ideal for ultramodern minimalist kitchens with a predominance of white structures and elements, it looks great in the traditional interior and in the cozy atmosphere of Grandma's "Stalin". Glossy (almost mirror) coating makes the refrigerator more interesting than the usual matte models.
Metallic
Steel color is designed for different interiors, but first of all - for modern and high-tech. Along with the metal surfaces of household appliances, other noble shades are popular - bronze, silver, platinum, gold. Models of gold color can become a central element in the setting of the kitchen. This solution is luxurious and stylish, it looks quite expensive. The golden color should be supported by other elements that imitate this metal: rails, furniture fittings, drawing on a tile or tablecloth, finishing other household appliances.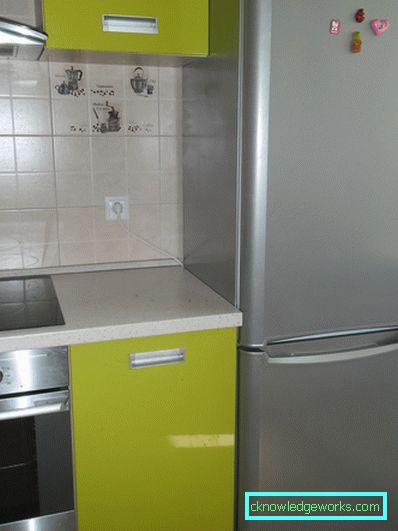 9 photos
Beige
Beige color seems simple and inconspicuous, but in fact it is very complex, multifaceted and self-sufficient. In addition to the kitchen setting, you can choose a model of any color - a warm and cold spectrum. In the production of refrigerators, gray-beige, pink-beige and peach-beige palettes are common.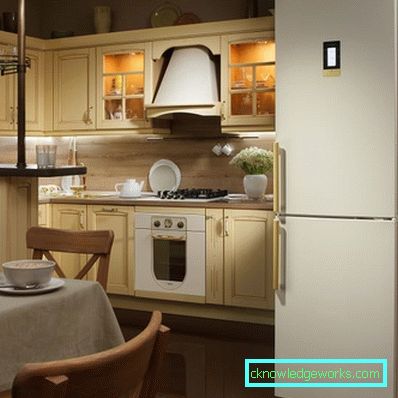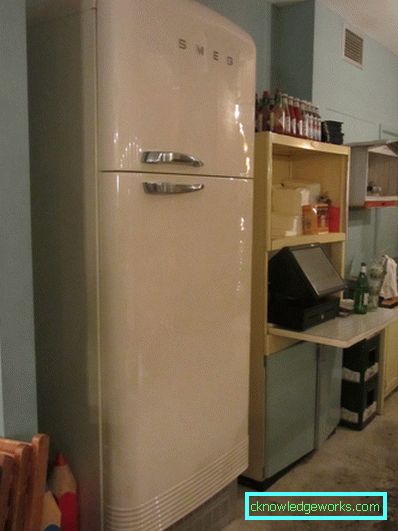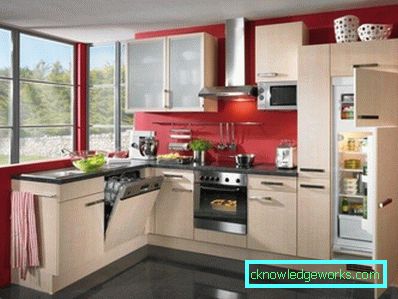 Cream
A cream colored refrigerator is a worthy and interesting alternative to white. It looks favorably in the interior, it is easily combined with the majority of dark and light colors, it does not "argue" with well-established ideas about household appliances. The palette of cream shades is also not limited to one color. Milky cream, creamy pink, creamy beige, light creamy are worthy of attention. As close as possible to it is ivory.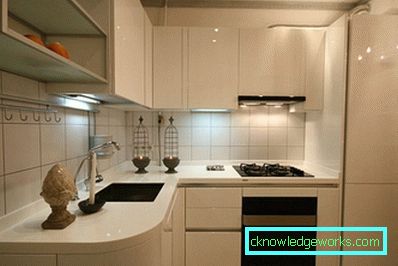 The black
Refrigerators of this color are so firmly incorporated into everyday life that they gradually change from class to exclusive. They are stylish, elegant and concise. Suitable for "male" kitchens and family canteens. Features of color make them less branded, and glossy black surfaces are often protected by a special coating (from fingerprints).
Black color looks advantageous in achromatic kitchens: white, gray, metallic shades and glass. It is beautifully combined with a red and white gamut, a cooking surface of the same color, the fronts of a headset or a dining group.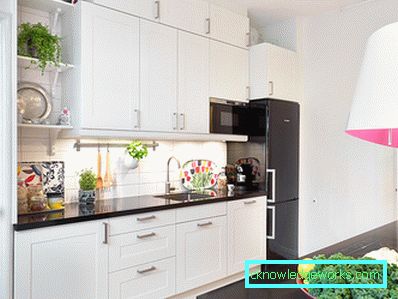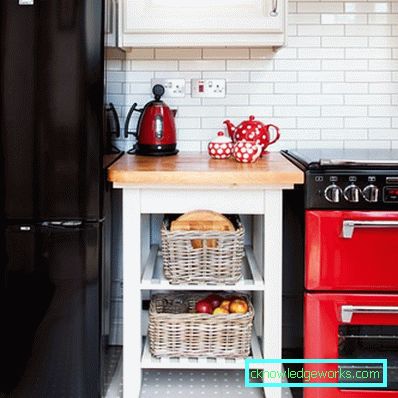 10 photos
Graphite
Technique graphite color is significantly different from the devices that mimic metallic, and from pure black. It is easier than others combined with contrasting colors. Graphite is not suitable for kitchen in monochrome. The interior will be too boring and flat. The most successful options for the combination: yellow, red, burgundy, wine, green, black.
This is a deep coal-gray shade, which is easier to integrate into the interior than the usual black. Anthracite color is inherently universal. It works perfectly as an element of a modest ensemble in traditional colors (beige, white, cream, pastel shades) and combines well with a large number of bright colors (pomegranate, orange, dark green, blue, mint, bright yellow, poppy).
Under the tree
The unusual design of the refrigerator in the color of the tree is best suited for embedded models.
Marble
Imitation marble looks solid and expensive. It is combined with minimalistic black or white facades, a light-colored dining group, chrome-plated surfaces. An interesting combination is a marble-colored fridge and other kitchen elements made from real stone - for example, a table or a kitchen countertop.
"Delicious" shades
Having recently appeared on the market, dark chocolate-colored refrigerators have already won love. Manufacturers also offer other "dessert" options: caramel, vanilla, milk chocolate.
Blue
A variety of shades and models makes this color a welcome guest in the kitchens of different styles. He will make a variety of boring interior. For the kitchen in a modern style with an abundance of household appliances, the "electric" shade is suitable; to embody the French Provence, it is better to choose an azure or blue model. In the game with contrasts with blue, orange, white and shades of yellow are combined.
Yellow
A wonderful "neighbor" for graphite, blue, gray shades. Glossy yellow surfaces will add brightness to any kitchen. An excellent addition will be a beautiful textile decoration of the window, as well as curly chairs in tone with plastic, dishes, napkins and other decor.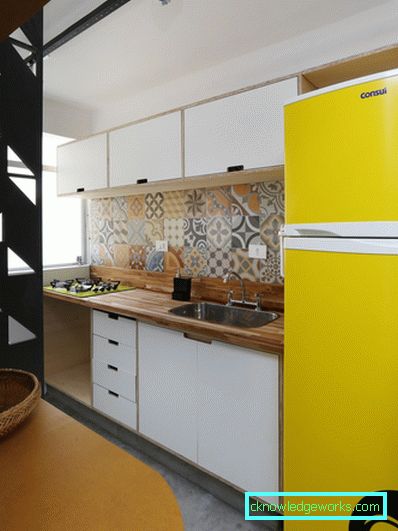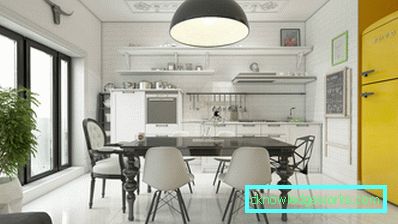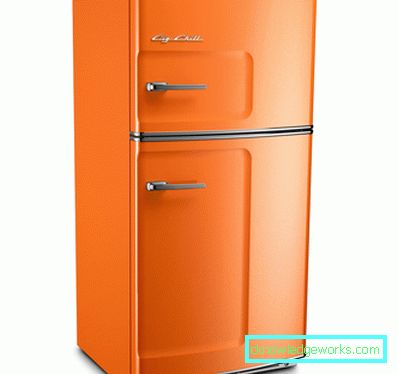 7 photos
Green
It is considered soothing and pleasing to the eye color, so never begin to annoy its owners. Of all the palettes, the most interesting are the polar colors - refrigerators of rich emerald and delicate light green shades.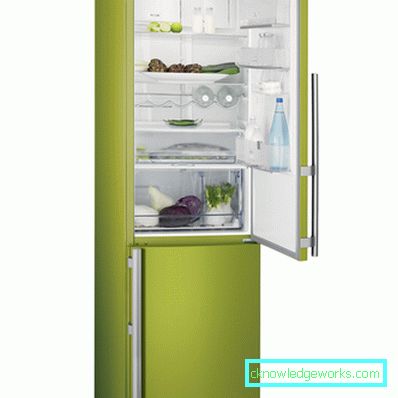 Decorated
This is the most original version. He does not limit opportunities at all. A refrigerator with large flowers on the door can be an accent of the kitchen in bright colors, a small floral ornament will suit flowers on the wallpaper, curtains in the interior, repeating French Provence.
With the help of airbrushing, you can turn an ordinary refrigerator into a cabinet, telephone booth, bookshelf, cover it with drawings on any subject or diversify with comic messages for those who like to often look into the kitchen.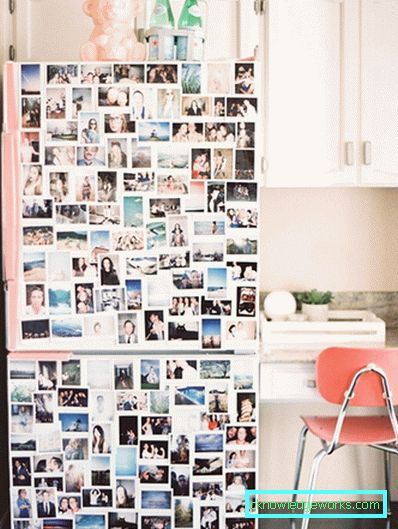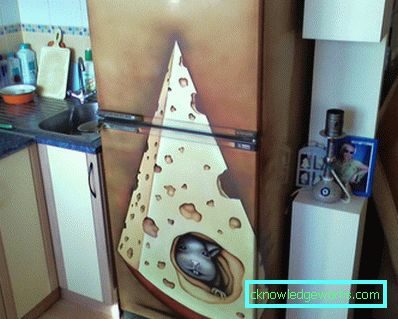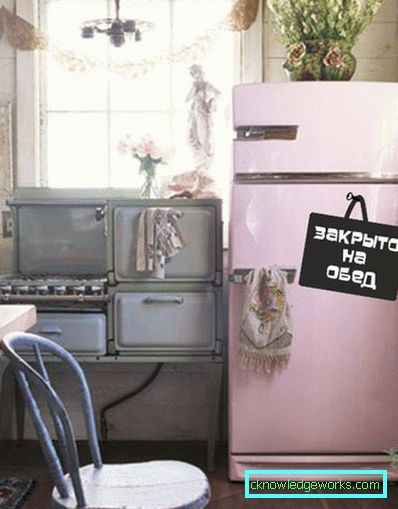 16 photos
How to change color?
Not everyone knows how to be if the refrigerator is in working condition, but it no longer fits the new interior. Elementary! You just need to update its color. Make it at home is not difficult. The procedure is carried out in several stages.
First you need to decide on the desired color and purchase all the necessary tools: "skin" or a soft tissue, alcohol solution, paint in the cans (there will be ugly stripes from the brush).
Paint should be sprayed, designed to work on metal and resistant to moisture and scratches. Another important criterion is environmental friendliness of materials. The internal edges of the refrigerator are also repainted, so the paint should not be toxic and harmful to food.
When materials are purchased, it is the turn of the second stage - the preparation of the working surface. To do this, the refrigerator must be freed from stock, disconnected from the network, and thoroughly washed outside. It is recommended to polish any unevenness of the old paint with sandpaper, or you can remove the gloss. Immediately before painting, the surfaces should be degreased with an alcohol solution.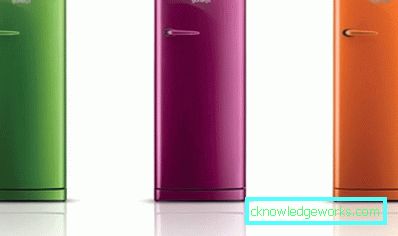 If the condition of the old coating is deplorable, it makes sense to apply paint in 2-3 layers.
Each previous layer must be dried well - and only then covered with the next.
The last (and most interesting) stage is decorating. You can use fabric and paper stencils, paints of contrasting colors, vinyl film, mirror tiles. You can decorate the walls and door stickers, children's drawings, family photos. An interesting and useful option - magnetic board. It not only makes it possible to change the pattern every day, but also serves as a place for messages to family members from each other, who definitely will not go unnoticed.
Manufacturers
Many well-known manufacturers of household appliances have diversified the model series in color. Asian brands LG and Samsung, German Haier, Bosh, Liebherr, Italian Smeg and Indesit offer options for every taste and budget. Color domestic-made refrigerators produce Atlant, Zil and Smolensk.
Ideas for interior design
The kitchen is the most visited place in the house, and the most popular item in it is the refrigerator. So that it does not just perform the function of storing products, but was part of the interior, it is worth considering its design and pay attention to interesting solutions.
The color refrigerator in retro style will look beautiful, an unusual golden or silver color looks, the design is original with the help of airbrushing.
Thematic drawings, folk motifs, art paintings will make the fridge a highlight of the kitchen.