Spidem Villa Coffee Machines
Features
Varieties of models
Reviews
In the modern world there are many different household appliances, without which almost no kitchen can do. One of the most popular is the coffee machine, which brews delicious and rich coffee in just a few minutes. The most famous are coffee machines Spidem characterized by their simplicity and reliability. The coffee that they make has a unique taste and an alluring flavor.
Features
Spidem coffee machine equipped with high-quality steel millstones and the ability to regulate the quality of grinding. There are more than 15 degrees of grinding in the products, which allows you to choose the appropriate version of the saturation of coffee. The coffee makers have very strong steel knives, which do not lose their qualities even when grinding the hardest grains. Despite this, the coffee maker works almost silently so as not to cause inconvenience to the owners.
Advantages of Spidem:
Coffee brewed within a few minutes;
The device has a function pre-brewing, which adds a unique flavor to the drink;
Included are several additional tips;
Coffee machine easy disassemble and wash;
The cost of the device is low, but the quality is not inferior to more expensive coffee makers.
Design products made in classic style, allowing you to install them in any kitchen.
Thanks to all these qualities, Spidem coffee makers are in great demand among customers who are satisfied with their purchase.
Varieties of models
Spidem company produces several models of coffee machines, each of which has a high quality and affordable price.
One of the most popular models is Villa spidem, representing an automated full-cycle device. It is quite easy to work with her, as she does not require great efforts. To make coffee, you need to pour coffee beans into the tank, and fill the special container with water. The device itself will cook the required number of servings, so the user will only have to wait a bit. The water tank is completely transparent and the machine has a special waste tank. Villa spidem has strong steel millstones that can grind hard grains, and after that they will not require repair or replacement. It has a pre-brewing function installed so that the drink is aromatic and tasty. In the coffee machine, you can prepare several servings of coffee at a time. To do this, simply pour more water.
The device will work for several years if you look after it properly.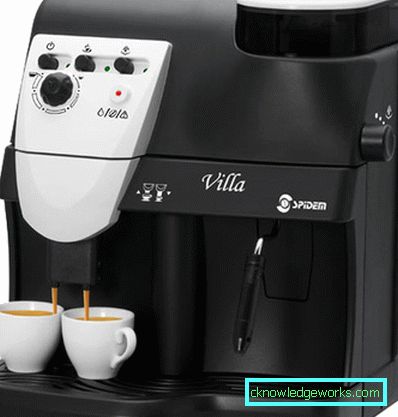 How to make cappuccino in a Spidem Villa coffee machine, see in the video.
Another famous model - Spidem Trevi Chiara, equipped with mechanical cappuccino. It has steel millstones, a waste tank and tanks for grains and water.
You can not ignore the model Divina, which despite its simplicity has high functionality. This coffee machine brews a delicious drink, not only from the beans, but also from ground coffee. She has an electronic panel with which the process is managed. The great advantage of the machine is that it can grind the seeds beforehand to make coffee the next time.
Another model Spidem - Combi Plus. It is equipped with a semi-automatic cooking mode and can brew coffee not only from the beans, but also from ground coffee. The device allows you to control the strength of the drink, adjust the number of servings and make coffee manually.
Coffee makers Trevi villa black and Trevi Villa Silver differ only in color, otherwise they are absolutely identical. They are equipped with durable steel millstones that can withstand any load. They also have functions of pre-soaking and brewing, which allows you to adjust the saturation of the drink.
A great success was the coffee machine Spidem My Coffee, which has two cooking modes: manual and automatic. It has the function of controlling the strength of coffee, and it is possible to regulate the number of servings. It is quite easy to care for and clean it from waste.
Reviews
Spidem coffee machines Well proven among the coffee makers from different manufacturers. They are a success because of their simplicity and reliability. And their cost is much less than the cost of other devices. The most demanded coffee maker Villa spidem It has gained popularity due to the fact that it automatically brews several servings of coffee and has a pre-brewing function. About her customers speak very positively and advised to buy this coffee maker to all lovers of the magic drink.