Cabinets to ceiling in the kitchen
Modern apartments can not boast of large size. Especially felt the lack of free space in small kitchens. The space is limited, and you need to place a fairly large amount of furniture. (kitchen set, table and chairs), household appliances (refrigerator, microwave, coffee maker, combine and other household appliances, without which the hostess will not be able to do).
Designers came up with a great furniture option for a small-sized kitchen - cabinets to the ceiling. And do not be frightened at first glance by the bulky design, kitchen set with high upper cabinets visually increase the walls, expanding the space in the room.
Pros and cons
If you are thinking about purchasing cabinets to the ceiling in the kitchen, then appreciate the advantages that such furniture provides:
Dust protection - kitchen set with high top cabinets closely adjacent to the ceiling, leaving no free space, which often accumulates dust. Many housewives know that if there is an opening between the top cabinet and the ceiling, this is a great place to collect dust and grease fumes from cooking.
This is especially true for kitchens where food is constantly being prepared: if the hostess does not have time to bring the kitchen set in order, dirt accumulates and the cleaning should be started over. Cabinets to the ceiling will save the hostess from having to constantly flush the upper cabinets.
The kitchen space is optimally and effectively used. In tall cabinets there are much more shelves where you can store plates, cups, pots, pots, jars of cereals and other kitchen utensils.
High cabinets, conveniently located in the kitchen, create a solid image in the room. You do not have to think about covering the wall, as it will be completely covered with furniture. Such an extraordinary kitchen set will be a great solution for those who follow fashionable novelties and trends.
Kitchen furniture is not without its high cupboards and drawbacks. The main ones are:
Hard to get to the top shelves.
Tall lockers are quite difficult to open.
High price.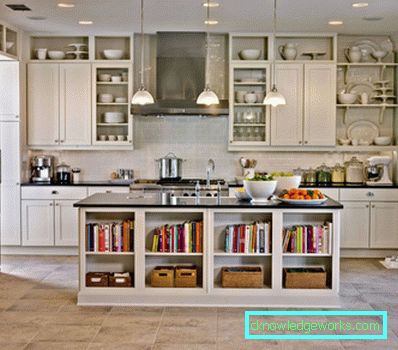 Do not be upset, manufacturers have taken care to brighten up these shortcomings, and offer interesting design solutions.
If the kitchen has high ceilings, it can be difficult to get to the things that are located at the top, especially if the hostess is not tall. There are several solutions to this problem:
do not put on the upper shelves kitchen utensils, which are often used;
use top cabinets as decorative items. You can order glass doors and set a beautiful dish or set, decorative plates, flowers or other decorations.
Some modern kitchens are equipped with a special staircase, using which the hostess can easily reach even the highest shelf.
Swing doors in tall cabinets can cause some difficulties:
they are difficult to open;
on the open door can be accidentally hit.
Designers suggest using other ways to open doors for cabinets up to the ceiling:
the doors which are moving apart in different directions, reminding a sliding wardrobe;
doors that rise smoothly - the facade moves forward a little and smoothly rises;
lift-folding door raising system - special loops raise the facade up, folding the door in half.
cupboards without handles that can be opened by slightly touching them.
A significant drawback is the high price of this design, so it is used only in expensive models of kitchen units.
Cost of
The facades of kitchen sets with high upper cabinets are large in size from standard furniture. Due to the fact that more material is spent on their production, the cost of such cabinets increases.
You can save money if you order kitchen furniture with open top cabinets or without doors. High cabinets in the kitchen without doors - this is a popular trend, especially if you have beautiful utensils, which can be demonstrated by placing on the shelves.
Cabinet for kitchen
A classic example of kitchen furniture is a cupboard column that fits perfectly into both traditional room design and the kitchen, made in a modern style.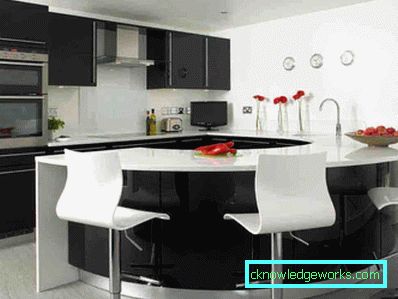 The case column is especially popular in kitchens which do not differ in the big sizes. The main characteristics of such furniture:
narrow and tall, can reach in length to the ceiling;
takes up little space;
practical and ergonomic;
roomy - due to the large number of shelves.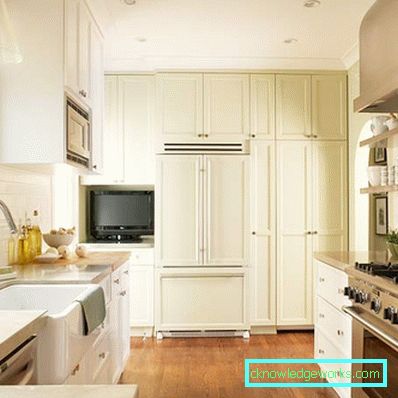 The case column will become an irreplaceable element in kitchen if it is necessary to hide household appliances. For example, in classical design and Provence style, modern household appliances look somewhat out of place. In order for the technology to fit into the interior of the room, it is built into the kitchen furniture.
In the cabinet column you can put both dimensional equipment, for example, a refrigerator, and several small household appliances, for example:
place an oven on the bottom shelf;
above - microwave;
even higher coffee machine or coffee maker, combine, slow cooker and other household appliances.
The higher the shelf is located, the less popular household appliance should be there, in order to have fewer problems with the getting process.
The design of the cabinet-column allows you to easily control the cooking process, as it provides a simple approach to all components of the management of built-in appliances.
Design
Tall wardrobes to the ceiling create the impression of endless shelves. Stop the choice on light neutral shades, for example, white, beige, cream, gentle-pink flowers and glossy surfaces. In this case, the furniture will not seem very cumbersome and ponderous in appearance.
An extraordinary solution that will add to your kitchen set with high top cabinets of lightness, built-in lights. Soft diffused light will add volume to a small-sized kitchen and ease massive furniture. The only caveat, in this case, the doors must be glass, otherwise the light will simply not be visible behind the wooden facade.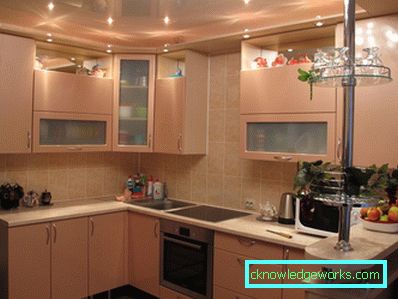 We also recommend placing the built-in lighting under the top cabinets. Excessive light never hurts in the kitchen, especially if you are cooking in the evening or late at night. You can use various built-in lights, such as fluorescent or halogen bulbs.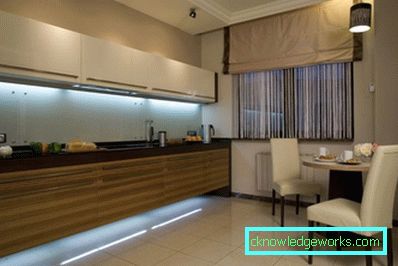 By installing a tall cabinet to the ceiling in the corner, you can hide the room's flaws, such as an uneven corner or curvature of the wall. It is used as a one-piece design (from ceiling to floor), and stand-alone cabinets. A single corner cabinet looks a bit cumbersome, so it is divided into two separate elements: a floor and a wall cabinet.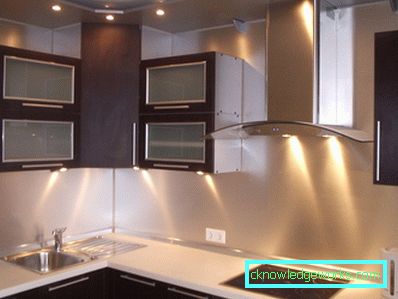 It is not necessary to place kitchen appliances in the corner cabinet, you can put a TV there. The design of the room will become more unusual if you use open shelves on which to place beautiful plates, statues and other trinkets, giving the kitchen a cozy and homely warmth.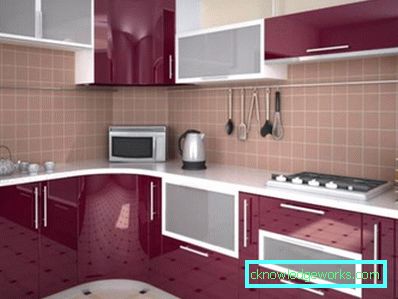 Small cramped kitchen is not a sentence yet. If everything is carefully thought out and planned out, conveniently placing high cabinets to the ceiling, you will get a modern designer kitchen, which can easily fit all the necessary kitchen utensils. Having spent some time planning, you will not waste it, stylish ergonomic design will delight you for many years. And you will be happy to spend time in the kitchen preparing tasty and healthy food for your family.