Built-in single-chamber refrigerator
Features
Model selection: size
Important criteria
The best options
A few decades ago, refrigerators were used exclusively as a cooling device. Today, these models are integral parts of a modern interior. Manufacturers of home appliances produce high-quality multi-functional options that have an incredibly stylish design. Especially popular among buyers are single-chamber models that are invisible in the kitchen.
Features
Any modern kitchen cannot be imagined without such a technique as a refrigerator. Fortunately, the stores offer a wide range of models from which you can easily choose the appropriate option. One of universal types is the single-chamber built-in refrigerator.
The main feature of these models is the compactness. Refrigerators are based on one door, which saves on electricity.
Basically, such options are used for arranging small kitchens, as they occupy the minimum amount of space in the room.
These models will be relevant if there are 1-2 people living in the house.. Food can be easily placed in the fridge for a short time, which is convenient.
If the house is home to 3 or more people, then it is best to choose a two-chamber model. Such options are also presented in a fairly wide range.
The features of single-chamber refrigerators include:
Often models are used as embedded mini-bars;
the refrigerator can be placed in a special niche located under the kitchen worktop;
single-chamber versions differ in availability in comparison with more dimensional options.
Such a refrigerator will be an ideal choice for giving. It can easily store products for a short time or leave them for further processing.
Model selection: size
In the process of purchasing a built-in refrigerator, several important factors need to be taken into account. One of the most significant criteria is model size. From this point you need to decide in advance, even before going to the store. Choose a suitable place to install the refrigerator.
Pre-measure the size of the kitchen cabinet.
You need to know exactly the height, width and even the depth of the furniture. This is due to the fact that if improperly installed, the technician will come forward a little. Even a small distance will be noticeable..
After completing this step, you can go shopping. In general, most stores offer customers single-chamber refrigerators with standard parameters - 54-58 cm. The depth of the models does not exceed 55 cm. The main difference between all options is height.
For small kitchens it is best to choose appliances up to 50 cm. It should be noted that models with such a height are not equipped with a freezer, which is the main disadvantage. Therefore, if frozen ingredients are included in your diet, it is better to refuse this type..
Refrigerators up to 50 cm are suitable if you immediately start cooking after purchasing food.
The next view is a model whose height ranges from 50-200 cm. It is worth noting that most refrigerators are equipped with a freezer.. For an embedded model, you need to allocate free space in the kitchen, and you need to take care of this in advance.
But, it is necessary to understand that the higher the refrigerator, the harder it is to combine it with furniture.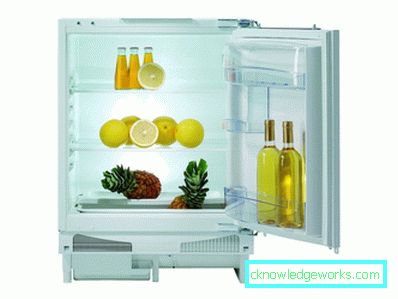 Important criteria
After you have finally decided on the height of the technology, you need to look at other, equally important characteristics. Particular attention in the buying process must be paid to the functionality of the products. The compressor must withstand a certain load.
The next important point is defrost mode. The best choice would be a technique equipped with a system "No frost". The main advantage of this type is the availability of automatic mode. The equipment does not need defrosting.
Inside the same temperature is always maintained.
According to buyers, the main problem of the automatic system "No frost"is that its functioning occurs drying products. This is mainly observed with improper storage.
To avoid this problem, all vegetables, fruits and other products should be placed in special containers or plastic bags.
The best options
When choosing a built-in single-chamber refrigerator, special attention should be paid to the brand. It is best to buy equipment from a trusted manufacturer who has already managed to declare itself on the world market in a positive light. Good options are models from companies. Electrolux, LG, Samsung and Indesit.
Refrigerators have a stylish and modern design that perfectly complement any interior.
Technique from world companies has won its recognition due to its high functionality. The combination of affordable cost and good quality is the main feature that unites all of the above companies.
Another undoubted leader in the global market is the well-known brand. Bosch. Separate attention deserves a single-chamber refrigerator. GIVAF20. Embedded model fits perfectly into the modern interior and it does not take up much space.
One of the advantages of this option is noiseless.
The model has excellent functionality and is ideal for arranging a small kitchen.
The budget options are single-chamber options from the company. Liebherr. Embedded models are equipped with a drip thawing system, which is an advantage over the previous view. The equipment works without noise, has good capacity. The company presented a fairly wide range of products from which you can choose a quality budget option.