Built-in refrigerator Ariston
BCB 33 AA F
BCB 33 A F
BCB 31 AA F
Conclusion
Reviews
Any owner dreams of home appliances that fit perfectly into the kitchen interior. The built-in Ariston refrigerator is an excellent choice that allows you to create a harmonious and unified room design.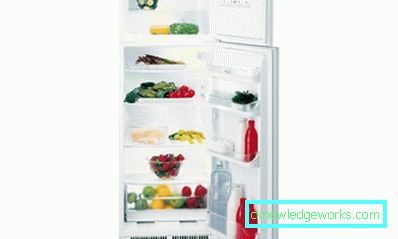 7 photos
Features
Technique, covered in the furniture profile, not only decorates the interior. Functionally, it is also as good as stand-alone models.
Ariston refrigerators are world famous. The trademark belongs to the concern "Indesit Company". This is one of the leading European manufacturers of household appliances, a recognized leader in the market of Italy, the UK and Russia. The main advantages of this refrigeration equipment are affordable cost and a wide range of functions.
Ariston refrigerators are manufactured in Italy, Poland, Turkey and Russia. The most successful embedded models of the brand are:
BCB 33 AA F;
BCB 33 A F;
ENE 31 AA F.
The listed models belong to the Hotpoint Ariston series and are made in Italy. All three options have many useful options, easy to use and unpretentious in the care.
This is a technique with system "Total no frost", equipped with an automatic defrost system. This advantage is especially important for embedded models. After all, they do not require defrosting, saving their owners time.
Also, these models have a low noise level. Excellent design allows them to fit perfectly into any kitchen space. And low power consumption makes these refrigerators attractive for practical owners. Consider each model in more detail.
Models
BCB 33 AA F
The model has a volume of 268 liters. The power consumption level is class A + (306 kWh / year).
Functions:
Frost. Due to the low temperature provides long-term storage of food. The model is equipped with an integrated air cooling system. AIR.
Keeping the contents of the refrigerator fresh. Unique ozonating device Active oxygen aimed at solving two problems. It allows you to maintain the original freshness of products up to 8-9 days and destroys bacteria. Thanks to the second factor inside your fridge will never be unpleasant odors.
Convenience store any products. The model is equipped with removable shelves for various purposes. Special "wine" shelf allows you to place any bottles in the refrigerator. Container Freshbox provides for the preservation of the freshness of fruits and vegetables. You will also find where to place cheese, meat and other products. And the ability to reinstall the shelves will allow to complete the equipment according to your desire.
Smart control system. Alarms will not allow you to leave the door open or forget to adjust the temperature inside the refrigerator.
Additional cooling modes. Function "Supercool"allows you to quickly cool products with a maximum load of equipment."Iceparty "will help instantly cool the wine or champagne to the desired temperature."Superfreeze"It is aimed at accelerated freezing of all contents. It also helps to quickly prepare ice, for which there is a special form."Holiday"useful in the long absence of the owners. Available temperature control and the main and freezer compartments.
Benefits:
Rich functionality;
Economical operation. The display remains off even when the door is opened;
Large capacity of the refrigerator;
Antibacterial coating of the inner surface of the model. This prevents the emergence and spread of germs and bacteria;
Self-defrosting system;
Ease of Management;
Impact resistant glass shelving material, the possibility of outweighing the door;
Affordable price.
Disadvantages: small volume of the freezer (insufficient for use of equipment in a large family).
BCB 33 A F
Built-in refrigerator VSV 33 A F - an excellent two-chamber model. The total volume of the refrigerator - 274 liters. This is the highest option in its class. Storage at power off in this model is possible till 11 o'clock.
The functions of this refrigerator are the same as in the previous version. "Active oxygen"eliminates odors. System"Airtech"provides the optimum temperature and moisture conditions necessary for high-quality storage of the contents. The use of a model of natural ozone helps to keep products fresh for a very long time.
Benefits:
Functionality, the presence of a large number of innovative options;
Efficiency;
Carefully thought over ergonomics and large capacity of the refrigerator;
Hygiene and safety of the internal space due to antibacterial protection;
Self thawing system;
Ease of Management;
Affordable price.
Disadvantages:
The emergence of extraneous noise with improper installation;
A small volume of the freezer.
It is also worth noting a little more power consumption of this model compared to the option class AA (316 kWh / year).
BCB 31 AA F
This model has a higher technical characteristics and large size. It is much wider and lower than the previous options. This fridge is not suitable for a small kitchen. Dimensions of the model - 177.9 x 54 x 55 cm.
Freezing capacity - 4.5 kg per day. For a medium-sized family, this is enough. Energy consumption - 298 kWh / year.
The functions of the model are almost the same as the first two options. This equipment allows you to quickly cool a large amount of content, retaining its benefits and taste. Antibacterial protection provides an ideal environment for food, and special features allow you to increase their shelf life by 1.5-2 times.
Benefits:
A large number of useful features;
Reasonable cost with this functionality;
Clear management;
Big capacity of the refrigerator.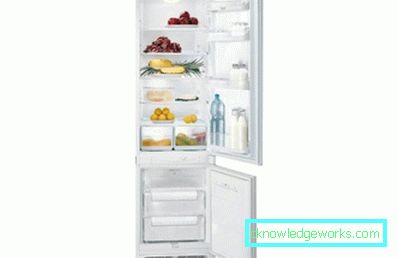 Disadvantages:
Dependence of high-quality work of equipment on professional installation;
Non-inverter compressor;
A small volume of the freezer.
Conclusion
Of the three options presented, the best choice for a family of 2-3 people will be BCB 33 A F. This embedded model has excellent characteristics, easy to use, affordable.
Choosing equipment for a family of 4 or more people, it is worthwhile to decide in advance whether the volume of the presented model will be sufficient. Otherwise, you should choose a different, larger refrigerator.
BCB 33 AA F differs in even smaller capacity. At the same time, a high class of energy consumption makes it more expensive, although in practice it does not bring much benefit.
Model BCB 31 AA F also less roomy than the first recommended fridge. In addition, the features of dimensions make it suitable not for every kitchen.
Reviews
Most owners of embedded refrigeration equipment from Ariston speak positively about it. The technique has an attractive classic design, low noise.
Customers are satisfied with the quality of freezing products, and additional features of the devices. Refrigerators are equipped with convenient shelves, easy to wash, do not require defrosting. Pleases owners of equipment and its efficiency.
As for the minuses, some users are unhappy with the small capacity of the freezer compartment. Not satisfied with many, and a small warranty period of equipment (1 year). The latter is aggravated by low service in the regions.
Some owners also complain of frequent vehicle breakdowns. Sometimes found and factory marriage.