Braun steamer
Modern kitchen appliances allow you to cook your favorite dishes much easier and faster, while their taste remains equally impressive. Among such equipment, the Braun steamer is presented, which easily cope with practically any culinary tasks.
Features and benefits
The German manufacturer of appliances for the kitchen and home, Braun, is known to many thanks to its reliable and high-quality "smart" equipment, which allows you to reduce the workload of housewives in the kitchen and turn cooking into a real pleasure. All models of Braun steamers are equipped with two bowls of different capacity with a durable non-stick coating, have a mechanical control using a handle and an automatic mode of operation, due to which you do not have to look into the kitchen every minute.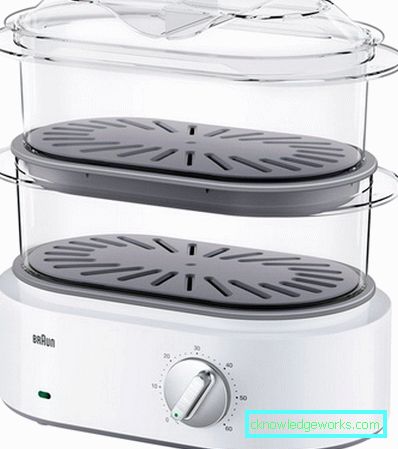 In addition, these devices have the following advantages:
stylish appearance;
rice cooking containers;
bowls for coloring products;
automatic timer;
convenient storage and capacity for power cord.
Removable bowls of these steamers can easily be placed in the dishwasher, but even without it, washing them by hand is easy thanks to the special washable surface. Each bowl is equipped with a separate drip tray. All models of this technology Braun allow you to cook 2 dishes at the same time. Using these devices is easy and pleasant.
Model overview
Double boiler Braun FS20 represented by two variations: Multigourmet and MultiQuick. They have no fundamental difference, the characteristics and method of control are the same; only a little appearance and packaging differ. For cooking there are 2 opaque containers with a capacity of each 3.1 l, made of heat-resistant plastic. Besides them, there is a basket for rice and a container for coloring products of 2 liters each. Moreover, the first container is suitable not only for cooking rice, it is suitable for other cereals or soup.
The remarkable advantage of all Braun steam boilers is the presence of a separate condensate tray for each bowl. This is important, because in other brands, drops from the upper container first fall into the lower basket and only then into the collection tray, which can spoil the taste of the prepared dish.
Baskets are presented in the same shape, so they are interchangeable. This can be useful when at the bottom of the dish is already cooked - just swap them. Baskets have a streamlined shape, plastic colors - black and white. They are easy to clean both by hand and in the dishwasher.
Manage Steamer Braun FS20 very easy - a timer is set using a round mechanical handle, the longest running time is 60 minutes. When the machine is turned on, the indicator on the front panel is lit. After the set time has elapsed, the steam cooker turns off, the indicator goes out and a loud beep occurs.
The working capacity of the device is 850 W, which is enough to process any products within an hour. After turning on the powerful heating element for a minute brings the water in the bowls to a boil and the dish begins to prepare. There is a quick steam mode, in which instant warming up to the required temperature occurs, and the time for cooking is reduced.
All components of this model are easy to fold, the cord is wound into a special niche, so that during storage it does not take up much space. Steamer Braun FS20 has a stylish design, a pleasant and unobtrusive appearance of white plastic and thanks to a stable rubberized legs reliably standing on the table.
Double boiler Braun FS3000 from the collection Tribute is an improved version of the previous model, even more simplifying the work in the kitchen. The device has a modern design, a pleasant white color with green fragments, without any problems will fit into any kitchen interior.
Like the model FS20 This one has 2 identical plastic bowls with volumes of 3.1 liters, which can be swapped during the cooking process. Includes containers for rice and coloring products of 2 liters. The top cover is made of transparent material.
Unlike steamers Braun FS20 In this model, heating time to 100 degrees is only 45 seconds, which speeds up the process of cooking. The timer is also designed for 60 minutes and, after shutdown, beeps. Maximum operating power of 850 watts. The household appliance has a quick steam function.
Baskets are made of pure plastic without harmful additives, not containing BPA. This allows you to prepare a healthy healthy food for the whole family. Each tank is equipped with a separate drip pan, so it is possible to simultaneously cook several dishes without interrupting their tastes. Baskets allow you to keep them compact, easy to clean.
Double boiler Braun FS5100 Black from the Identity Collection series It has a stylish design with a black case and transparent cups with a capacity of 3.1 liters. For coloring products there are separate containers. Rice basket, as in previous models, has a volume of 2 liters, also suitable for the preparation of other dishes, mashed potatoes and soups. Included is an insert for boiling eggs.
The timer is activated using an elegant silver-colored handle on the front panel, the maximum time is 1 hour. Steam generation time is 45 seconds, the machine is equipped with an automatic shutdown and an audible signal. On the case there is a green work indicator. Also provided for safe shutdown in the absence of water in the bowls.
Transparent bowls are equipped with a removable bottom, made with a non-stick coating, easy to clean and support the dishwasher. Due to their identical shape, they easily change places, can be compactly folded into each other. Included are pallets for drops for each basket.
In a double boiler Braun FS5100 Black Additional functions are provided: sterilization mode and temperature maintenance. This can be very useful for long-term preservation of freshness of cooked dishes. The power consumption of the device, like the previous ones, is 850 watts.
When folded, all components of a double boiler are very compact, its total weight is 2.37 kg. For convenience, the cord is placed in a special compartment in the device. Its length is 0.9 m, which easily allows the use of a double boiler anywhere in the kitchen.
How to use
Use of all models of double boilers Braun FS will not cause problems even for those who have never dealt with such equipment. To do this, do not even need to read the instructions for use, which is presented in all versions of the kits in Russian. Turn on and set the time using the mechanical handle on the front panel. For convenience, there are marked by minute divisions. No more controls on Braun models are provided.
In a double boiler Braun FS20 MultiGourmet On the front panel there are tips for housewives, how much time is required for the effective preparation of a product. For safety, the devices are equipped with an automatic shutdown in the absence of water. The loud signal to turn off the timer allows you to hear about readiness even in another room.
Laying out and folding baskets and bowls for rice and coloring products, containers for eggs is also extremely easy. All elements are conveniently inserted into each other, the covers are sealed. After cooking, the bowls are easily removed and washed. Braun steamer as safe as possible.
Reviews
Braun steamers, as a relatively inexpensive and reliable kitchen appliances loved by many housewives. They greatly simplify the work in the kitchen and replace hours of work with the use of pots. According to numerous reviews, they are valued for ease of use and reliability in operation, good power, which is enough for cooking dinner for the whole family.
Of the advantages compared with other brands, there are two pallets for separate use, fast heating time, environmental friendliness and the absence of harmful additives in plastic containers.