Braun Blender Bowl
Choosing a blender Braun, Many buyers choose stationary devices or submersible units with a bowl. And often the question is, what is the bowl for a blender? Braun will be the most convenient and how long it will last.
About brand
Braun is a brand of home appliances, which was formed in Germany back in 1935. She began her story with the release of radio engineering, and since 1950 has been producing equipment for the home. Now this brand belongs to the Americans. His plants are located all over the world. All products are of high quality and refers to the middle and high price segment of the market of household appliances.
The style of technology of this brand is simple and strict. The color scheme is not wide. But despite this, all products look very stylish and will decorate any kitchen.
Among the goods Braun There are kettles, multicookers, irons, electric razors, toothbrushes and more, including blenders.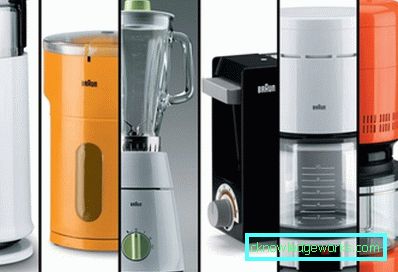 Kinds
One of the main accessories of the blender is its bowl. There are several types of this attribute and first of all they depend on the type of household appliance itself. For stationary blenders, the bowl is usually made in the form of a jug. Depending on the model, such accessories have a different capacity. It ranges from 1.6 liters to 2 liters.
The pitcher has divisions indicating the volume of the product being placed, which is very convenient when cooking dishes according to the recipe. In low-cost models, this accessory is made of durable plastic that can withstand even a fall from a height. Models with a glass cup are much more expensive. But the thermoglass of which they are made is more environmentally friendly than plastic. This is especially important if you beat hot foods in it. In terms of strength, it is not inferior to him.
When buying a Braun dip blender complete with additional nozzles, the following bowls are available:
For whipping. It is a tall plastic cup that is designed to work in it with the main nozzle of a blender or a whisk for beating. This accessory is very convenient because you do not have to look for a container that is suitable in diameter and height for these tips. It is easy to make a small amount of mashed potatoes or a cocktail in it, and you should not be afraid that the contents will be on the table and on your clothes.
In addition, the bowl has a lid, and cooked foods can be stored in the refrigerator right in this dish. The volume of such a glass is 600 ml or 1200 ml. The bowl is also labeled to determine the volume of food in it.
For grinding. Such a bowl is a glass inside which there is a pin. The nozzle a grinder is put on it. With this accessory, you can easily make minced meat, chop nuts or smash ice. In addition, the chopper bowl can be made in the form of a mini-combine, which can additionally be able to grate or chop vegetables using certain nozzles. Risks on the body of the bowl will also help control the volume of products placed.
Where to buy and cost
The bowls rarely fail, but with careless handling it can still be damaged. This is especially true of glass jugs.
You can buy a replacement for broken capacity at any service center that works with Braun products, or order it online. The cost of the accessory depends on its modification. So, a glass of whipping costs about 1000 rubles. The shredder will cost from 1000 to 3000 rubles. A jug for a stationary device will cost about 3,500 rubles.
In the spare parts market there are also non-original bowls. Their price is somewhat lower than the original, but no one will guarantee that such a capacity will fit your device and will last a long time.
How to wash
All bowls are washed under running warm water. You can use detergents that do not contain abrasives. Do not use hard or metal brushes. They may scratch the plastic or glass, spoiling the appearance of the container.
Reviews
According to reviews, bowls for blenders Braun really strong and durable. If you are careful, they will serve you for many years and you will not have to spend extra money on the purchase of a new copy.