The best mixers with a bowl from famous brands
Review of the best models
Vitek VT-1413 W
Philips HR1565
Sinbo SMX-2725
Scarlett SC-048
Polaris PHM 3006B
Leben
Selecline SM 169
Tefal HT41213E
Electrolux EKM 4000
For the preparation of many dishes of home cooking just need a mixer. It helps to beat eggs, cream, all sorts of creams, knead the dough, cook mayonnaise or a variety of cocktails. The choice of these devices is quite wide. There are models both with a bowl, and without it.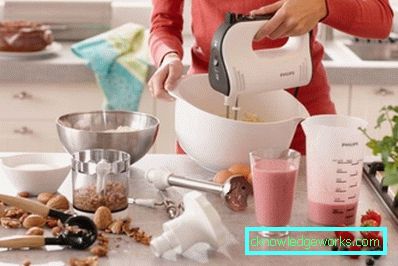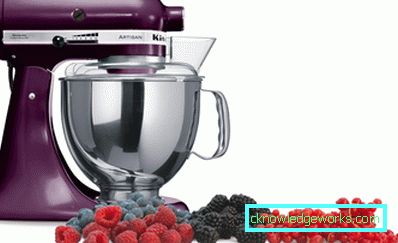 8 photos
The first option is considered more convenient, you do not need to keep the mixer on weight. This allows you to better beat the products, because the hands will not get tired ahead of time. Stationary models are more powerful than manual ones. Topical for making sauces based on eggs, biscuits, marshmallow and ice cream. The disadvantages include the high cost and the need for free space for installation.
Review of the best models
Almost all well-known manufacturers of home appliances produce mixers with a bowl. We offer you to get acquainted with the best mixers from famous brands.
Vitek VT-1413 W
Vitek brand produces good quality products at an affordable price. Produced several models with a bowl. Consider one of the most popular, according to users.
It has a powerful engine of 500 W, whips for beating and hooks for kneading dough are included in the package. A spacious 2.5 l bowl allows you to prepare large portions and dishes that require step-by-step addition of ingredients. High-speed mode provides 5 options for power of rotation and an additional mode turbo, which allows you to quickly achieve the desired consistency. The rotating bowl promotes uniform mixing, and reliable suction cups do not allow the technique to slide while working at high speeds.
An additional advantage is the protective cap on the bowl, which protects against splashing.
The disadvantages attributed only the noisy operation of the engine.
Philips HR1565
The model, with a capacity of 350 W, operates in three speed modes and has an additional turbo function. A fairly large bowl of 3 liters, while the stand itself with the bowl does not take up much space. The kit includes beaters for beating and dough hooks.
The disadvantages attributed the design and material of the rims. Made of thin material, and the design is such that they touch the bottom of the bowl, leaving damage. Another disadvantage is that the mixer can not be removed from the stand during operation.
Sinbo SMX-2725
A simple inexpensive and stylish mixer with a large metal bowl. Its volume is 4 liters. Provides 5 speeds and turbo function, equipped with corollas and hooks. Power model 300 watts. Pretty weak if you like to make biscuits.
However, this power has a significant advantage - a very quiet engine operation. Thanks to the material, the bowl is not scratched and does not have the notorious plastic smell, which is found in cheap models of household appliances.
But this mixer has some drawbacks. His beaters essentially do not reach the bottom of the bowl, which complicates mixing. The bowl does not rotate independently. In the preparation of some products have to additionally beat by hand.
This model is suitable if you plan to prepare creams, baby food or other simple recipes.
Scarlett SC-048
The mixer with a capacious bowl on 3 l. With a power of 200 W has 7 speeds. Simple and convenient, it is equipped with good quality wreaths, copes well with its work, while its price is comparable to the price of manual. The device is very easy to use, easily disassembled for washing and has no complaints from customers on the quality of the assembly. Some managed to drop it on the floor, which did not affect the further operation.
The disadvantages are not enough long power cord and the lack of rotation of the bowl.
Polaris PHM 3006B
Simple, beautiful and comfortable model with a transparent bowl. With a power of 200 W has five speeds and turbo mode. Additionally, there is a pulse mode beating. It is convenient when it remains to make the final touch. It has a standard package of whips for whipping and dough hooks.
This mixer has several drawbacks that need to be considered when choosing. The bowl does not rotate independently, but the working unit itself has a small weight, which will allow to bring to the desired consistency manually. The corollas do not reach the bottom of the bowl, which causes certain inconveniences in the preparation of complex recipes.
Leben
The inexpensive low-power 100 W mixer has seven speeds, nozzles for beating and hooks for the test, also equipped with a 1.5 l bowl. The body is made of plastic, the device itself is very compact and lightweight. It has no extra features and easy to use. The budget option, if you rarely cook pastries.
Selecline SM 169
This model is a mixer mixer. From the title it is clear that its main purpose is to work with the test. It has a high power of 600 W and 6 speeds of rotation. A large enough bowl 4 liters. Made of stainless steel makes this device suitable for making complex recipes with many ingredients.
The mixer is reliable and easy to manage, not too noisy. Engine power is enough for long whipping, and a special lid for the bowl protects against splashing.
The disadvantages could be attributed only to the relatively high price for this model.
Tefal HT41213E
A high-quality and powerful mixer from a well-known brand will become a valuable assistant in the kitchen of a real hostess. With a power of 450 W equipped with five speeds and turbo mode. Bowl volume of 2.6 liters. rotates during operation, which significantly improves the quality of the result. It has a simple and clear design, the parts snap off easily, everything is easy to clean.
Too much initial speed can be attributed to minor drawbacks, but this is rarely needed. In the price / quality ratio, this model has a high rating.
Mixers and other popular brands such as Braun and Redmond. These models are similar in characteristics to those described above, have an ergonomic handle and rich functionality, but do not have the ability to work on a stand with a bowl.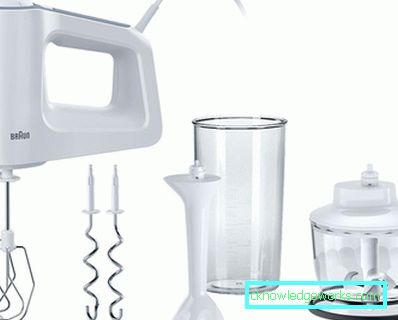 These were household appliances. There are also manufacturers of professional kitchen appliances. It is distinguished by additional functions and high power, which allows the equipment to serve longer.
Electrolux EKM 4000
High-quality 1000 W powerful mixer designed for 10 speeds and turbo mode, allows you to beat in seconds. The main bowl from stainless steel of 5 l and an additional bowl on 3 l allows to prepare dishes in any quantities. Equipped with three nozzles, and has functions such as beating, kneading dough, neck and mashed potatoes.
Excellent build quality: nozzles are durable, all parts fall into place, nothing staggers and does not rattle during operation. This model will be a good solution if you like to cook a variety of pastries and desserts.
The disadvantages include noise from the engine and the high cost of such a device.
KitchenAid 5KSM 150PSE
The planetary mixer of this model is produced by the famous American brand Artisan. In the basic configuration, it is equipped with a whisk for whipping, a hook for kneading dough and a mixing spatula, with which you can make vegetable puree. The bowl with a handle has a volume of 4.83 liters and is made of stainless steel, after beating it is easy to move, and the lid protects it from splashing. In this model, the nozzles rotate in a circle, not the bowl, which allows you to spend less energy.
The power is 300 watts, which is why the mixer works quietly.
KitchenAid mixers are striking in their functionality, because There are many additional nozzles that expand the capabilities of the device. You can cut pasta, grind meat, squeeze juice, cook ravioli, chop vegetables and many other functions.
According to users, the quality of this product justifies its high price.
Unifix
A kind of "retro mixer", which was produced in the GDR in Soviet times. He was distinguished by great power and excellent quality; he was in demand by many housewives at that time. Now you can see it very rarely.
Bork e800
Another representative of the premium brand. This model has an excellent design and will fit into the interior of any kitchen. With a power of 1000 W, this model can operate at 12 speeds. The model is equipped with electronics, which allows the mixer to independently choose the optimal rotation speed and operating time.