Bowl Mixer: which one is better to choose
Indispensable assistant
Universal view of technology
Specifications: what to look for
Which is better to choose
With the help of a mixer with a bowl, you can greatly facilitate the work of the hostess in the kitchen. This household appliance is designed for kneading dough or whipping cream, protein and mousse. It's convenient and easy: you don't have to strain your hands and waste energy.
9 photos
Indispensable assistant
Thanks to this wonderful invention, products are quickly, easily and evenly mixed with each other. Once the cooks did everything manually. The first mixer appeared at the beginning of the 20th century and was intended for work in the food industry. It was a large device, with which it was possible to knead more than 75 kg of dough at a time.
A few years later, American engineer Herbert Johnston invented the mixer for home use. So he decided to simplify the work of his cook. New quickly spread to American homes - the hostess were delighted with the fashionable invention! Over the next century, the appearance of the kitchen appliance and its technical characteristics changed.
Many industrial designers worked on the design, including the well-known advertising artist and founder of their own design bureau, Egmont Arens.
Modern mixers are comfortable and compact. They evenly mix products and saturate them with oxygen: the whipped mass turns out lush and tender.
Universal view of technology
Small electrical household appliances for whipping ingredients are of two types:
Manual - option "economy". They are designed to hold with one hand. The design of the device consists of a plastic housing, inside which there is an electric motor. He sets in motion the corollas that intersect the blades. In the hand mixer, you can adjust the speed. In such models, not very high power - from 120 to 300 W, therefore, from time to time the manual device should be given a break. They are good to whip batter, egg whites, cream, yogurt or mashed potatoes.
Stationary mixers have a folding or removable design, in which there is a base with a bowl. It is easy and convenient to use such units: your hands are free, and you can do other things in parallel. The stationary mixer is a universal type of equipment that can work well for a long time. Compared with the manual model, it is more powerful and has great performance. Thanks to advanced features, it is able to cope with the most difficult tasks, for example, to beat thick dough.
Planetary Mixers - This kind of stationary devices. They are called so because their nozzles rotate not only around its axis, as in the manual version, but in a circle inside the bowl. This principle of operation resembles the movement of the planets in the solar system. This device is good to mix and whip soups, mashed potatoes, mayonnaise, cream and "heavy" dough.
Specifications: what to look for
To choose the right model of a mixer with a bowl for the house, taking into account all the needs, it is enough to know some features of the device. Here's what to look for:
Technological power ranges from 400 to 1000 watts. It affects the speed of rotation of the rims and, accordingly, the performance.
The speed is adjustable up to 16 levels. In some models, it is indicated on the body with pictures or symbols. In professional mixers there is a step switch with a lock. The mode depends on what products you need to beat. Many mixers are equipped with additional features - slow start and turbo mode, allowing you to gain maximum speed. This is convenient if there are lumps in the kneaded dough.
The volume of the bowl, which can be with or without a lid. The lid is an important detail in a stationary mixer: with it, liquid ingredients will not splash in different directions. It will be practical to choose a bowl with a volume of up to 4 liters, since it must be borne in mind that the whipping mass gradually increases.
The number of nozzles is something that must necessarily get into the field of vision of a practical hostess. There are two types of nozzles in the configuration of professional equipment: - beaters and hooks. It is convenient to whip liquid components with whips, for example, baking, and hooks are needed for solid kneading. The strength of the nozzles indicates the material from which they are made. Metal blades - a sign of quality and durability. There are mixers that are additionally equipped with different nozzles, cuts, chopper and bowls of various sizes.
The material of the device. Stationary mixers can be made of special thick plastic and steel with colored enamel. Bowls are made of plastic, glass and metal. All this determines the appearance of the mixer and its operation. As you know, the glass case is more environmentally friendly, but not as durable and resistant to damage as the metal.
7 photos
Which is better to choose
Modern home appliances stores feature different models of universal mixers for the home. Eyes diverge from such a variety. Often visitors are lost and do not know which firm is better. Determine the manufacturer help reviews of those who have tried the technique at work. In the ranking of the best known manufacturers of mixers this year - Vitek, Bosch, Polaris, Bork, Scarlett, Moulinex and Supra, and companies that produce high-quality planetary mixers: Clatronic, Endever, Smeg and Kitfort.
To answer the question of which mixer is the best, we will conduct a small review of household appliances, taking into account the opinions of customers:
Products of the Russian brand Vitek attract design. Stationary mixers are multi-speed, so they save time and effort in the kitchen. They have a comfortable spacious bowl and a long cord. Their main advantage is that you do not need to manually beat the products, just load everything into the bowl, and go about your business. For solid products, there is a pulse mode and a "Turbo" button. Corollas for thick and batter durable, easy to remove and wash.
Units of the Bosch brand deserve positive feedback. They are powerful, quiet in operation, compact, with a convenient rotating bowl. This is a real find for those who like to mess around in the kitchen and cook pastries.
In third place are the top famous brands are stationary devices manufactured by Polaris. They are elegant, simple and versatile to use, with a sturdy case. They have varying speeds and a Turbo button for switching to maximum performance.
Professional models include Bork mixers, which differ in stylish design, a minimum level of noise and productivity of work. In a large, roomy bowl you can cook a lot of things. From the set of speeds it is easy to choose any suitable one. In a set to the mixer different nozzles are provided. With their help, the cooking process will be varied.
Scarlett mixers are designed for everyday household use. They surprise with their practical appearance and wide power range. They have a spacious bowl, which is securely fixed on the stand. Included are different nozzles for beating products of liquid and solid consistency.
Buyers note that the French brand Moulinex equipment is reliable and has a long service life. Stationary mixers are powerful and productive. They are equipped with a rotating bowl and different nozzles of quality steel. Accessories are easy to remove and wash. There are speed buttons and turbo mode.
The Supra stationary mixers are among the best models. This company offers high-quality and inexpensive goods. The devices are compact, silent, with an automatically rotating bowl. They are equipped with stainless long nozzles: beaters for beating liquids and hooks for kneading dough.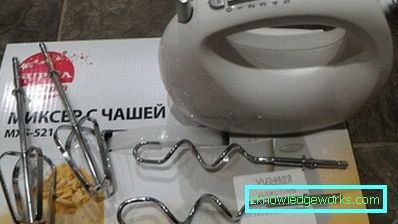 Some might think that professional models are bulky and impractical. Of course, they have a more complex structure compared to hand-held devices, but they are more powerful and reliable. Knowledge of technical parameters, and, of course, your intuition will help you choose the model you need.