Bosch two-compartment refrigerator
Hard to believe, but only 100 years ago began the history of the refrigerator. Everyone knows that, due to their specificity, products can quickly deteriorate, and it is very difficult for us to assume how our ancestors lived without refrigeration. Nowadays it's hard to imagine a kitchen without a fridge., because it significantly prolongs the life of products. Specialized companies, online stores engaged in the sale of household appliances and electronics, are pleased to offer customers dozens of models of both Russian and foreign production. This article focuses on Bosch two-compartment refrigerators.
Features
German-made Bosch refrigerators have proven themselves in the market of our country. The concern specializes in the manufacture and production of household appliances and tools, is a leader in this industry. This home appliances, according to experts, is the best in the average price segment. However, Germany is not the only manufacturer of this refrigeration equipment. Recently, the production of refrigeration systems of the company Bosch in Russia, Korea and Spain.
Inner space
When purchasing a refrigerator, an important criterion is its functional component. It is important to ensure the effective storage of food: the shelves should be located at the optimum height from each other and allow the contents to be placed. Additional guides make it possible to rearrange them to different height positions, which allows placing products of different volumes and dimensions, like a sausage stick, and a 3-liter jar of milk. The shelves are made of impact-resistant glass, do not bend under the weight, practical to handle. Convenient shelves on the door will delight with its functionality, and LED lights will illuminate all the space well.
Models
KGV36VW22R
Reliable, economical, silent and very easy to use unit. Inside a huge number of guides for shelves - they can be rearranged as needed. Two-chamber single-compressor white refrigerator, with a lower location of the freezer compartment, with a drip defrost system and an electronic control system. On the door there are three spacious shelves for storing sauces, canned food, etc., the kit includes two egg holders. LED illumination perfectly illuminates the refrigerator compartment.
Dimensions: 185 - 60 - 63 cm; volume - 318 liters. Budget model worth 25,000 rubles.
This technique has positive customer reviews. Many appreciate the pledged functionality of the unit. Pleases buyers low price of the refrigerator. Some users have noted such a flaw as the lack of handles on the doors. In general, the impression is good, and many consumers recommend purchasing this refrigerator.
KGN39VK15R
Tall, stately, 2-chamber refrigerator KGN 39VK15 R beige color harmoniously fit into the interior of any kitchen. It is equipped with a freezing system "No frost". The interior space is thought out to the smallest detail, from the shelves on the door to the shelf for bottles, the box for vegetables and fruits has a wavy bottom that protects them from condensation. You can adjust the settings without opening the refrigerator, because the display is on the door. The carbon filter is not allows odors to spread.
Overall volume 315 liters, dimensions 60x65x200 cm. This technique also has the functions of supercooling, super-freezing, temperature display, door hanging. Economical and silent refrigerator. Price - 37,000 rubles.
This refrigerator has positive reviews. Freezer pleases with its capacity and installed system "No frost". Consumers appreciated the wavy bottom of the box for vegetables and fruits. Some buyers note noise during compressor operation, while others, on the contrary, speak about the noiselessness of the unit. Perhaps this depends on the country of origin.
KGN49VI20R
This technique is made with well thought-out zoning., which allows you to keep food safe. There is a uniform distribution of cold air flow through a multi-flow cooling system. In the refrigerator there is a carbon filter that does not allow mixing smells. For rational use, you can rearrange shelves made of impact-resistant glass. Economical power consumption, the possibility of hanging the doors, anti-bacterial coating, reliability in operation are not the only advantages of this model. Two-compartment refrigerator KGN 49VI20 R equipped with a system "No frost".
Overall volume 440 liters. Height - 2 meters, width - Overall volume 608 liters. Dimensions 177 - 91- 67.2 cm. Price - 130000 rubles.70 cm, depth - 62 cm. Price - 65,000 rubles.
Roomy, comfortable, practical - frequent customer reviews. The excellent work of the functions laid down, also noted the preservation of taste, juiciness and shape of berries, subjected to freezing. Consumers are pleased with the reliability, reasonableness of parts and functions of refrigeration equipment.
KIN86AF30
The fashion to put kitchen appliances behind the fronts of the cabinets did not disregard the refrigerators. Built-in refrigerators are quite popular, because they allow you to create the desired design.
This unit is equipped with "No frost "in freezer and drip"Direct cool"in the refrigerator. In the event of a shutdown, the refrigerator is able to keep food in the cold for up to 13 hours. Equipped LED-backlit. Quiet and very economical equipment volume of 257 liters. Dimensions - 56x55x177 cm
Additional features of the refrigerator: supercooling, superfrost, temperature display, electronic control, door reweighing. Ideal for a small family. Price makes 75000 rubles.
Buyers emphasize reliability, efficiency and ease of use of this refrigeration equipment. Users appreciated the foldable shelf. Comfortable for operation is a combination of drip systems in the refrigeration and "No frost"in the freezer.
Bosch releases a series of refrigerators "Side-by-side"- a beautiful and capacious solution for a spacious kitchen. Translated from English means" side by side. "
Bosch Serie | 6 KAI90VI20R
Unit "Side-by-side"It looks similar to the cabinet - it is wide, and its doors open in different directions. It is a large and roomy refrigerator, in which it is easy to create the interior decoration of the chambers at will and depending on the size of the products. Additional features of this home appliance: ice maker, water dispenser, mini-bar, section for frequently used products. Fridge "side-by-side"It will not only signal the unclosed door, but also close it itself with an automatic door closer. Ideal for large families who value comfort and high technology.
Overall volume 608 liters. Dimensions 177 - 91 - 67.2 cm. Price - 130,000 rubles.
Reviews of this technique are commendable. The model is pleased with its functionality, capacity, automatism and ease of management. The system "No Frost" is equipped in both chambers, which greatly facilitates the operation.
Tips for choosing
Buying a refrigerator should be taken seriously, because today this piece of household appliances is an indispensable thing in every home, and not cheap either. The question is how to choose, because the market offers a wide range. Going to buy, you should pay attention to the following:
Size and volume. Choosing a refrigerator, it is worth considering the size of the kitchen, as well as the number of family members. The volume of the proposed devices varies from 50 to 850 liters, according to their dimensions.
The number of cameras. Refrigerators are with one, two and three chambers. The single-chamber refrigerator has one main refrigerating chamber, inside of which there is a compartment for the freezer, most often small. In the two-chamber freezer compartment is much larger. Here, the refrigerating and freezing chambers have separate doors, today it is the most common model. Also developed and three-chamber refrigerators with a variety of temperature regimes. In them, products remain for a long time while maintaining freshness.
Cooling system. Reliable and simple system is statistical cooling "Direct cool", better known as the" weeping wall ". There is also a system"No frost" or "without frost", which appeared relatively recently, but has become quite popular. This technical system does not require defrosting, as it protects the refrigeration and freezing compartments from the formation of ice. It is worth considering that the price of the system is"No frost" much higher.
Electricity consumption. Of course, it is preferable to buy an economical refrigerator. This home appliances are divided into classes: A, B, C, D, E, F, G, Where G - the highest consuming A - economical. Refrigerators with marking And divide into categories A +, A ++, A +++, where the + signs indicate greater power savings.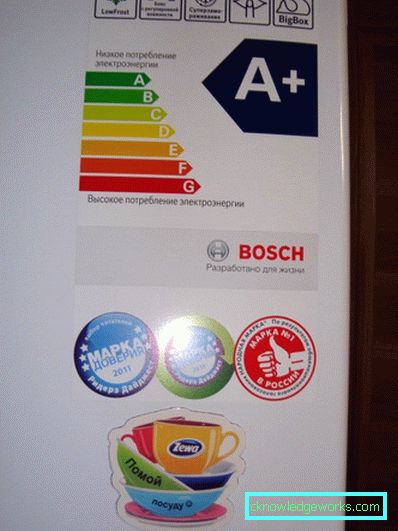 Design and color. Household appliances, selected for the stylistic and color design of the kitchen, plays an important role in creating a general atmosphere and comfort. To date, there is refrigeration equipment, not only the usual white color, and quite a variety of shades. For greater convenience in the design of the kitchen, you can purchase a built-in refrigerator. This also includes the design of the control panel, it is mechanical and electronic.