Bosch Stationary Blender
How to choose
Stationary VS submersible?
Manufacturers
Bosch model overview
MMB21POR
MMB21P1W
MMB43G2B
MMB64G3M
In modern kitchen, more and more space is allocated for the equipment and fewer tasks remain for the hostess herself. Bosch Stationary Blender - one of the most common devices that are used in the kitchen. Given the unprecedented popularity of blenders, manufacturers are trying to please customers to the maximum.
How not to get lost when choosing a blender with a glass bowl, what to consider and what to pay attention to?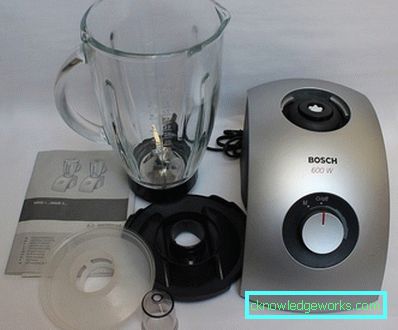 How to choose
When choosing technology, you need to clearly define which one and what you need a blender for.
The main criteria when choosing a blender are:
Power of the unit. The higher the power of the motor, the better the technique itself.
The material of manufacture. Metal, plastic or glass is up to you. Plastic is an inexpensive and lightweight material. Along with this increases the risk of damage and scratches. In addition, it absorbs all odors. Glass is heavy and fragile. It can handle hot products, on the abolition of plastic. But it fights easily. Stainless steel is perfect, but expensive material. Moreover, in this bowl nothing will be visible. Composite material is considered optimal.
The number of nozzles. All blenders come with one or several knives. The more knives, the better for you. Make sure the knives are made of high quality and durable material.
Control panel If the panel is touch-sensitive, then it is easier to follow and clean. The mechanical panel is more familiar and convenient to use.
Manufacturer. It is better to buy equipment from a trusted manufacturer, even if it costs more. That was not, as in the saying - greedy pays twice.
Stationary VS submersible?
There are two types of this kitchen equipment: submersible and stationary.
Submersible blender For a long time was considered the leader in the kitchen. Himself he represents the pen. To which various nozzles are attached. This machine is easy to cook, chop and beat.
Stationary kitchen appliance - This is an apparatus with a glass bowl and a motor with a control panel. This device does not need to be held in the hands, but simply putting the products in the bowl, everything else will be done by the "smart" equipment. Here are just places such a unit takes more than the submersible. And the variety of dishes is much less. Most of all, it is intended for making sauces, puree soups, cocktails.
Features:
Glass bowl Excellent workmanship. Yes, it beats easily, but does not absorb all the smells of the products.
Cap. It would seem a trifle, but without it, it is likely that the products will fly apart. Spray all over the kitchen.
Free hands. Thanks to its design, the stationary blender frees you hands.
Dimensional. It takes more space than submersible.
Ease of care.
You can not cook small portions.
Which option is right for you, you must decide for yourself.
Manufacturers
Based on the reviews to the top three manufacturers of blenders include such companies: Braun, Bosch, Philips.
7 photos
Kitchen appliances from these manufacturers will cost more, but the quality will be better.
Bosch model overview
Stationary blenders manufacturer Bosch produces in several models. Consider some of them.
MMB21POR
The kitchen unit is made in white and red plastic color. It has 2 speed modes plus a pulse mode. Power 500 watts. It is enough for making puree soups, cocktails.
Easy to clean. It is possible to look after the washing elements by means of the dishwasher. Also does not contain harmful additives. Completely safe for cooking. Net volume of a bowl is 1.5 liters. The knife is made of stainless steel.
MMB21P1W
The package of this device includes a filter for making smoothies. The main characteristics are as follows: net volume of the bowl is 1.5 liters; power is 500 W; 2 speed modes plus pulse mode; knives are made of stainless steel.
Suitable for cooking soups, chopping cooked vegetables, fruits, as well as for making smoothies.
MMB43G2B
Almost silent blender, made in black tones. Main characteristics: 700 W motor; glass bowl for hot and cold foods; 2 programs for chopping ice and grinding; 5 speed modes and pulse mode; easy and safe knife removal; net volume of a bowl is 1.5 liters; the complete set includes a chopper for nuts, herbs, cheese.
MMB64G3M
This model is made of stainless steel. Quickly and fairly quietly chops products. Main characteristics: the motor with a power of 800 W is suitable for any culinary tasks; blades are at different levels, which ensures high-quality grinding; glass bowl can withstand hot and cold temperatures; 3 programs: grinding, splitting ice and making smoothies; backlight on the switch, infinitely variable speed; net volume of a bowl is 1.5 liters; shredder and smoothie strainer included.